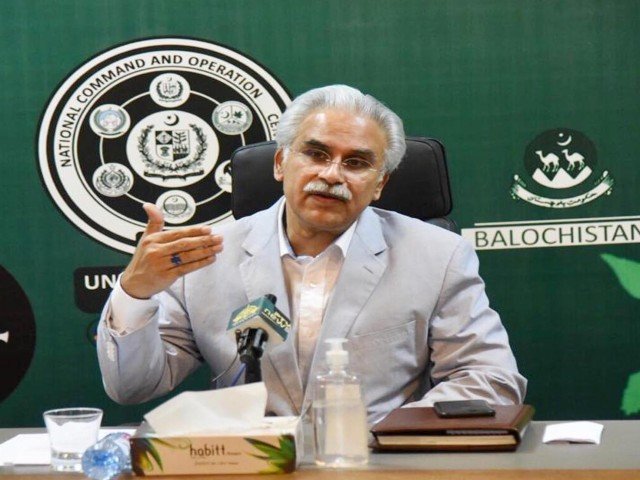 ---
Govt targeting 20,000 Covid-19 tests a day by April end, says Dr Mirza
Pakistan now has 65% local transmission cases compared to start of pandemic when all cases were from abroad, says SAPM
---
Special Assistant to the Prime Minister (SAPM) on Health Dr Zafar Mirza said that a total of 104,302 tests have been conducted following the outbreak of the coronavirus pandemic in the country and "the government is eyeing 20,000 tests per day by the end of April".

During a press briefing at the National Command and Operation Centre (NCOC) in Islamabad, he said that 425 people were diagnosed with Covid-19 during the last 24 hours across the country, taking the tally to 8418.

"Pakistan now has 65 per cent local transmission cases compared to the start of the pandemic when all the cases were from outside the country."

Religious s scholars extend full support to govt's Covid-19 measures in Ramazan

He said that 17 more people have succumbed to the deadly disease, the highest number in a 24-hour period. "176 people have died from the disease in total."

He went on to say that those who have died, 74 per cent were men while 73 per cent had some other major illness like cancer or heart problem.

Dr Mirza also said that the elderly needed to be extra careful as 82 per cent of deaths so far were of this group.

Prime Minister Imran Khan met a Ulema delegation today and a consensus regarding standard operation procedures (SOPs) to be followed in mosques was reached, he added.


#Live: Special Assistant to the Prime Minister on Health Dr. Zafar Mirza briefs media in Islamabad https://t.co/aUpyhlyNba

— Radio Pakistan (@RadioPakistan) April 20, 2020


Quarantine centre inmates demand 'taste of outside'

The delegation lauded the premier's approach to the lockdown as realistic.

The religious scholars said that the approach taken by the prime minister was according to ground realities and assured him of complete coordination to implement the decision of precautionary measures taken by the government in regards to the congregation during the holy month of Ramazan.

The delegation also expressed their support for the country's lockdown strategy as the nation tackles the coronavirus outbreak.