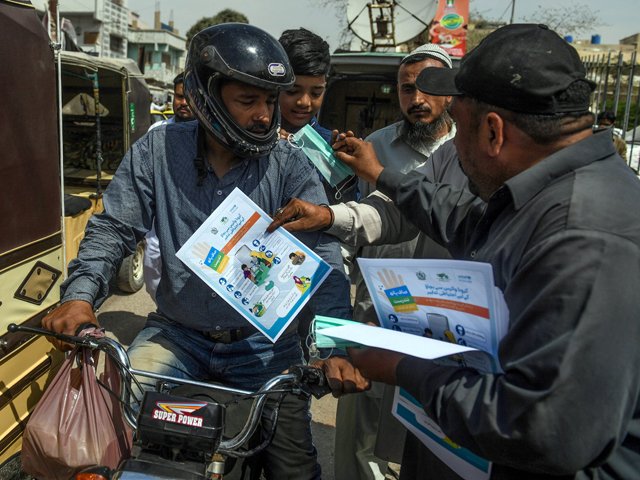 ---
LIVE: Punjab sees sharp spike in coronavirus cases, taking nationwide tally to 9,215
With 7 more deaths, Khyber-Pakhtunkhwa toll reaches 74 – the highest coronavirus fatalities anywhere in the country
---
KARACHI / ISLAMABAD / QUETTA / PESHAWAR / LAHORE / GILGIT / MUZAFFARABAD:
The novel coronavirus emerged in the central China city of Wuhan towards the end of last year and proliferated to almost the whole world within a couple of months. It's not the virulence or fatality, but the infectivity of the new virus - also known as SARS-CoV-2 - that has set off a global frenzy.
The Covid-19 respiratory illness caused by this mysterious contagion has so far infected more than 2.3 million people in 202 countries and territories of the world ÔÇô more than 161,000 of them have died and counting.
Pakistan, despite its close proximity with China, remained coronavirus-free until February 26 when a young man from Karachi tested positive after returning from Iran ÔÇô one of the worst-hit countries. After a brief hiatus following the first case, Covid-19 cases spiked as more pilgrims returning from Iran tested positive for the virus.
The nationwide tally of Covid-19 patients stands at 9,215 with 4,159 cases in Punjab, 2,767 in Sindh, 1,276 in Khyber-Pakhtunkhwa, 465 in Balochistan, 281 in Gilgit-Baltistan, 181 in Islamabad, and 50 in Azad Jammu and Kashmir.
The virus has claimed at least 191 lives while at least 1,970 coronavirus patients have recovered.
The number of cases has continued to soar despite the country being under lockdown for the third consecutive week.
The situation remains fluid and┬áweÔÇÖre updating stats as soon as new figures are officially released.
Follow 
The Express Tribune
ÔÇÖs live coverage of the pandemic┬á
here
.


1:38am: 18 more people contract Covid-19 in G-B

Eighteen more people have been diagnosed with Covid-19 in Gilgit-Baltistan while one patient recovered from the disease.

The total number of cases in the region jumped to 281.




1:18am: Punjab sees sudden spike in coronavirus cases

In a major spike, Punjab has reported 474 Covid-19 cases, bringing the total number of Covid-19 patients to 4,195 in the province, Chief Minister Usman Buzdar said in a tweet.

The provincial death toll has swelled to 45 with the addition of three new deaths and 724 patients have fully recovered, according to an official figures.


Punjab's #COVID19 stats as on 20th April:
Tests conducted so far: 60,649
Total positive cases: 4,195
Quarantined:
Tableeghi Jama'ats: 1,857
Zaireen: 743
Jail Prisoners: 97
Non-quarantined cases in Districts: 1,498
Deaths: 45
Recovered: 724
Critical: 14#PunjabCoronavirusUpdate

— Usman Buzdar (@UsmanAKBuzdar) April 20, 2020


1:08am: AJK health minister's driver tests Covid-19 positive

AJK Health Minister Dr Najeeb Naqi's driver, a resident of Tariqabad neighbourhood in Muzaffarabad, was tested Covid-19 positive at the National Institute of Health (NIH) in Islamabad.

Sources confirmed that he was being shifted to a hospital in Muzaffarabad while the minister will go into quarantine at his residence in Islamabad.

They also said that five more coronavirus patients have recovered and discharged from the hospital. The number of active cases in the region dropped to 35.




1:00am: Balochistan extends lockdown till May 5

The Balochistan government has extended the lockdown in the province till May 5 to curb the spread of coronavirus amid fears of rise in the number of local Covid-19 cases "which could cause devastating consequences".

In a notification issued by the provincial home department late Monday, the officials said the decision has been taken to ensure the implementation on preventive measures including social distancing "for the safety of human lives".






12:31am: Coronavirus claims six more lives in K-P

Khyber-Pakhtunkhwa reported seven new coronavirus deaths, bringing the provincial death toll to 74 which is the highest in the country, K-P Health Minister Taimur Khan Jhagra confirmed in a tweet.

The provincial Covid-19 tally reached 1,276 with the addition of 39 new cases, according to an official data shared by him.

Peshawar and Malakand divisions have emerged as the hardest hit cities in the province with "33 of today's 39" cases reported from these two areas, he said in a follow-up tweet.


1. Pakhtunkhwa #coronavirus update; 20 April 2020.

1276 cases, 302 recoveries, and 74 deaths in all. 39 new cases and 7 deaths logged today. pic.twitter.com/j185pJOaCt

— Taimur Khan Jhagra (@Jhagra) April 20, 2020


10:14pm: 33 more cases of Covid-19 take Balochistan tally to 465

Balchistan has reported another 33 coronavirus cases, taking the provincial tally to 465.

According to the provincial health department's statement, so far 161 Covid-19 patients have fully recovered with six deaths.

The number of suspected Covid-19 patients in the province is 6,391, where as 14,569 people have been screened thus far, the statement added.






9:07pm: Coronavirus claims another life in Balochistan

Another coronavirus patient in Balochistan has passed away while undergoing treatment at the Fatima Jinnah Hospital, taking the provincial death toll to six, according to the health department sources.

The 70-year-old was a resident of small town near Quetta, they added.




7:42pm: 10 dead suspected patients diagnosed with Covid-19 in K-P

Ten suspected coronavirus patients have tested positive for Covid-19 in Khyber-Pakhtunkhwa, the provincial health authorities said.

The officials said that the patients were tested for coronavirus after they passed away to ascertain the cause of their death.

The National Command and Operation Centre (NCOC) has told The Express Tribune that highest number of deaths in K-P compared to other provinces is due to the transparent and correct method of the provincial government to share Covid-19 data.


خیبر پختونخوا میں کرونا وائرس سے دیگر ملک کے مقابلے میں زیادہ اموات کی ایک بڑی وجہ شفافیت ہے صوبائی حکومت دیگر حکومتوں کی اموات کو چھپا نہیں بلکہ بلکل صحیح ا عداد وشمار مرتب کر رہی ہے نیشنل کمانڈ اینڈ آپریشن سنٹر کا اعتراف @Jhagra

— JB (@JBaghwan) April 20, 2020


6:27pm: Dr Zafar Mirza addresses media

Special Assistant to the Prime Minister on Health Dr Zafar Mirza is briefing media on the latest situation about the coronavirus cases in the country.


#Live: Special Assistant to the Prime Minister on Health Dr. Zafar Mirza briefs media in Islamabad https://t.co/aUpyhlyNba

— Radio Pakistan (@RadioPakistan) April 20, 2020


5:10pm: Shahid Khaqan Abbasi expresses concern on lockdown relaxation

PML-N leader Shahid Khaqan Abbasi expressed concern at the governmentÔÇÖs decision to relax the lockdown in the country ÔÇ£at the time when cases are increasingÔÇØ.

The former prime minister also said that the PML-N supports the relief efforts by the government during the ongoing coronavirus outbreak, however, he added that discrepancies should be pointed out.




4:45pm: Pakistan Railways donates Rs50.1m to PM Corona Relief Fund

Railway Minister Sheikh Rasheed Ahmed called on Prime Minister Imran Khan in Islamabad and presented a cheque of Rs50.1 million on behalf of PR employees for the Prime Minister's Corona Relief Fund.

During the meeting, Sheikh Rasheed informed the prime minister that a train of 30 coaches has been sent to Chaman with the capacity of isolating 500 people.

He said Pakistan Railways is also ready to send another train of the same capacity and arrangements to Taftan.

The minister said special medical coaches were also being prepared.


وزیراعظم عمران خان سے ملاقات pic.twitter.com/stOQgbciSn

— Sheikh Rashid Ahmed (@ShkhRasheed) April 20, 2020


4:20pm: 'Highest number of local transmission cases in District South'

Sindh Chief Minister Murad Ali Shah has said that the highest number of local transmission cases in Karachi are from District South.

He further said that 115 coronavirus patients in the province are below the age of 10, while 484 patients are between 31 and 40 years of age.


Sindh Chief Minister Syed Murad Ali Shah says Coronavirus cases spreading in Karachi..... pic.twitter.com/l5zkpthYXz

— Sindh Chief Minister House (@SindhCMHouse) April 20, 2020


4:00pm: PM hopes Ramazan SOPs will be followed: minister for religious affairs

Minister for Religious Affairs Noorul Haq Qadri has said that Prime Minister Imran Khan has expressed hope that the countryÔÇÖs citizens and ulema will follow the SOPs decided upon for the holy month of Ramazan.

Qadri said this while speaking to the media alongside Special Assistant to Prime Minister on Information Firdous Ashiq Awan.

ÔÇ£The citizen should follow laws on their own,ÔÇØ said the minister.


3:30pm K-P Chief Minister Mehmood Khan addresses media
#Live: CM KP @IMMahmoodKhan talking to media in #Peshawar https://t.co/pLEEdRbZd7

— Radio Pakistan (@RadioPakistan) April 20, 2020
3:15pm: BSL 3 Laboratory inaugurated at JPMC

The Sindh government inaugurated a biosafety level three laboratory for CovidÒâ╝19 tests at JPMC Karachi.

Murtaza Wahab stated that the lab has been exclusively funded by the Sindh government and first samples have been placed for results today.


Today the BSL 3 Laboratory for #COVIDー19 tests has been inaugurated at JPMC Karachi. The Lab has been exclusively funded by #SindhGovt & first samples have been placed for results today. Its very clear that PTI nominees make hollow promises & Sindh Govt actually delivers https://t.co/vmiKtohnm1 pic.twitter.com/roncT0sK5b

— Murtaza Wahab Siddiqui (@murtazawahab1) April 20, 2020
Executive Director Jinnah Postgraduate Medical Dr Seemin Jamali Inauguration of #Covid_19 Lab in Jinnah Hospital Karachi

Thank you Govt of Sindh for getting us a #Covid_19 Lab in place at JPMC.#ThankyouSindhGovt@BBhuttoZardari @AseefaBZ @BakhtawarBZ pic.twitter.com/jR1yAcQJdm

— Shahmeer Imtiaz PPP (@Shahmeerimtiaz) April 20, 2020
3:00pm: Parts of Larkana city sealed

A few areas of Larkana city were sealed on Monday after 21 people tested positive for the novel coronavirus in the area a day earlier.

Residents were ordered by the local police to stay at home.

On Monday morning, the cityÔÇÖs Bakrani Road, Darri Mohalla, Nawa Tak and adjacent areas were sealed. All the streets from Darri Mohalla to Ata Turk Tower were closed with barriers placed at the entry and exit points.




2:25pm: Sindh reports 227 new cases
The following information is relevant to assess the situation of #COVIDー19 in Sindh as of 20th April at 8 AM:

Total Tests 26058 (today 1600)
Positive Cases 2767 (today 227)
Recovered Cases 635
Deaths 61

In the last 24 hours, 10 people have recovered from corona in Sindh

— Murtaza Wahab Siddiqui (@murtazawahab1) April 20, 2020


1:45 pm: SAPM Awan says PM has ordered the release of all clerics, worshippers

Special Assistant to the Prime Minister on Information Firdous Ashiq Awan has said during her press conference that the prime minister has ordered the release of all clerics and worshippers arrested for violating mosque restrictions.


#Live: SAPM on Information @Dr_FirdousPTI talking to media in #Islamabad https://t.co/REULnDx6NA

— Radio Pakistan (@RadioPakistan) April 20, 2020


1:00pm: PM Imran meets Ulema delegation

Prime Minister Imran Khan held a meeting with a delegation of Ulemas to review the ban on prayers in congregation amid the lockdown.

The delegation of religious scholars assured the premier of full cooperation in implementing the decision of precautionary measures taken by the government.

The┬áscholars also lauded the prime ministerÔÇÖs measures to curb the coronavirus outbreak and stated that the premierÔÇÖs decisions were realistic.

Mufti Muneebur Rehman, Sindh Governor Imran Ismail, Mufti Taqi Usmani also attended the meeting via video link.


12:20 pm: NIH teams conduct tests in Islamabad's hotels, Haji Camp
NIH teams facilitated the COVID-19 testing procedure at Haji Camp and different hotels (quarantine center) Islamabad. pic.twitter.com/G0mvjvgYkN

— NIH Pakistan (@NIH_Pakistan) April 20, 2020
12:00pm: President Arif Alvi lauds consensus between Ulema, govt
As the SOPs of the 'Ijma' between Ulema & Government becomes well known & widespread, it is generally the masajid & the people who are taking ownership. What a good model where the state provides guidance and the people implelment themselves. Innovative👇https://t.co/5rGhJzRYEa

— Dr. Arif Alvi (@ArifAlvi) April 20, 2020
11:30am: Karachi administration seals factory for violating SOPs
Civil Administration of Korangi has sealed one factory for violating the SOPs issued by #SindhGovt pic.twitter.com/epJmfv0PZT

— Murtaza Wahab Siddiqui (@murtazawahab1) April 20, 2020


11:00am:┬áÔÇÿ45-day lockdown may cost 1.3 million jobs in K-PÔÇÖ

The provincial government on Sunday expressed fear that as many as 1.3 million people may lose their jobs if a lockdown was imposed for 45 days in the province.

This was disclosed in a report, titled ÔÇÿCoping Strategy: Mitigating Adverse Impact of Covid-19 on the Economy and Job Market in Khyber-Pakhtunkhwa (K-P)ÔÇÖ, prepared by the provincial Planning and Development Department.

Read story here




10:30am:┬áÔÇÿStricter lockdownÔÇÖ in DHA, old city areas

The administration of KarachiÔÇÖs South district has reportedly decided to tighten the lockdown in Defence Housing Authority (DHA) and old city areas such as Saddar and Lyari, amid reports of violations in the past few days.

Read story here


10:00 am: PM Imran urges people to stay home
My message for people is to stay home as much as possible during this pandemic. The more people show self-discipline, the easier it will be for us to manage the COVID19 plus ease the lockdown gradually pic.twitter.com/YEOS4Hb6iu

— Imran Khan (@ImranKhanPTI) April 20, 2020


9:15am: 104,302 tests conducted countrywide

As many as 104,302 tests have been conducted across the country out of which 4,873 have been conducted in the past 24 hours, according to the government's official portal.




8:35am: 64pc Covid-19 cases of local transmission

According to the National Command and Operation Centre, 64pc novel coronavirus cases reported are of local transmission whereas 36% of the patients are said to have a travel history.

As many as 2,216 patients admitted across the 590 hospitals set up with Covid-19 facilities across the country.


8:00am: Death toll rises to 176

With 17 more death reported in the past 24 hours the death toll across the country has reached 176, according to the government's official portal.

The nationwide tally of COVID-19 cases soars past 8,418 while 44 patients are said to be in critical condition.