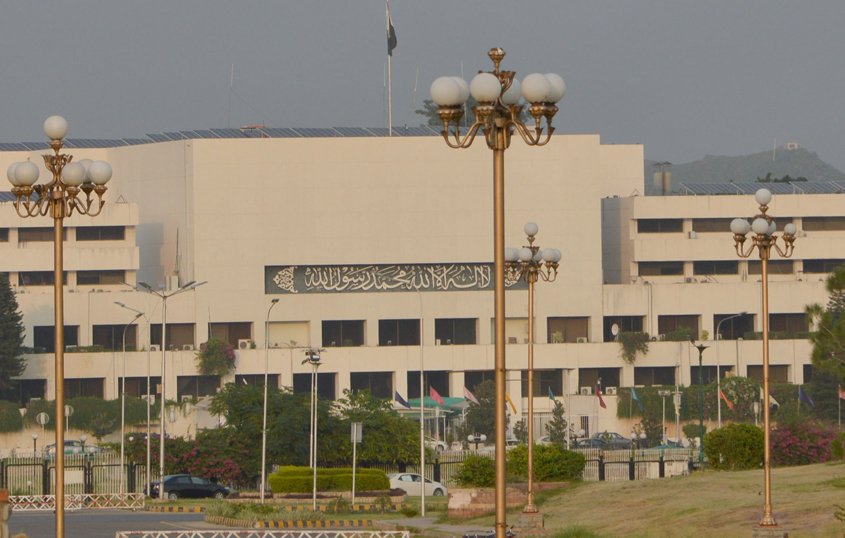 ---
Amid social distancing, NA considers going digital
A nine-member committee will discuss modus operandi and code of conduct for virtual assembly sessions today
---
KARACHI: As the novel coronavirus restricts all walks of everyday life, Pakistan's political leaders, like everyone else, have been forced to adapt. As governance and legislative activities cannot be placed on an indefinite hiatus, the National Assembly has formed a committee to figure out how 'virtual' assembly sessions can be convened in the current atmosphere of lockdowns and social distancing.

"The nine-member committee is set to hold a video-call on Tuesday to discuss how assembly sessions can be held using teleconferencing and videoconferencing technologies," an NA secretariat official told The Express Tribune. "The panel will discuss the modus operandi and the code of conduct to ensure the assembly can continue working remotely using the internet."

With Covid-19 showing no signs of slowing down in the country so far, Pakistan Peoples Party Senator Sherry Rehman called for amending parliamentary rules to allow assembly and standing committee sessions to be held online. "Pakistan faces the risk of increased coronavirus cases. There is a dire need for self isolation and social distancing, so we should make rules that allow online sessions so that we can continue to be effective [public] representatives," she had said.

Interestingly enough, if virtual sessions turn out to be a success, they can potentially solve the issues of parliamentary attendance and parliamentary costs. It is not uncommon for parliamentary attendance to hover around the 50 per cent mark as many lawmakers excuse themselves on account of other political activities. According to NA officials, if lawmakers can attend assembly sessions remotely, then they will both have less of an excuse to skip out on them and there will be less of a justification for the travel and lodging allowances out-of-station MNAs avail.

"In addition to a monthly salary of Rs178,000, each MNA costs the national exchequer as much as Rs1.6 million due to air travel alone. They also avail Rs8,250 a day assembly allowance on top of that," one official said. "If virtual assembly attendance becomes the norm, then these expenses can be limited to emergencies."

"Any parliamentarian who is part of a standing committee receives an additional amount of more than Rs8,000 a day along with Rs65,000 for a business class ticket," said Pakistan Muslim League-Nawaz MNA Khehal Das Kohistani. "This amount can be saved. We will welcome any step by the government that allows us to attend committee meetings online," added the lawmaker, who is part of the panel on religious affairs.

Already, many political parties and both government and non-government organisations have been using video and teleconferencing to continue their routine activities.

"Shahbaz Sharif has been convening online meetings regularly. He held meetings with parliamentary leaders in Punjab, Sindh, Khyber-Pakhtunkhwa, Balochistan, Gilgit-Baltistan and Azad Jammu and Kashmir too to discuss the current political situation," PML-N leader Musadiq Malik told The Express Tribune. He added that Sharif has also held online meetings with doctors, business community members and philanthropists.

Even quicker to react to social distancing was Pakistan Peoples Party Chairperson Bilawal Bhutto Zardari, according to the party's spokesperson. "Soon after the outbreak was reported, the chairperson organised a meeting of the PPP central executive committee via video link. Since then, he's held regular virtual meetings with party leaders," the spokesperson said.

"The chairperson also addressed various news conferences remotely and convened a virtual all parties conference (APC) on Covid-19, a rare event attended the leaders of all parties," the PPP spokesperson added. "We live in a digital world, and we should continue the practice of virtual meetings to save both time and money."

Speaking to The Express Tribune, Sindh Assembly Secretary GM Farooq said they were also considering convening standing committee meetings and summoning assembly sessions virtually. "We are waiting for the deadline of this lockdown, which comes to an end on April 30. If the situation continues than we will consult all opposition and treasury members to summon sessions and meetings online," he said.

Prime Minister Imran Khan also addressed political leaders through video link in the last week of March to discuss strategies to tackle the spread of Covid-19. However, his move to go offline without allowing the opposition leaders to speak kicked up a controversy as both Sharif and Bilawal walked out of the meeting shortly after.