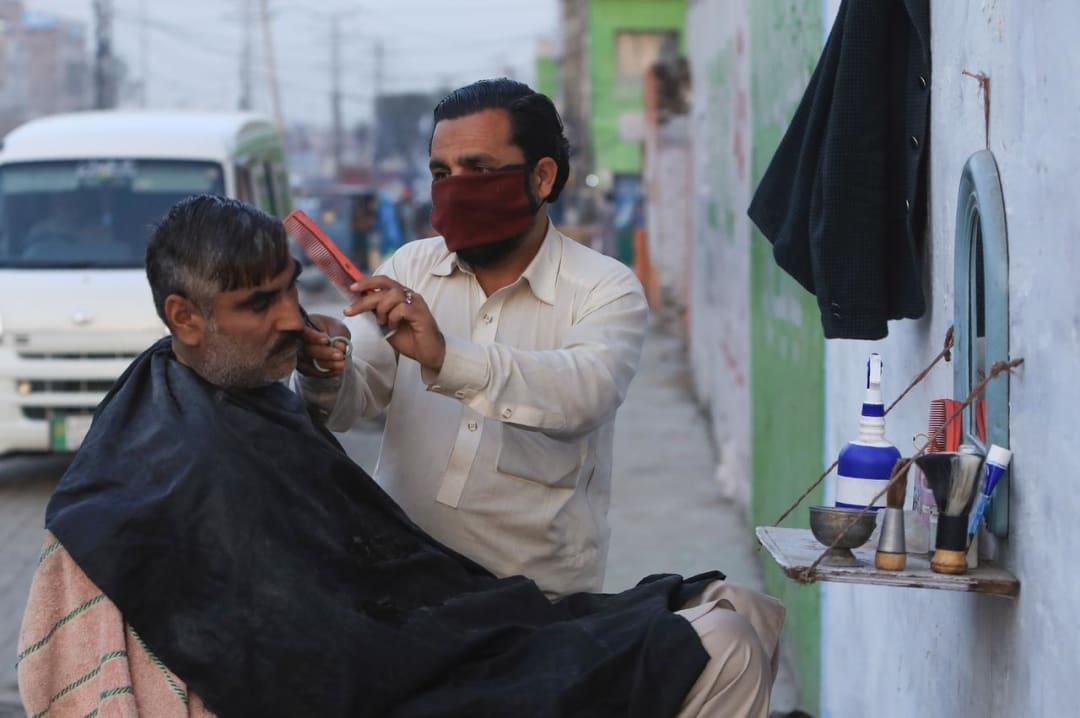 ---
RAWALPINDI: Even though the barbers have been allowed to reopen their business following a relaxation in the lockdown, imposed by the government to control the spread of the novel coronavirus (Covid-19), confusion remains on how exactly they can do that, forcing many barbers to keep their shops closed.

However, some barbers have turned back time by resorting to the age-old tradition of going to their clients to provide their services.

Barbers have distributed their mobile numbers amongst their fast and potential customers. Every day, say barbers Naveed Ahmed, Shehzad Abbasi, and Asghar Mehmood,  they get calls from clients to make bookings.

Once the name and particulars of service are noted down, the barbers told The Express Tribune that they draw up a schedule to provide their services for the day.

Asked about the concerns of transmitting the virus which has all but ground the country to a halt, they said that they pay special attention to their hygiene.

"I do not earn as much as I used to when we used to open my shop," lamented Abbasi, adding that he got pushed into servicing people this way when he started running out of his savings.

Noting that he had started offering the at-home service even before the lockdown was eased, he said that the strategy has been key to staving off financial ruin.

Keeping in view the financial constraints being faced by a great number of people, these professionals currently charge only Rs100 for a haircut from their customers, which was half of what they charged at their shops.

Mehmood said that it was against their self-esteem to seek rations from others when they were blessed with a skill.

"I prefer to provide service at cheaper rates [and earn a living]," he added.

However, they demanded the government to allow them to open their shops under precautions. The barbers even suggested the government to seal the shops which do not follow the social distancing instructions.

However, those who have opened their stores after the ease in the lockdown, have jacked up their rates.

Beauticians start service

People have also started contracting marriages in smaller gatherings at homes due to the lockdown with only a few close relatives invited. With salons closed, female beauticians have started providing their services by visiting their customers' houses.

The beauticians now charge as low as Rs2, 000 for the makeup of a bride for a small function, which is usually done at higher rates. One such beautician, R*, said that she was providing home service to various women in her contact list. "My husband is a government employee and we could not afford to sit long without doing anything," she added.

*Names withheld to protect identity

Published in The Express Tribune, April 20th, 2020.