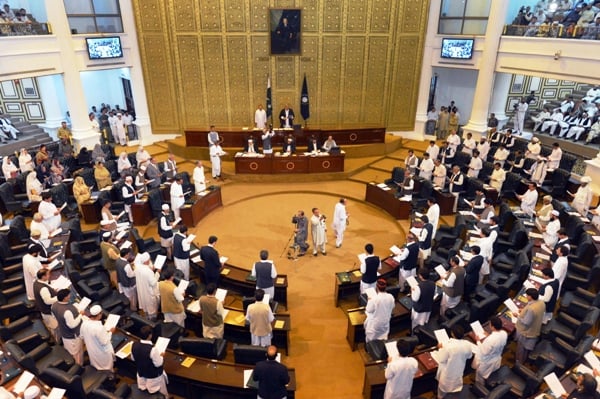 ---
PESHAWAR: Given the novel coronavirus (Covid-19) pandemic, which has so far claimed 60 lives amid 1,137 cases in the province, Khyber-Pakhtunkhwa (K-P) Assembly Speaker Mushtaq Ahmed Ghani has decided to consult opposition lawmakers on devising a strategy for presenting the budget for the fiscal year 2020-21.

The next fiscal budget is expected to be tabled in mid-June.

A source at the K-P Assembly Secretariat, who is privy to the development, told The Express Tribune that Ghani is expected to invite parliamentary leaders of the opposition for consultation on the budget. These leaders are likely to include Leader of the Opposition in the K-P Assembly Akram Khan Durrani, Awami National Party (ANP) Parliamentary Leader Sardar Hussain Babak, and other senior leaders of the opposition, including Sher Azam, Muhammad Yousaf and Inyatullah Khan, the source added.

Should the government fail to bring the pandemic under control, the source said that the speaker is likely to hold the budgetary session of the assembly through video conference.

The budget cannot be passed without first being debated by both the treasury and opposition benches, the source explained, adding that for this purpose, it was critical to convene a session of the assembly, which has not met since earlier this year. Hence, a consultation on discussing these modalities with opposition members is essential, the source added.

Meanwhile, the assembly secretariat has finalised preparations for a virtual session of the house in the next few days.

The last session of the provincial assembly had been marred by protests and walkouts from the opposition parties who had demanded that the provincial government release the allocated development funds. They also protested the K-P Assembly speaker's attitude towards opposition members.

Speaker Ghani and the opposition, the source said, have not been on good terms ever since the beginning of the K-P Assembly's last session. The source added that this may colour the consultations between the speaker and opposition parties, making the road to a smooth budgetary session an uphill journey.

Published in The Express Tribune, April 20th, 2020.