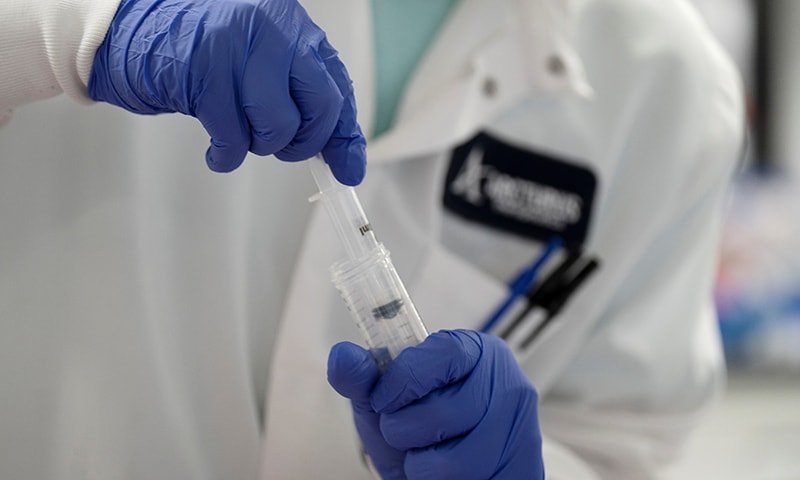 ---
Number of recovering patients rising steadily
Over 54,000 coronavirus tests carried out in Punjab
---
LAHORE: The number of confirmed cases of novel coronavirus (Covid-19) in Punjab has reached 3,686, of which 684 patients have recovered and 41 lost the battle against the highly contagious disease that has affected about 8,000 people and claimed at least 159 lives across Pakistan.

Official statistics released on Saturday night show that the province has conducted coronavirus tests of 54,436 people and quarantined 3,686 people, including 94 prisoners. The data indicated that 202 new Covid-19 patients were brought to different medical facilities in Punjab on Saturday, while 18 patients were in critical condition.

District-wise breakdown of Covid-19 patients' data shows that the provincial capital has the highest proportion of 21.47% patients, followed by 4.21% in Rawalpindi, 3.73% in Gujrat and 3.43% in Multan. The data shows the disease has already spread in all 36 districts of Punjab but the lockdown is helping the authorities to flatten the curve of new cases, although experts believe that the danger is not yet over.

Punjab Chief Minister Sardar Usman Buzdar and Health Minister Dr Yasmin Rashid hailed the doctors, medical professionals and other frontline workers for their tireless efforts as another 29 patients recovered at the Mayo Hospital and Pakistan Kidney and Liver Institute on Sunday.

The health minister said 206 patients from different hospitals in Lahore have returned to their homes so far. Overall in Punjab, at least 684 patients have recovered from Covid-19 in different hospitals in the province. She said the return of patients to their homes in good numbers is an encouraging development. She also appealed to citizens to support government's efforts by complying with the lockdown and staying indoors to avoid further spread of the disease.

Cash relief

Statistics released regarding financial assistance under the Prime Minister's Ehsaas Emergency Cash Programme show that the government has disbursed over Rs53 billion among more than 4.4 million disserving families across the country.

Being the largest province in terms of population, 1.78 million deserving families of Punjab have benefitted as over Rs21 billion has been distributed under the programme since April 9, the data highlights.

The Lahore deputy commissioner disclosed that the cash has been distributed among 77,464 poor families in the provincial capital during the past eight days.

He pointed out that the cash aid disbursement process is still underway from 31 centers in provincial capital. As many as 11,057 persons were given cash relief under the Ehsaas Emergency Cash Programme on Sunday.

The deputy commissioner said the district administration is closely monitoring the cash disbursement process to ensure transparency and safety of people. It is strictly observing coronavirus safety and social distancing protocols announced by health experts at all cash disbursement centre.

All applicants are being screened by medical professionals before entering the cash disbursement centres. They are asked to wash their hands with soap and wait for their turn on seats placed at specific distances in the centres.

On their turn, following biometric verification cash grant of Rs12,000 is being handed over to each deserving person. Pakistan Army and police have also been deployed at the centres for security and maintaining law and order, he concluded.

Published in The Express Tribune, April 20th, 2020.