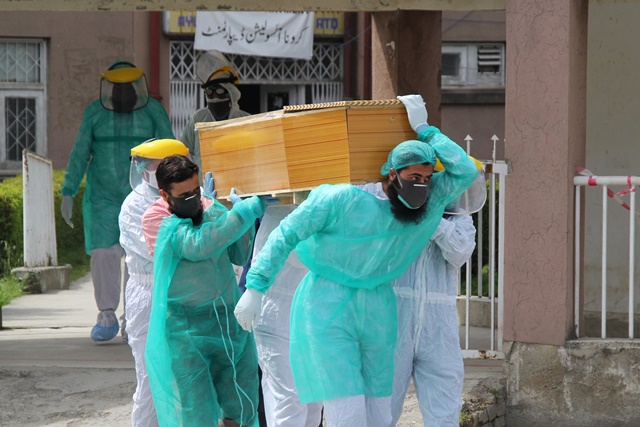 ---
Sindh reports eight Covid-19 deaths — highest in a day
56 deaths in a month shows virus is claiming more than one life every day, says CM
---
KARACHI: As eight more coronavirus-related deaths were reported in Sindh on Sunday, the highest so far in a single day, Sindh Chief Minister Syed Murad Ali Shah raised concerns over the alarming upswing in the Covid-19 death toll.

In a video address, the CM said that 56 Covid-19 deaths had been reported in the province just in a month's time, which was "worrisome and showed that the coronavirus is claiming more lives than one daily."

He said that the first Covid-19 death was reported on March 19 in the province and prior to the eight deaths on Sunday, the highest number of deaths reported in Sindh on a single day - a total of six - was on April 11.

The CM expressed sorrow and pain at the new development, adding that 56 deaths were reported between March 19, 2020 and April 19, 2020. Keeping in view the rise in the number of deaths, he urged citizens to adopt precautionary measures.

Besides, he shared that 1,520 samples were tested for the coronavirus between Saturday and Sunday and 182 among them were found infected with the virus against 138 of 1,666 tested between Friday and Saturday.

"The number of positive cases keeps on increasing as more and more samples are tested," he pointed out.

Speaking with particular reference to Tableeghi Jamaat members, the CM said that 4,346 of them were tested and 494 of them were found infected, adding that three had recovered and been sent home on Sunday.

Similarly, all 176 passengers on the first flight from Oman had been quarantined and tested, with 170 among them cleared of the infection and the results for six others yet to come, the CM said.

Drawing his address to a close, the CM expressed hope that the lockdown would be eased soon, however, adding that life would not be the same as it was on January 1 even after the relaxation of the lockdown.

"We will have to adopt new, health-oriented precautionary measures and continue to observe them until a treatment for Covid-19 is discovered," he underlined.

He once again appealed to citizens to practice social distancing and maintain distance even from their family members.

"When any of you return home, you must wash your hands, change clothes and preferably shower to keep your family safe and secure from the virus," he added. "We are a Muslim nation and hygiene and purity is part of our faith, and it is time to practice these principles of Islam," he concluded.

Published in The Express Tribune, April 20th, 2020.