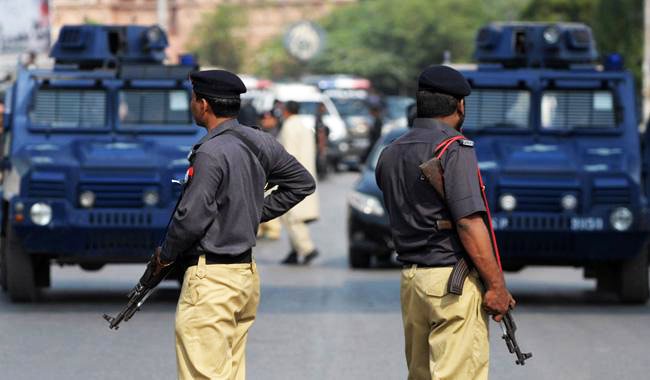 ---
Over 40 cops quarantined after suspect tests positive for Covid-19 in Hyderabad
Hyderabad police have so far arguably been nonchalant about exposure of personnel to coronavirus patients
---
HYDERABAD: Over 40 policemen have been put under quarantine in Hyderabad after an arrested suspect tested positive for coronavirus on Sunday.

Around 33 policemen belonging to the Central Intelligence Agency (CIA) centre, including CIA DSP Ali Muhammad Mughal and in-charge Inspector Munir Abbassi, have been quarantined. Another 10 policemen of the A-Section police station in Latifabad have also been quarantined at the Trauma Centre.

"They will be tested as per the standard operating procedures and all precautions will be taken till their tests are conducted," Hyderabad SSP Adeel Hussain Chandio told The Express Tribune.

He added that health officials would decide whether the policemen were to be kept under isolation for 14 days or allowed to resume their routine work earlier.

Meanwhile, a professor from Liaquat University of Medical and Health Sciences, on condition of anonymity, said that the tests of the policemen should be conducted after 10 to 14 days from the day of their exposure to the positive case.

Covid-19: Saudi top religious authority urges Muslims to pray at home during Ramazan

"An earlier test is unlikely to detect the possible presence of the virus in their bodies," he explained. "It is globally recommended that a suspected case should be tested towards the end of the isolation period."

A CIA official, who also requested anonymity, told The Express Tribune that they had arrested a suspected 'moonshine' peddler from Latifabad on Friday. "He was kept in the CIA centre for around eight hours before he was handed over to the A-Section police," he shared.

The suspect's coronavirus test was conducted on Saturday before he was shifted to the prison upon being given judicial remand by a local court. He was then transferred to Liaquat University Hospital after his test report.

The Hyderabad police have so far arguably been nonchalant about the exposure of personnel to the Covid-19 patients.

'I thought I would never wake up,' Belgian doctor says after surviving Covid-19

Earlier this week, five policemen of the City police station were tested for the virus, after a man arrested in a bogus cheque case tested positive. The tests were carried out within a couple of days after exposure to the infected person and the policemen were allowed to resume their duties after being cleared by the reports.

Police sources claimed that if the CIA police were kept under isolation for a fortnight, the city's security may be compromised.

"The police also need to adhere to the health advisory but not all of them understand the gravity of the contagion and senior officials have not been able to enforce the social distancing and use of protective gear in the force," a source told The Express Tribune.