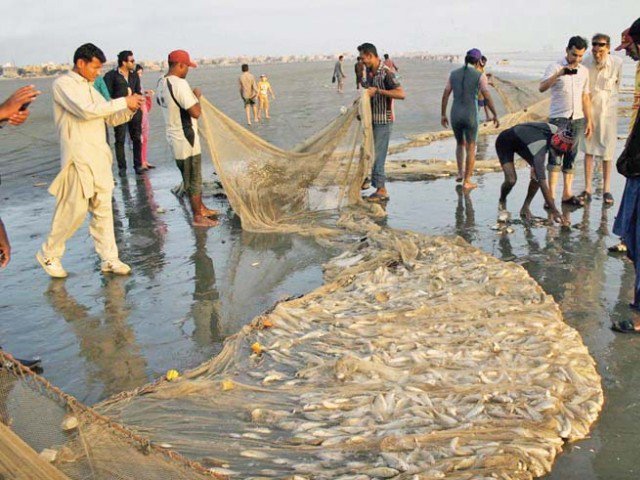 ---
Fishing activities to resume with strict safety measures
SOPs have been issued for buying, selling and general sanitation of the harbour
---
KARACHI: Fishermen will be allowed to resume fishing activities and the sale of fish at the Karachi Fish Harbour under strict safety measures, announced the Sindh livestock and fisheries department in a notification issued on Sunday.

According to the notification the Karachi Fish Harbour Authority (KFHA) will ensure that the Sindh government's standard operating procedures (SOPs) are adhered to by all stakeholders involved, in order to prevent the spread of Covid-19.

Therefore, all fishermen and employees at the harbour have been directed to practice social distancing, wear masks and gloves, and use sanitizers.

Covid-19: Saudi top religious authority urges Muslims to pray at home during Ramazan

The notification also calls for several other precautions, such as strictly following the new timings of landing for all types of boats - between 6am to 6pm - and the congregation of no more than four persons anywhere on the harbour.

Furthermore, only authorised members of KFHA and Fishermen's Cooperative Society (FCS) will be allowed to enter the harbour, while no vendor will be allowed to enter at all.

The notification also stated that those permitted to enter the harbour could only do so through the designated walk-through disinfection gates installed by the FCS.

Processing plants must also ensure that their outfits are operating with the absolute minimum number of required employees; a failure to do so will result in legal action, warned the notification.

'Virus patterns changing, with faster spread'

Meanwhile, several SOPs have been established regarding the fishing activities themselves. Fishermen and their crew, upon arrival at the harbour with their catch, must remain on their boats as auctions of the fish will be carried out from there.

For the auction, a representative of the FCS, a mole-holder (authorised commission agent) and no more than five buyers will be allowed at the site. Following the auction, the catch will be transported directly to the processing plants on vehicles, with the help of no more than five labourers.

Once each auction is finished, the FCS must spray the entire jetties and harbour with sanitizers.