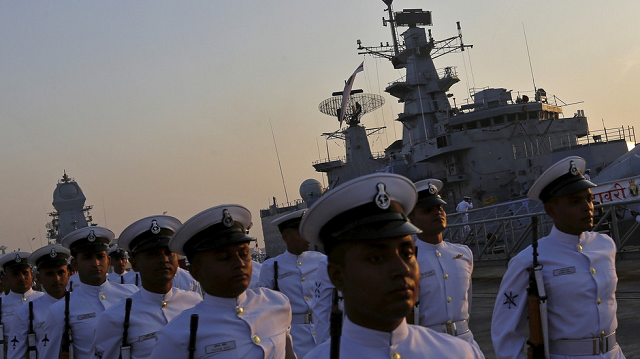 ---
Indian naval base under 'total lockdown' as sailors test positive for Covid-19
INS Angre logistical support base confirmed that at least 20 sailors had tested positive for the virus
---
An Indian naval base in Mumbai imposed a strict quarantine after a number of sailors contracted the novel coronavirus, generating fears that the pathogen could soon find its way onto warships, RT reported.

The INS Angre logistical support base on Saturday confirmed at least 20 sailors testing positive for the virus, triggering a "contact tracing" operation as the military searched for other potential carriers and locked down the naval installation.

According to local media, all the cases were then traced back to a single serviceman who tested positive last week, pointing out that those infected currently reside in the same building.

India's child pornography consumption spikes by 95% during coronavirus lockdown: report

While the infected sailors – who are reportedly asymptomatic for the most part – have been isolated at a nearby naval hospital, it remains unclear if they came in contact with any of the ships' crewmen.

A number of warships and submarines are docked alongside the logistical support base, however, no signs of the virus have been detected on any Navy vessels.

Indian Navy chief Admiral Karambir Singh recently stressed the need to prevent the virus from taking hold on military vessels, where effective containment is virtually impossible.

"We have to ensure our operational assets, warships and submarines, remain free from the virus…I know it's a very difficult task because physical distancing on board warships, especially submarines, is a great challenge," Singh said in a video message to sailors last week.

Hospital in India segregates Muslim, Hindu Covid-19 patients

While the 20 or so sailors represent the largest Covid-19 outbreak in the Indian military to date, at least eight Army personnel have also tested positive, two of them medics.

India has tallied nearly 500 fatalities and more than 14,000 cases in its Covid-19 outbreak – some 3,200 of them in the state of Maharashtra, the country's worst hit-area, of which Mumbai is the provincial capital.

New Delhi recently extended a nationwide lockdown to early May, in an effort to stem the spread of the virus, as citizens endured another month under tight restrictions.