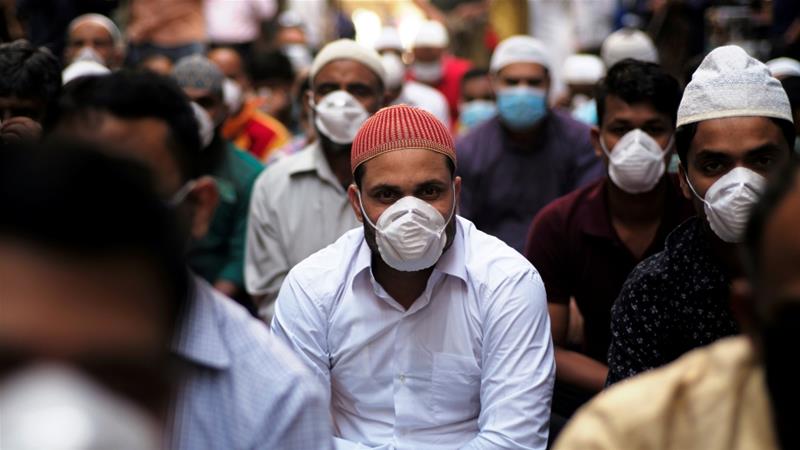 ---
PTI govt, Ulema agree on SOPs for Ramazan amid coronavirus outbreak
Worshippers get conditional permission to offer congregational prayers in holy month
---
ISLAMABAD: In Ramazan, worshippers will be able to offer all congregational prayers at mosques after taking necessary precautions, including that of social distancing, to avoid spread of the contagious novel coronavirus during the holy month that is likely to start from Friday, April 24.

This was announced by the President of Pakistan, Dr Arif Alvi, after a meeting at the President House in which all stakeholders, including representatives of the federal and provincial governments and Azad Jammu and Kashmir and Gilgit-Baltistan as well as religious scholars of all schools of thought took part.

Addressing a live press conference after the meeting, the president said everyone had agreed on a 20-point standard operating procedure (SOP) to prevent spread of the contagion during the congregation.

"Now to violate this SOP will be a like a sin as all Ulema and Mashaikh [religious scholars and spiritual leaders] have agreed on it. We must keep in mind that [when you don't take precautions] you commit a sin as you infect another person," Alvi said.

Reading out the SOP, the president said all mosques will remove carpets and clean the floor. However, people would be allowed to bring their prayers mats from home.

There will be no gathering after congregational prayers – including five times daily prayers, Friday prayers and taraweeh – prayers offered after Isha prayer in Ramazan.

The prayers will preferably be offered in open courtyards of mosques or a garden.

People over 50 years of age and children would not be allowed and the worshipers during congregational prayers will stand at 6-feet distance from each other, according to social distancing precaution prescribed by the World Health Organisation (WHO).

The SOP said taraweeh and other congregational prayers will not be conducted on roads, footpaths and anywhere else other than mosques. It said mosques floors should be washed with chlorinated water regularly and mosques would form committees to ensure people are abiding by the rules and SOPs.

It recommended painting markers on floors to ensure people follow social distancing rules. It also asked people to perform ablution at home; wear face masks in mosques and avoid handshakes and hugging.

The president asked people to perform Aitkaf at home. During Aitkaf, worshippers stay in mosque in the last 10 days of Ramazan in order to fully dedicate themselves to worship.

The SOP said the mosques would not organize mass Sehri and Iftar gathering and that the mosque committees would remain in constant contact with the authorities

President Dr Arif Alvi, however, made it clear that the authorities could impose restrictions if the novel coronavirus cases started to spike. He said authorities might also impose restrictions in some particular areas according to situation of coronavirus infections in those localities.

The president said the government wants to give a message of unity to the nation.

He said he had consulted with different political leaders over the last few days and sought proposals from the provincial governments for guidelines to be observed during the holy month in mosques.

"The message of discipline to cope with coronavirus must emanate from mosques. We have to follow discipline as per the life and teachings of Holy Prophet (PBUH)." He also prayed to the Almighty to rid the country of coronavirus pandemic.

All provincial governments officially restricted congregations in mosques, including for Friday prayers, to five people or less in the last week of March in order to stop spread of novel coronavirus.

The restriction on congregational prayers provoked a backlash in the country, with police officials attempting to halt Friday prayers being attacked by mobs at least twice in Karachi.

On April 14, prominent Ulema and religious scholars from across the country met and later announced that congregational prayers – including 5 time daily prayers as well as the Friday prayers – would be held in mosques from now.

"Restriction of three or five people at mosques is not proving practical," Mufti Taqi Usmani, one of the top religious scholars in Pakistan, had said at a media briefing in Karachi. Later, the minister of religious affair announced that the president would hold a meeting with religious on Saturday.

Meetings in Lahore and K-P

After announcement if 20-point advisory, religious scholars from different schools of thoughts assured their full cooperation to the government during a meeting with Punjab Governor Chaudhry Sarwar.

Over 35 Ulema – including Pakistan Ulema Council Chairman Maulana Tahir Ashrafi, Wifaqul Madaris Nazim-e-Aala Maulana Hanif Jalandhry, Rabta-tul-Madaris President Maulana Abdul Malik, Wifaqul Madaris Shia Council's Vice President Allama Niaz Hussain Naqvi – called on Sarwar at Governor House.

They assured their full cooperation to the governor and agreed to follow all 20-point advisory issued by the government for the holy month of Ramadan. They appealed to the faithful to follow the government measures while offering prayers in mosque during holy month.

Meanwhile, Khyber-Pakhtunkhwa Governor Shah Farman proposed setting up an eight-member committee of ulema in all four provinces, Gilgit-Baltistan and Azad Jammu and Kashmir to ensure that worshippers practice social distancing to control the spread of coronavirus in the country.