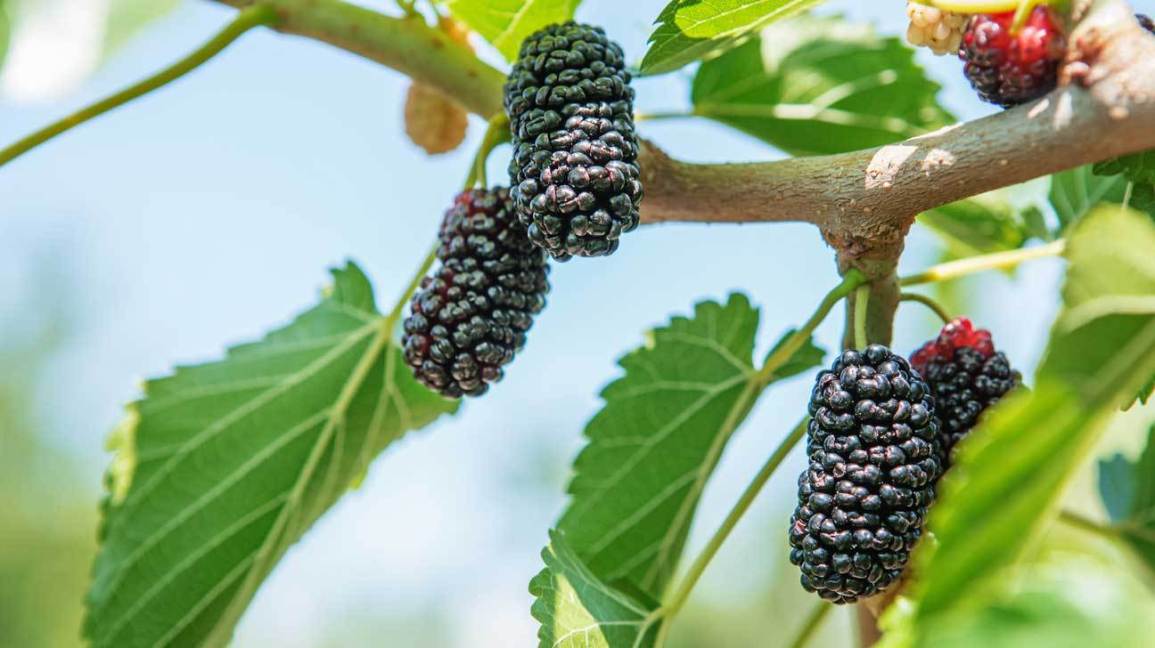 ---
LAHORE: Sale of spring fruit mulberry has started in various areas of Lahore, but its price has doubled as compared to last year.

Green Badana mulberry is being sold for Rs600 per kilogramme, while black mulberry is being sold for Rs480 per kg.

The forest department has prepared 30,000 saplings for growing mulberry in greenhouses, out of which 15,000 have been distributed. The sale of mulberry fruit begins in April and May. Green and black mulberry can be seen in the market these days. Green mulberry is known as Badana Mulberry and is more expensive than the black variety.

Agriculture expert Rizwan Ahmed said that two varieties of mulberry are common in Pakistan's markets. One of them is 'Mahi', which is brought from abroad. Its special quality is that its fruit is very succulent and sweet. The expert said the other variety is 'Kalkati', which is planted in the vicinity of Lahore.

Even though the fruit of the Kalkati species is longer and thicker than Mahi, it is less sweet than the Mahi mulberry. Cultivation of the Mahi variety could not succeed in Lahore but it has thrived in Faislabad due to its climate.

Forest, Wildlife and Fisheries Department's Sericulture Deputy Director Farooq Bhatti said most of the mulberry trees in Punjab are in the forest of Changa Manga. Some trees are planted just to harvest leaves for feeding silkworm while some produce longer mulberries.

He added that this year 30,000 mulberry saplings were planted in nurseries, out of which 15,000 have been sold while the rest are in the stock.

"A mulberry plant costs Rs20, while in private nurseries it is sold for Rs200 to Rs300," he said. Bhatti said the most popular mulberry fruit is smaller but tasty and has medical benefits.

Although it is extremely sweet, a sourness accompanying it makes its taste unique. The fruit is three to four inches long. The green variety is very sweet and the black one isn't that sweet and sour and is called shahtoot.  Experts said that the mulberry fruit is not only used for the beverages but also as dry fruit.

In addition, it is also used in medicines. Lahore has an abundance of mulberry farms near Shakarpur. A farmer of mulberry, Choudhry Abdul Hameed, said that the amount of fruit a tree produces depends on its age and health.

He maintained that 80 to 100 trees are planted on one acre which starts producing the fruit in approximately one and a half months. "If an average yield of a tree is one maund, 80 maunds of mulberry will be obtained from one acre," he said.

If the mulberry is sold at Rs300 per kg in the market, then Rs950,000 will be earned from one acre, while the cost is Rs300,000.

He further said that his employees start picking the mulberry fruit at 7am every day and by 1pm they collect four to five maunds of the fruit. "The fruit is then packed in large baskets and taken to the major markets of Lahore," he said.

However, experts say the mulberry tree cultivation has reduced due to a disease, which causes its roots to rot.

At first, the leaves of the tree begin to turn yellow and then the tree starts to dry up. In some cases, the tree falls down if the attack is severe. This usually happens in winter if the disease is accompanied by excessive watering.

Published in The Express Tribune, April 19th, 2020.
COMMENTS
Comments are moderated and generally will be posted if they are on-topic and not abusive.
For more information, please see our Comments FAQ