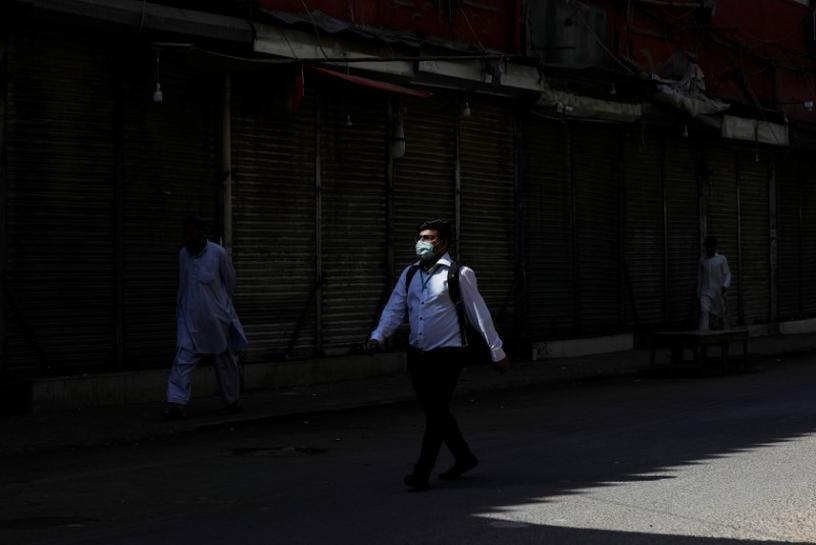 ---
In Punjab, shopkeepers circumvent lockdown curbs
Police fail to enforce restrictions aimed at stemming virus
---
LAHORE: Police appear to have failed to ensure complete enforcement of lockdown to curb the spread of novel coronavirus as shops in most city markets are found operating behind closed shutters.

A number of shops of clothes, shoes, cosmetics and other products were found open on Saturday with shopkeepers taking deceptive measure to avoid action by the authorities.

The Main Baazar and Quenchi, Ichra, Kahna, Chakian, Dharampura, Daroghawala, Ismael Nagar and other popular markets of the city were open.

In the Main Bazaar, some people were sitting outside the closed shutters of shops and asking the pedestrians whether they wanted to purchase clothes, shoes and other items. On receiving a positive response, they unlocked and lifted the shutters, directing the customers to enter the shops. When a customer wanted to leave the shop, the shutter was lifted to allow again.

Two groups of youth were standing a few yards away from both entrances of the bazaar to warn the shopkeepers if they saw a police vehicle approaching.

Several famous shops were crowded with customers but their shutters were closed.

In Ichra Bazaar, the shops near the entrance were closed but most of those on the road leading to Farooq-e-Azam Chowk were serving customers allowed in and out after lifting the shutters.

Some shopkeepers had set up stalls outside their shops on footpaths and handcarts.

People were also selling clothes on motorbikes after bringing them from large shops inside the market.

Cloth shops were operating openly in Quenchi, Kahna, Chakian and several other bazaars.

Talking to The Express Tribune, some shopkeepers said they could not meet their expenses while sitting idle in their homes. Consumers said they did not know how long the lockdown would continue but they needed clothes for summer and Eid.

Main Bazaar traders' leader Naeem Butt conceded that some shopkeepers were not acting upon the government's orders and his requests to close the shops.

Haji Ashfaq, president of Ichra Bazaar traders' association, said some shops were opened at Farooq-e-Azam Chowk but his colleagues had got them closed.

SSP Operations Faisal Shehzad told The Express Tribune that police had raided markets and other places from where they had received information that shops had opened. He said shops were closed wherever violation of the lockdown was noticed.

He said the police were also appealing to the people to avoid going outside their homes except for purchase of essential commodities, which the governed had permitted. The official said those who were violating the guidelines of the government would not be spared.

Published in The Express Tribune, April 19th, 2020.