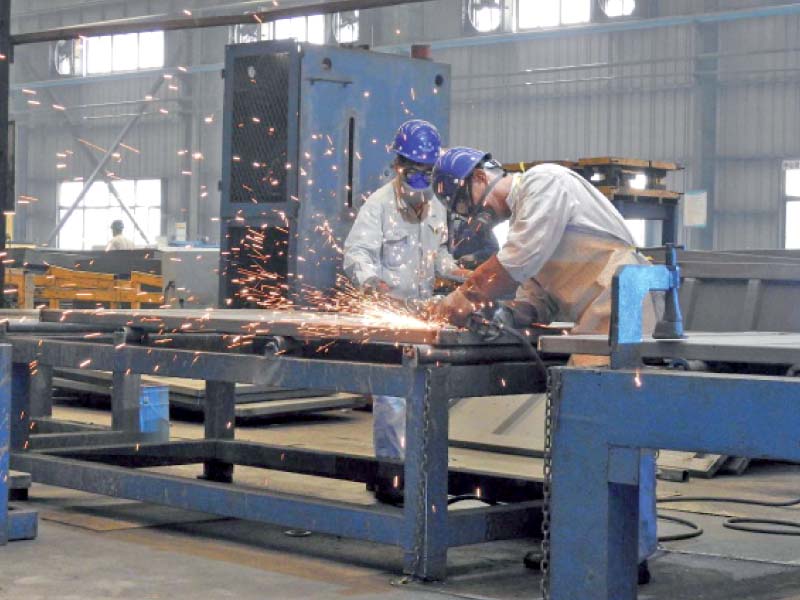 ---
Industries struggling to stay afloat as coronavirus cases surge in Pakistan
Despite Pakistan govts' orders to retain employees, many have been laid off
---
KARACHI: Pakistan is at the risk of recording surge in Covid-19 cases since the country cannot implement and monitor precautionary measures in response to the spread of coronavirus in factories which are resuming operations with the primary objective of protecting employments and saving people from hunger.

"Industrialists are not implementing the government directives. The government has directed them to retain all the employees and pay them salaries during the lockdown. However, they have rendered thousands of employees jobless and did not pay salaries to them," Pakistan Institute of Labor Education and Research (Piler) Executive Director Karamat Ali told The Express Tribune.

Furthermore, he stated that there are only 542 factory inspectors nationwide. "They cannot ensure implementation of the precautionary measures at factories as there are around 350,000-400,000 factories across the country."

According to an International Labour Organisation (ILO) delegation that visited Pakistan in 1986, the number of factory inspectors was highly insufficient. If they inspect a factory today then the number of the same factory for the next inspection would come after 50 years. "At present, the country's capacity to inspect factories has reduced to only 5% compared to what was in 1986," he added.

Existing laws demand inspection of factories every year to check safety and security measures for employees. Unfortunately, it does not happen. "Factories have not been inspected since 1981. The Baldia factory in Karachi, where 260 people died because of a fire in 2012, had never witnessed inspection throughout its working years," he remarked.

The government has made sure that some of the factories continue to operate during the lockdown to ensure food security and to ensure availability of medicines, while others are set to reopen.

"However, the labour departments are virtually lying closed. The officials who are responsible to monitor safety measures at factories opted to stay at homes. If doctors and people associated with the essential services are out of their homes to ensure lives then why are factory inspectors staying indoors," he questioned.

Meanwhile, the labour departments have left the matter of implementing and monitoring the precautionary measures upon district officers, who cannot do so as well, he clarified. "The factories that remained operational in Karachi, SITE, Nooriabad, Korangi and others in Faisalabad have cut jobs. A Faisalabad-based textile factory has alone rendered thousands of people jobless. Similar cases have been observed in Karachi. Employees have held protests but this has remained unnoticed by the parliamentarians," he informed.

The federal and provincial governments have prepared Standard Operating Procedures (SOPs) according to which employers should make sure social distancing is practised among workers and should provide face masks, proper sanitary facilities, soaps, sanitisers and safe transportation. Such SOPs are yet to be issued through different ordinances.

The government has provided relief packages worth Rs1.2 trillion for industries and a separate relief package for the construction industry. Besides, the State Bank of Pakistan (SBP) has announced several measures, including subsidised loans for paying salaries. However, industrialists are focused on protecting themselves and not their employees who are the primary and larger objective of such relief packages and measures taken by the government of Prime Minister Imran Khan.

Employers Federation of Pakistan (EFP) President Mayjeed Ayziz said that the current health and economic crises have badly hit businesses and do not allow employers to retain all the workers and continue to pay them salaries. The resumption of production may help industrialists to retain workers and pay salaries.

"We will ensure SOPs at work like social distancing, will provide them with proper sanitary facilities, sanitisers, and will ensure safety at canteens and mosques," he assured.

Elaborating further the president said employees will be directed to have lunch at different time slots rather than all of them going to the canteen at the same time. Similarly, employees will be asked to offer prayers in more than one congregation, he apprised.

An industrialist said that the government of Sindh was demanding undertaking to implement SOPs during work. They have requested Sindh Governor Imran Ismail not to sign the provincial ordinance demanding employers to retain all the employees and pay them salaries during the lockdown.

A worker at a leading textile factory in Karachi said his employer is implementing the SOPs. "The gap between stitching workers have been widened. Sanitisers and disinfection showers are installed at multiple spots within the factory," he said.

"Selected workers have continued to come every day as the employer has shared a list of the workers with the law enforcement agencies to allow them to commute."

Ayziz said it was not so simple to acquire the government offered subsidised loan for paying salaries.

"We (industrialists) have held an online meeting with the central bank governor and his team to address the issues. Many industrialists lack collaterals (guarantee) against which banks will offer the loan."

Different surveys conducted by well-known organisations like Gallup and Google found that some 43% of people have taken no precautionary measures in response to the disease in Pakistan. While 17-18% more people are out of their homes in residential areas compared to a significant drop in commercial areas during the lockdown.

Published in The Express Tribune, April 19th, 2020.

Like Business on Facebook, follow @TribuneBiz on Twitter to stay informed and join in the conversation.