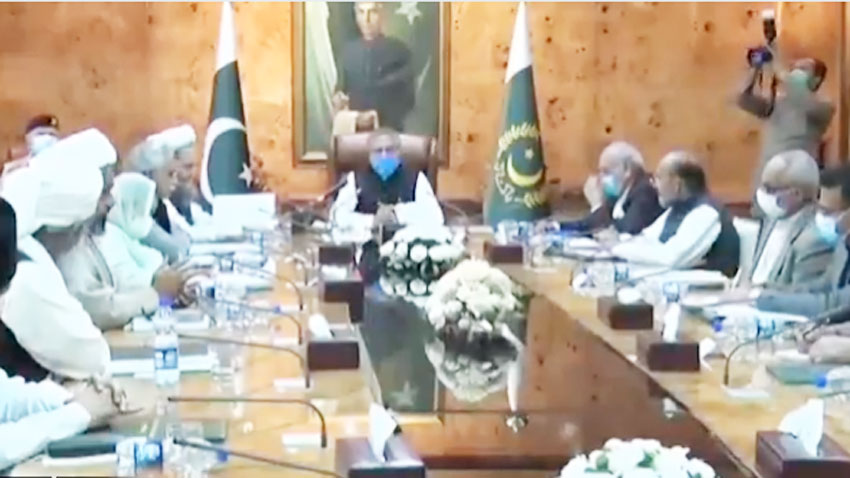 ---
Govt, ulema reach consensus on conditional prayer congregations during Ramazan
20-point plan agreed upon during meeting with President Arif Alvi
---
The government and religious scholars on Saturday reached consensus on conditional prayer congregations and opening of mosques in Ramazan.

President Arif Alvi, during the meeting with the country's top religious scholars, expressed confidence that precautionary measures would be taken in mosques during Ramazan to limit the spread of the novel coronavirus.

A 20-point plan has been agreed upon, said the president and added that Ramazan is a month of worship and Muslims all over the world love this month.

"It was necessary that the government's recommendations and ulema's recommendations be collected before any decision was taken."

The president further said that "special prayers should be made for those in Kashmir during Ramazan".


Salient points


No carpets in mosques, floors to be cleaned before prayers


People may bring prayers mats from home


No gatherings after prayers or Taraweeh


Preferable to pray in the open if the mosque has such an area or garden


People over 50 years of age, children should not be allowed


Follow instructions of social distancing by WHO and other health experts


Taraweeh should not be conducted on roads, footpaths and anywhere else other than mosques


People should continue to keep praying at home


Mosques floors should be washed with chlorinated water regularly


Mosques should form committees to ensure people are abiding by the rules and SOPs


There should be at least six feet of distance during congregational prayers


Markers on floors to ensure people follow social distancing rules


Mosques should form committees to ensure people are abiding by the rules and SOPs


People should perform ablution at home


Wear face masks to mosques


Observe itikaf at home


Avoid handshakes


No Sehri or Iftari in mosques


Mosque committees should be in constant contact with the authorities



The president had earlier said the federal government would have to give a message of unity to the nation to deal with the pandemic.

Tough action against hoarding, profiteering inevitable, warns PM

The president had also said that he had consulted with different political leaders over the last few days and sought proposals from the provincial governments for guidelines to be observed during the holy month in mosques.

"The message of discipline to cope with coronavirus must emanate from mosques," he said. "We have to follow discipline as per the life and teachings of Holy Prophet Muhammad (PBUH)."

The president also prayed to God Almighty to rid the country of coronavirus pandemic.

Earlier, Minister for Religious Affairs Noorul Haq Qadri had said the decision regarding congregational prayers, Taraweeh and Aitkaaf will be made in unison.

On April 14, religious leaders had demanded the federal government lift restrictions on congregational prayers at mosques in the country, saying prayers are essential for Muslims and should be allowed as long as safety measures are observed.

Prime Minister Imran Khan had also earlier assured the clergy regarding meeting religious scholars to discuss the restrictions on congregational prayers, imposed last month. A maximum of five people were allowed to gather for prayers at a time.