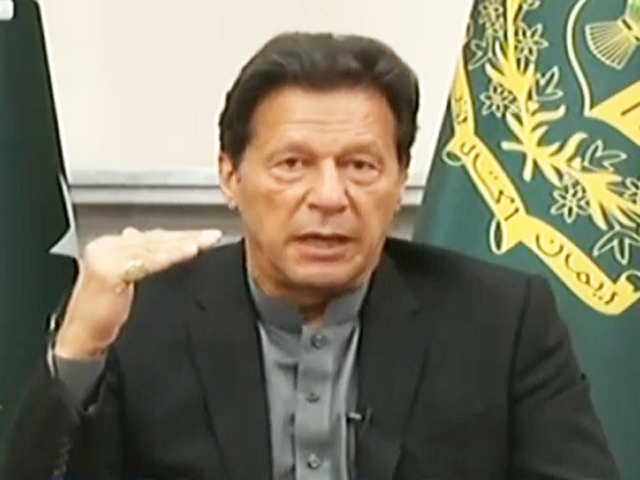 ---
LIVE: 'Timely lockdown saved Pakistan from disaster', says PM as nationwide tally hits 7,925
Mosques to remain open in Ramazan; President Alvi calls for taking precautionary measures
---
KARACHI / ISLAMABAD / QUETTA / PESHAWAR / LAHORE / GILGIT / MUZAFFARABAD:
The novel coronavirus emerged in the central China city of Wuhan towards the end of last year and proliferated to almost the whole world within a couple of months. It's not the virulence or fatality, but the infectivity of the new virus - also known as SARS-CoV-2 - that has set off a global frenzy.
The Covid-19 respiratory illness caused by this mysterious contagion has so far infected more than 2.2 million people in 202 countries and territories of the world – more than 150,000 of them have died and counting.
Pakistan, despite its close proximity with China, remained coronavirus-free until February 26 when a young man from Karachi tested positive after returning from Iran – one of the worst-hit countries. After a brief hiatus following the first case, Covid-19 cases spiked as more pilgrims returning from Iran tested positive for the virus.
The nationwide tally of Covid-19 patients stands at 7,925 with 3,504 cases in Punjab, 2,355 in Sindh, 1,215 in Khyber-Pakhtunkhwa, 376 in Balochistan, 257 in Gilgit-Baltistan, 163 in Islamabad, and 48 in Azad Jammu and Kashmir.
The virus has claimed 144 lives while at least 1,832 coronavirus patients have recovered.
The number of cases has continued to soar despite the country being under lockdown for the third consecutive week.
The situation remains fluid and we're updating stats as soon as new figures are officially released.
Follow 
The Express Tribune
's live coverage of the pandemic 
here
.


1:30am: 226 stranded Umrah pilgrims repatriated from Saudi Arabia

226 Pakistani Umrah pilgrims landed in Multan on Saturday via a special Saudi Airline flight which departed from Jeddah.

Foreign Minister Shah Mehmood Qureshi welcomed the passengers upon arrival, who had earlier assured the nation that the federal government would bring back stranded Pakistanis in different countries.

The flight was previously scheduled to take off on Thursday, but it was postponed by the Saudi Ministry of Hajj and Umrah for administrative reasons.

The authorities are striving to bring hundreds of Pakistani nationals who are still stranded in different parts of the world by operating special flights.

Read details here




12:40am: 145 more cases take Punjab's Covid-19 tally to 3,649

Punjab Chief Minister Usman Buzdar has confirmed another 145 Covid-19 cases in the province, taking the tally to 3,649.

41 people have succumbed to the deadly virus while 18 are still in critical condition across the province, he wrote on his official Twitter handle.


Punjab #COVID19 statistics:
Tests conducted till date: 54,436
Confirmed cases: 3,649
Non-quarantine cases: 1,357
Quarantines:
Zaireen: 701
Tableeghi Jama'at: 1,497
Jail Prisoners: 94
Recoveries: 684
Deaths: 41
Critical:18#PunjabCoronavirusUpdate

— Usman Buzdar (@UsmanAKBuzdar) April 18, 2020
Faisalabad 36, Chiniot 8, TTS 5, Jhang 10, RYK 44, Sargodha 19, Mianwali 11, Khushab 4, Bahawalnagar 8, BWP 11, Lodhran 3, DG Khan 21, Layyah 1, Okara 1 and Pakpattan 1.

After completing quarantine period, and negative tests, people are being transferred to their home districts.

— Usman Buzdar (@UsmanAKBuzdar) April 18, 2020


12:25am: G-B reports seven news cases as Covid-19 tally rises to 257

With seven new cases, Gilgit-Baltistan's coronavirus cases have jumped to 257, adviser to G-B chief minister on information Shams Mir confirmed late on Saturday.

A total 193 patients have recovered in the region so far, he added.




12:20am: Sindh govt to begin rapid testing in hotspots of Karachi's South district

The Sindh government decided on Saturday to conduct random rapid tests for coronavirus detection in Karachi's South district. The decision was taken during a meeting headed by special assistant to Sindh chief minister Waqar Mehdi. The results of these tests, of which 300 will be carried out in a day, can be acquired in 10 minutes.

The participants of the meeting agreed to carry out rapid testing in coronavirus hotspots in South district, including Lyari, Garden and Saddar.

Read more here




12:00am: Police 'beat up' welfare volunteer during ration distribution drive in Karachi

The Alfalah police allegedly beat up a volunteer of the Al-Khidmat Foundation Pakistan on Friday night.

The incident is said to have taken place in the surroundings of Jamia Millia, Malir and Rafah-e-Aam Society, where volunteers of the Al-Khidmat Foundation Pakistan were going door to door, distributing rations.

Some police officials deployed at a nearby picket reportedly asked them to leave the area upon which the volunteers informed the officials that they were only distributing rations and requested them to let them continue.

Police, however, allegedly beat up one among them, Fazil Shah, and took the volunteers to a police station.

Details here




11:50pm: Businesses to resume on rotational basis in Sindh

In a meeting with traders on Saturday, the Sindh government agreed to let traders open their businesses on a rotational basis, provided that they operate in line with standard operating procedures (SOPs) issued in connection with the pandemic lockdown.

It was decided during the meeting that selected businesses would be allowed to operate on specific days, such that all related enterprises opened on same day. For example, electricians, air conditioner shops and those selling other electrical appliances would open on the same days. Similarly, tailors and embroiderers would work on days fixed for the textile and garments sector.

Traders also requested the government to allow them to begin home delivery services, at which Sindh Chief Minister Syed Murad Ali Shah expressed keen interest in scaling up online and on-call business activities.

Read full story here




11:35pm: Govt launches online portal to assist stranded Pakistanis abroad

The federal government has launched an online portal to support and assist Pakistani nationals stranded in different coronavirus-hit countries across the world.

Special Assistant to the Prime Minister on National Security Moeed Yusuf, in a statement, said visitors can get information about flight schedule by clicking on "Air Travel" button on the website.

The website contains government's policies and travel guidelines for Pakistanis stranded in different countries.




11:25pm: Eateries allowed to resume drive-through services in Sindh

Eateries have been permitted to resume drive-through services, provided that they have already implemented all lockdown orders and ensure proper social distancing while delivering the service, according to a notification issued by the Sindh home department late on Friday.

The government had previously allowed restaurants to resume home delivery services, while dining in and takeaway are still banned.

Meanwhile, a separate notification, issued by the office of Karachi Commissioner Iftikhar Shallwani, stated that it was mandatory for all stepping out of their houses for valid reasons to wear facemasks, such that their noses, mouths and chins remained covered.

The notification also elaborates on other lockdown guidelines for citizens and businesses.

Read more here




11:15pm: PMA asks Sindh CM to take a leaf from Punjab's book

The Pakistan Medical Association (PMA) has requested Sindh Chief Minister Syed Murad Ali Shah to shift Covid-19 patients kept in home isolation to government isolation centres to prevent them from becoming carriers of the virus, while also asking for benefits for medical staff similar to those announced in Punjab.

A PMA delegation met the CM on Saturday, asking him not to transfer coronavirus patients to the isolation centres established at tertiary care hospitals, pointing out that there was a risk that they could infect the staff and other patients there.

Moreover, they requested Shah to announce risk allowances and pay raises for the doctors, paramedics and other staff serving on the frontlines. "We demanded that he provide benefits similar to those announced by the Punjab government for its doctors," a doctor told The Express Tribune.

The PMA members further stated that the provincial government should declare the doctors who have lost their lives in the war against the pandemic as 'Shaheed', as the Punjab government was doing.

Read our full story here




10.30pm: Balochistan govt orders public to wear face masks when going outside

Amid a rise in the local coronavirus cases, the Balochistan government has made it mandatory for all those going outside for any valid reason to wear face masks.

In a notification issued on Saturday, the provincial home department said "using mask, scarf or any other piece of cloth on the face" is mandatory as a pre-cautionary measure against Covid-19.

It also warned that that the legal action would be taken against violators.




10:00pm: Sindh imposes blanket ban on pillion riding 

Tightening the coronavirus lockdown measures, the Sindh government has imposed a complete ban on pillion ridding with no exemptions.

The notification issued by provincial home department on Saturday  directed the police to ensure the implementation on the order.




9:30pm: Punjab allows principals, accountants to visit schools between 9am to 1pm

The Punjab government has allowed two persons including principal/administrator and accountant to visit the school for management purpose between 9am to 1pm.

Schools across the province are closed till May 31 amid coronavirus lockdown.

A handout of School Education Department issued on Saturday said that teachers and staff can also be called for payment of salaries but only one class at a time can be catered.

For now, the facility can be availed between April 20 and 25. Dates for May and June would be announced later, it further said.




9:15pm: Balochistan reports 41 new Covid-19 cases in last 24 hours

The number of coronavirus patients in Balochistan has increased to 376 with the addition of 41 fresh cases on Saturday, according to a provincial health department statement.

It said as many as 144 patients have fully recovered with five Covid-19 deaths reported so far.

A total of 4,709 people tested negative for coronavirus as the authorities have carried out 5,085 total tests thus far, said official statement.




8:50pm: Punjab reports 94 new cases to take Covid-19 tally to 3,504

The Punjab health department has reported 94 new more case of coronavirus to take the provincial tally to 3,504.

This includes 70 pilgrims, 1,374 members of Tableeghi Jamaat, 91 inmates and 1,338 ordinary citizens.




8:10pm: 25 new cases raise Balochistan's Covid-19 tally to 376

Balochistan government's spokesperson Liaquat Shahwani has said the provincial tally of coronavirus has risen to 376.

This includes 229 local transmission cases, he wrote in a tweet on Saturday.


بلوچستان میں کورونا وائرس سے متاثرہ افراد کی تعداد 376 ہوگئی ۔
کورونا سے متاثرہ مقامی افراد کی تعداد 229 ہوگئی۔
عوام الناس سے دست بستہ گذارش ہے کہ احتیاط کیجئے
🙏🙏🙏🙏🙏🙏🙏🙏🙏🙏🙏🙏🙏

— Liaquat Shahwani (@LiaquatShahwani) April 18, 2020


8:00pm: NIBD's passive immunisation technique gets US drug agency's nod for clinical trials

In a major development, the United State's Food and Drug Administration (FDA) on Saturday registered the passive immunisation technique from the National Institute of Blood Diseases (NIBD) to treat Covid-19 patients.

Researchers around the world register their protocols at ClinicalTrials.gov, being run by America's FDA and NIH institutions.

Experts from across the globe discuss and coordinate with each other regarding their work on the forum.

Professor Dr Tahir Shamsi, renowned haematologist and the head of NIBD, told The Express Tribune that FDA has registered the clinical protocol of the technique, adding that the World Health Organisation (WHO) has also been informed.

Read more here




6:45pm: Police register second case against Lal Masjid cleric for violating lockdown orders

Islamabad police have registered a second case against former khateeb (prayer leader) of Lal Masjid Maulana Abdul Aziz for defying the government's ban on Friday congregational prayer.

The Abpara police booked Aziz and Abdul Sattar for violating the section 144, which was imposed to ensure implementation of social distancing measures to control the spread of coronavirus.

This is the second time the firebrand cleric has been booked for the same offence, but he is yet to be arrested.

Congregational Friday prayer has been banned by the district government amid the increase in the number of local Covid-19 cases.

Read more here




6:25pm: Covid-19 control room established to detect lockdown violations in Peshawar

The Khyber-Pakhtunkhwa (K-P) government has established a coronavirus control room to monitor situation in virus-hit areas in Peshawar. The authorities have so far sealed 44 different areas and have declared them as quarantined in the provincial capital.

More than 1,700 cases have been registered against individuals violating the government's lockdown orders while around 3,000 individuals have been booked so far.

The control room is also actively engaged in spreading awareness regarding the preventive measures people should adopt to save themselves from the highly contagious disease.




4:45pm: 138 new cases reported in Sindh

Murtaza Wahab confirmed that 138 new cases were reported across Sindh with the death toll rising to 48 in the province.

He further said that 11 people have recovered from the virus in the province in the past 24 hours.


The following information is relevant to assess the situation of #COVIDー19 in Sindh as of 18th April at 8 AM:

Total Tests 22938 (today 1666)
Positive Cases 2355 (today 138)
Recovered Cases 592
Deaths 48

In the last 24 hours, 11 people have recovered from corona in Sindh

— Murtaza Wahab Siddiqui (@murtazawahab1) April 18, 2020
4:05pm: PM hits out at Sindh government for creating panic

The premier on Saturday said that it was not a time for politicking and took a jibe at the Sindh government for creating panic with statements that the government was hiding the total number of deaths caused by the novel coronavirus.

He said that announcing on television that there was a surge in deaths without any investigation would only cause panic.

The premier urged the provinces to stay united in the time of crisis.

[/fbvideo]

Read full story here


3:55pm: Testing capacity to be increased: Asad Umar

Planning and Development Minister Asad Umar said that though they haven't been able to increase the testing capacity like it had initially planned but the government aimed to conduct 25,000 tests by the end of April.


3:50pm: Special train of 30 coaches will depart from Lahore to Chaman tomorrow

Federal Minister for Railways Sheikh Rashid says a special train of 30 coaches will depart from Lahore to Chaman on Sunday April 19.

Addressing a news conference in Lahore on Saturday, he said the train will have two medical coaches for dealing with any emergency arising out of coronavirus on the way.

The minister said Rs12,000 each and ration bags will be given to railway coolies on Sunday.

He said railway employees will be paid salary and pension on time though the train operation is closed and income-generation process is affected due to coronavirus pandemic.


3:41pm: 'Pakistan could face difficulties from mid-May'

Prime Minister Imran Khan said that though the number of cases was lower than projected, the country could face 'difficulties' from mid-May.

He advised people to be vigilant for the days to come.

Read full story here




3:40pm: PM reiterates strict action against hoarders

Prime Minister Imran Khan warned people against hoarding and creating an artificial scarcity during Ramzan.

"Trying to make a profit at the expense of others will be dealt with harshly," he cautioned.

He further said that the government will take stringent measures against the smuggling of all goods and will have a system in place to counter such illegal activities.

Read more here


3:35pm: WATCH: PM speak on the lockdown across the country
Live: PM @ImranKhanPTI expressing his views on #Covid_19 Pandemic: #CoronavirusPandemic #TogetherWeCan #COVID19Pakistan #PakistanFightsCorona https://t.co/nAXAPVoYii

— Radio Pakistan (@RadioPakistan) April 18, 2020
3:30pm: PM addresses media

Prime Minister Imran Khan on Saturday stated that the government had initially estimated that the coronavirus cases to soar past 50,000 but looking at the latest trends the cases could be limited to 12,000 to 15,000.

Read more here


2:25pm: Mosques to remain open in Ramazan

President Dr Arif Alvi said mosques will remain open in Ramazan but citizens must adhere to the strict guidelines.

The president briefed the media after a meeting with the country's Ulema and said people above the age of 50, minors and those suffering from flu will not be allowed to enter.

Alvi said carpets must not be used, instead, people should pray on floors, adding that those who want to bring their own janamaaz [prayer mats] may do so.

He underscored that worshippers must maintain a distance of six feet when praying and people should wear face masks and avoid shaking hands or embracing others.

The president said if during the month of Ramazan, the government feels that these precautionary measures are not being followed or that the spread of the virus is not being contained, then the government can revisit its decision.

2:20pm: 'Yaran-e-Watan' to be launched today

The federal government will introduce a digital platform called 'Yaran-e-Watan' today. This will allow overseas Pakistani health professionals to share their experiences to contain the virus.


2:00pm: Sindh CM meets traders to discuss issues

Adviser to Sindh chief minister Murtaza Wahab said CM Murad Ali Shah is meeting a delegation of traders to discuss various issues being faced by traders amid the coronavirus outbreak.



CM Sindh is meeting a delegation of traders to discuss various issues being faced by traders, which have been caused by #COVIDー19 in Sindh.

— SenatorMurtaza Wahab (@murtazawahab1) April 18, 2020
1:55pm: Alvi calls for taking precautionary measures in mosques during Ramazan

President Dr Arif Alvi expressed confidence that precautionary measures would be taken in mosques during Ramazan to limit the spread of the novel coronavirus.

Chairing a meeting with the country's top religious leaders, the president said that the "entire nation is looking towards the government and the religious scholars to come up with a consensus policy on the matter".

He added that he had consulted with different political leaders over the last few days and sought proposals from the provincial governments for guidelines to be observed during the holy month in mosques.

Read more here.


1:25pm: Commissioner Karachi says face masks must be used when leaving the house

A notification issued by commissioner Karachi said all activities allowed during the lockdown must strictly adhere to several guidelines, including the use of face masks when leaving the house.

The notification says all employees need to wear a mask and properly cover their nose, mouth and chin.

"Every employee shall be examined before entering into the workplace and symptoms of flu, fever and cough are found, he or she shall not be allowed to enter and will be referred to the hospital."

The order added that social distancing shall be ensured at workplaces and biometric machines be disinfected frequently and after every use.

"Sanitising and cleaning hands will be ensured after every activity," the order further said.


1:15pm: Pakistani diaspora in Singapore sends medical equipment 

The second consignment of medical equipment procured by the Pakistani diaspora in Singapore has been shipped to the country.

The medical equipment was procured through a fundraising campaign - in coordination with the Pakistani High Commission.

It consists of personal protective equipment (PPEs) and will reach Karachi within 10 days.

The equipment - face masks, goggles, shields and isolation gowns - will be handed over to the National Disaster Management Authority (NDMA) for distribution to healthcare professionals.


12:45pm: Punjab reports 19 new cases

Punjab health authorities reported 19 new coronavirus cases, raising the provincial tally to 3,410.

According to the spokesperson, 701 pilgrims, 1,353 people associated with Raiwind Tableeghi Ijtima, 91 prisoners and 1,256 others tested positive for the virus.

The provincial health department reported that 59 inmates in Lahore, 14 in Sialkot, nine in Dera Ghazi Khan, seven in Gujranwala and two in Bhakkar have tested positive for the virus.

The spokesperson added that 457 pilgrims in Multan, 221 pilgrims in DG Khan, and 23 pilgrims in Faisalabad have tested positive.


12:30pm: Balochistan approves treatment through passive immunisation

The Balochistan government has approved passive immunisation as a treatment method for coronavirus patients.

Now all four provinces have started treatment via plasma.


12:05 pm: PMDC ad hoc committee's first meeting on Tuesday

The first meeting of the Pakistan Medical and Dental Council (PMDC) ad hoc committee will be held on Tuesday.

A day earlier, the Supreme Court had ordered for the establishment of an 11-member committee to run the PMDC.


11:40am: Punjab announces martyrdom package for govt employees, doctors

The Punjab government has announced a martyrdom package for any government employee or doctor working on the frontline against the pandemic.

Families of grade 1 to 16 officers will be given Rs4 million and grade 17 and above will be given Rs8 million.




11:00am: Sindh CM meets PMA delegation

Adviser to Sindh chief minister Murtaza Wahab said CM Murad is meeting a delegation of Pakistan Medical Association (PMA) to discuss issues and take steps to ensure how doctors, nurses and paramedics can be better protected.

He said PMA promised to cooperate with the Sindh government.



CM Sindh is meeting a delegation of Pakistan Medical Association to discuss issues related to #COVIDー19 & how doctors, nurses & paramedics can be better protected.PMA assures #SindhGovt of complete cooperation in our joint fight against corona.PPEs will b ensured for all of them

— SenatorMurtaza Wahab (@murtazawahab1) April 18, 2020
10:00am: Nationwide tally stands at 7,481

Islamabad reported nine fresh cases and five more were reported in Gilgit-Baltistan. According to the government portal, the nationwide tally stands at 7,481.

Eight persons succumbed to the virus in the last 24 hours and over 6,416 tests were conducted.


9:00am: President Alvi, religious scholars to meet today

President Dr Arif Alvi will hold a virtual meeting of governors and religious scholars from all provinces today.

He will listen to their proposals for prayers during the holy month and devise a policy.


8:30am: Tw0 Pakistani nations returning from India test positive

Provincial health authorities have confirmed that two Pakistani nationals, who had recently returned from India, have tested positive for the novel coronavirus.

The two women were among a group of 41 Pakistani nationals who returned to the country via the Wagah border crossing on Thursday.

Upon their return, 34 people were quarantined at Lahore's Expo Centre and seven were kept at the Sheikh Zaid Hospital.

Read more here.




8:00am: Balochistan's tally stands at 351

The Balochistan government reported 46 new cases in Balochistan, raising the provincial tally to 351.

The government spokesperson said of the 46 cases, 41 are local transmissions.



Today 46 cases of #Corona reported in #Balochistan and 41 patients are Locals#Local #transmission pace is increasing rapidly. It's shocking.

Now total cases: 351 in Balochistan

Oh my people, please take Care.🙏
5 deceased.
142 recovered. #CoronaInPakistan#CoronaVirusUpdate

— Liaquat Shahwani (@LiaquatShahwani) April 17, 2020