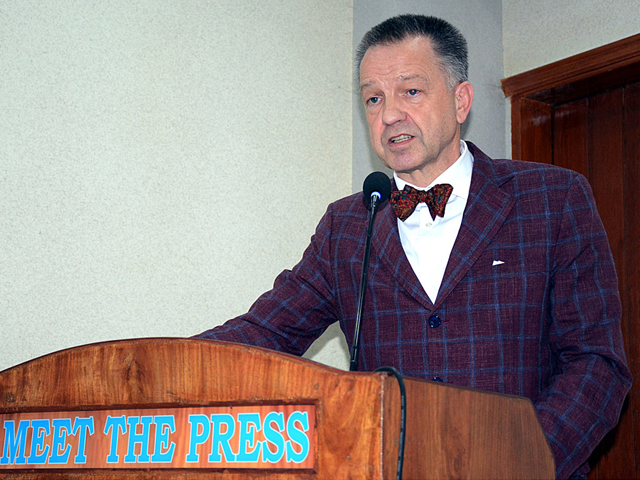 ---
International cooperation key to tackling pandemic
German envoy says Pakistan must pay immediate attention to improving its healthcare system
---
With the over 3.5 million cases of novel coronavirus (Covid-19) in the world, German Ambassador Bernhard Schlagheck on Friday said that there is a need for greater international cooperation and solidarity to deal with this global crisis. The rescheduling of debts for developing countries by the international financial institutions will allow these debt-stressed countries to pay more attention to improving their healthcare systems during the pandemic.

He said this during an online policy dialogue on 'Lessons from Germany to deal with COVID19'. The dialogue had been organised by the Sustainable Development Policy Institute (SDPI) on Friday.

Schlagheck said that the crisis is far from over in Germany, but it is being dealt with through extensive testing of around 1.5 million tests per day along with effective quarantine and social distancing.

"We have a tested healthcare system and in the face of this challenge, a response strategy was developed rapidly," he said, adding that this has allowed them to work on a plan for the gradual reopening of businesses.

Highlighting the importance of vibrant and functional healthcare systems, Schlagheck said that it is absolutely important for developing countries such as Pakistan to pay immediate attention to improving their healthcare systems for the overall wellbeing of their society.

Noting that the federal government system in some countries has posed the challenge of effective decision-making, the envoy said that taking local communities on board in such decision-making was critical to maintaining transparency.

This system, he said, has worked exceptionally well in Germany where all the federating units have played an effective role to respond to the pandemic.

WIth world unable to afford a competition between the big powers on the virus, he said that it is time to enhance international cooperation, especially with the developed world sharing scientific research and expertise with the poorer developing countries.

Responding to a question, Schlagheck said that Germany may offer several research and learning opportunities for Pakistani students and research institutes. Some of these facilities, he said, are already being availed by Pakistani students in the form of various scholarships, adding that Berlin will explore more areas to work with Islamabad and lend cooperation in different fields once this crisis is over.

SDPI Executive Director Dr Abid Qaiyum Suleri highlighted the importance of international cooperation including economic and technological support from developed countries to developing countries.

Published in The Express Tribune, April 18th, 2020.