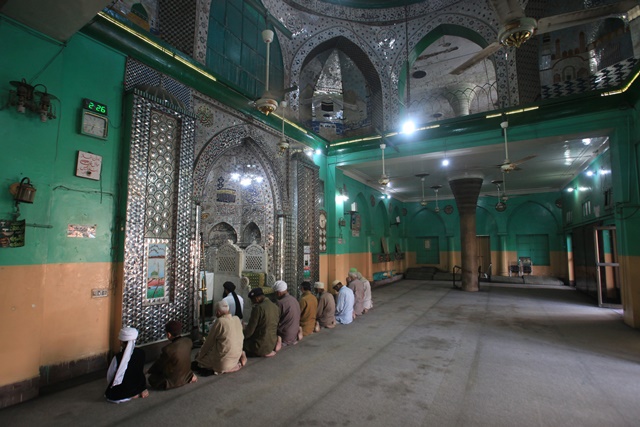 ---
Worshippers defy virus fear, govt ban
Friday congregations held in multiple areas as imams refuse to ask people to pray at home
---
LAHORE: Despite a ban on congregational prayers and downpour, some city mosques held the Friday prayers in large groups, defying the government's lockdown SOPs.

The Punjab government has banned gatherings and clusters to inhibit the spread of the pandemic in the province, yet citizens continue to find excuses to undermine the lockdown.

It was noted that instead of the prescribed number of individuals allowed to pray together in the mosques, as many as four to five rows of worshippers offered the Friday prayer. Though people were less than usual, they were enough to pose a health risk to each other.

A prayer leader, Hafiz Shakoor, told The Express Tribune that he cannot direct people to confine themselves at their homes instead he said he asks them to adopt precautionary measures while praying such as maintaining the right amount of distance between persons and wearing safety gear. "No doubt the country is passing through a critical phase where everyone is worried about and fighting the onslaught of coronavirus. Nothing will happen if we adopt the safety measures to avoid the virus," he asserted.

The prayer leader further highlighted that he does call for conducting ablution and offering sunnah prayers inside homes.

"People do follow instructions of maintaining gap while praying," he maintained.

When asked why most of the worshippers offered prayers without face masks and gloves, he responded by saying "Even doctors and hospital staff do not have it these days, how will all people have access to it?"

Another prayer leader seeking anonymity told The Express Tribune that although the government has issued guidelines for every sector, it should also ensure availability of masks and hand gloves at medical stores.

He argued that congregational prayers do not facilitate the spread of coronavirus, "It could spread from other sources."

A 13-year old boy, Hassan, said he offered the Friday prayer wearing mask and hand gloves to avoid infliction from coronavirus.

Published in The Express Tribune, April 18th, 2020.