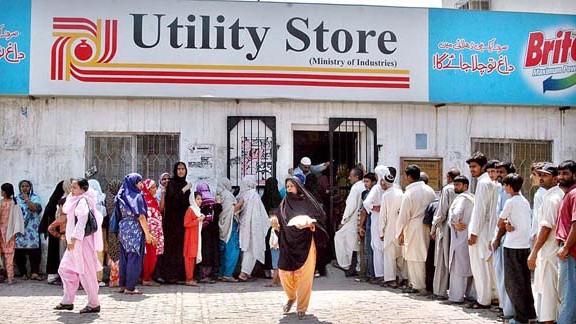 ---
FAISALABAD: Utility Stores Corporation (USC) Zonal Manager (Faisalabad region) Javaid Mushtaq has said more than 1,000 daily use items are available on cheap rates under relief package in utility stores, said.

The USC said on Friday due to the coronavirus pandemic, the provincial government announced a relief package for the general public. "Therefore, utility stores had started provision of daily use items including wheat, flour, sugar, ghee, cooking oil, pulses, rice, tea, milk powder, dates and gram pulses.

He further said that preventive measures had been ensured at all the utility stores where people could purchase commodities, of their choice, by maintaining social distance.

Unfolding details, he highlighted that the 20-kg flour bag was available at Rs800, ghee was available at Rs170 per kg, sugar was available at Rs68 per kg, cooking oil was available at Rs196 per kg, whereas gram pulses were available at Rs160 per kg.

White grams were available at Rs125 per kg, lentil pulses were available at Rs130 per kg, Maash pulses were available at Rs255 per kg, Saila rice was available at at Rs134 per kg, Basmati rice was available at Rs135 per kg, broken rice was available at Rs73 per kg and gram powder was available at Rs140 per kg.

Published in The Express Tribune, April 18th, 2020.
COMMENTS
Comments are moderated and generally will be posted if they are on-topic and not abusive.
For more information, please see our Comments FAQ