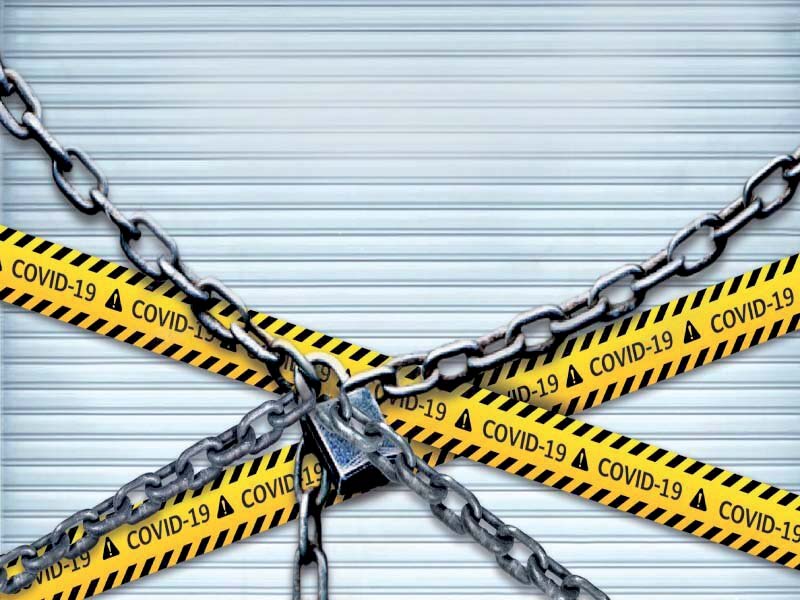 ---
Covid-19: How virus weighs on businesses?
Companies stress need for learning from pandemic to draft future strategies
---
KARACHI: The Covid-19 crisis has dragged the global economy into a deep recession and no country has been able to escape its wrath. International economists estimate economic recovery can take anywhere from one to five years.

The rich and developed states can combat the negative impact of the virus through their strong industrial bases, solid infrastructure, financial reserves and advanced technology.

However, the poor countries may see poverty and other economic woes deepen further.

To find out how local businesses have been impacted and what they are planning for the future, a single question was posed by The Express Tribune to a few companies from different segments in order to get a broader picture of the problem and the way forward.

Business segments that directly influence a massive number of people, such as firms offering a wide range of products and services or providing massive direct and indirect employment or adding a major chunk to the national exchequer, were included in the survey.

"Coronavirus outbreak is bound to place a lot of stress on the communication networks," said a spokesperson for Ufone. "The impact of Covid-19 on networking services is unprecedented."

He added that with lockdowns in place all across the country, demand for telecom services was on the rise. Over 200 call centre representatives of the company are working remotely. He was of the view that while Pakistan battled with the crisis, it needed to learn from it for the future.

"Covid-19 has turned the need for digitisation into a necessity and as a company this has become our primary area of focus for the future," he said.

Jubilee Life Insurance CEO and Managing Director Javed Ahmed said the crisis was impacting practically every sector of the economy in Pakistan and globally and no one was fully prepared for that.

He underlined that insurance business was based on extensive public dealing and direct engagement with customers, hence, social distancing measures and lockdown impacted his company.

However, he said, extensive use of technology for customer servicing was mitigating the impact to a great extent.

According to him, this crisis should be a wakeup call for every business to exit their comfort zones and transform into an agile organisation. "The ability to adapt and evolve and modify your business model will be the key to staying on top," he said.

He stressed that the crisis also showed how important it was for everyone to have life and health insurance. "Your entire secure world can come down like a house of cards in no time," he pointed out and emphasised that insurance was a critical safety net which everyone should have.

Long hours of lockdown mean that public is facing constraints to the purchase of goods of daily need, hence, online shopping has spiked all of a sudden.

"The ongoing Covid-19 pandemic has led Carrefour to take a series of proactive measures to ensure that its physical and digital stores remain operational and fully stocked with essential items," said Carrefour Pakistan Country Manager Jean-Marc Dumont.

"The cumulative impact of social distancing and on and off lockdowns has put immense pressure on our operations, particularly on online orders, which are showing exponential growth."

He highlighted that at present the management of his company was discussing new ways to remain sustainable and preserve working capital.

"Looking at the future of the sector as a whole, this pandemic will provide retailers with valuable insights into how to operate more efficiently and with greater levels of adaptability," he said.

For greater diversity, The Express Tribune also approached a business-to-business (B2B) organisation.

According to Archroma CEO Mujtaba Rahim, the next three to six months will be critical for the global buying houses and retail brands, which are experiencing a pile-up of inventories amid the pandemic.

Archroma is a producer and exporter of chemicals and an indirect stakeholder in textile exports. "Keeping the current situation in view, local industries and exporters can only sustain themselves for the next few weeks," he expressed concern. "Therefore, such industries require an empathetic response from the government and stakeholders."

He was of the view that consumer behaviour would undergo a drastic transformation in the post-Covid-19 world where people would spend less on holidays, travel, fashion and clothing and spend more on personnel safety, hygiene and sanitisation.

"We believe that this change in consumer lifestyles will provide an opportunity for the chemical industry to recover from the current decline in demand for fashion and clothing by focusing more on safety and protective gear and sanitisation solutions," he said.

Asiatic Public Relations Network CEO Zohare Ali Shariff recalled that after the Covid-19 hit Pakistan in late February his agency involved itself in developing corporate communications between internal (employees) and external audiences. 

Published in The Express Tribune, April 18th, 2020.

Like Business on Facebook, follow @TribuneBiz on Twitter to stay informed and join in the conversation.