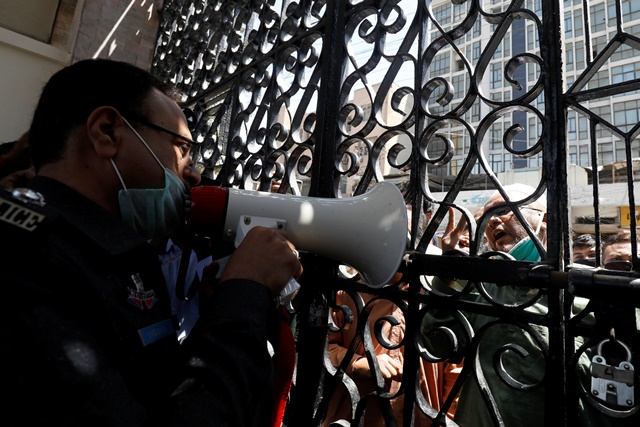 ---
Coronavirus hotspots to be 'fully sealed' in Karachi
Sindh CM dismayed as more cases emerge in metropolis' slums
---
KARACHI: Dismayed by the persistent, steep rise in the number of Covid-19 cases in the province, Sindh Chief Minister Syed Murad Ali Shah announced on Friday that his government had devised a new strategy to combat the pandemic and would be "completely sealing" coronavirus hotspots in Karachi.

In a video statement, the CM revealed that 209 more Covid-19 cases were reported in the province on Friday. Of this, 132 were Tableeghi Jamaat members and all remaining 77 had emerged in Karachi, swelling the virus tally to 2,217.

Among those from Karachi, most had emerged in katchi abadis, he said, adding that two infected persons had died in the province on the day.

"I am quite upset over the [rapid] spread [of the coronavirus], and without observing proper social distancing and isolation, we will not be able to contain the virus," he said, adding that the government was now collecting more samples for testing from Covid-19 hotspots in the metropolis.

Across the city

Giving a district-wise breakdown of the cases reported from Karachi on the day, the CM said that in South district, 30 cases were detected from Lyari, Kharadar, Lea Market, Burns Road, neighbourhoods in the vicinity of Kala Pul, Shoe Market, Saddar and Garden.

Similarly, 16 cases in East district were reported from Gulbahar Colony, Gulistan-e-Johar, Sharif Colony, Khalil Colony and KECHS, he shared, adding that six cases were detected in Nasir Colony, Shareef Colony, Faisal Colony and PIA Housing Society, in Korangi district.

Another six cases were reported from Landhi and Gulshan-e-Hadeed in Malir district and eight from Afghan Basti, localities near Northern Bypass, Baldia Town and other slum areas in West district, according to the data shared by the CM.

Speaking with regards to Central district, the CM said that 11 cases were reported from within its limits. "It is densely populated and the residents need to be more careful, taking more precautionary measures," he said.

Sharing details about suspected and confirmed Covid-19 cases among Tableeghi Jamaat members, the CM said that 4,653 of them had been tested. As many as 429 tested positive and results of 91 samples were yet to come, he added.

He assured that all the members of the Tableeghi Jamaat were isolated so as to curb the spread of the virus and likened anyone roaming freely to a ticking bomb that could affect anyone.

The CM also said that the data available to him showed the coronavirus had affected more Pakistanis living abroad than those in the country.

He revealed that the Sindh government had tested 21,272 samples so far, while, with two more deaths on Friday, the contagion death toll had reached 47, which was 2.1 per cent of the reported cases.

Besides, of 1,589 patients under treatment, the CM said, 872 were isolated at their homes, 469 at isolation centres and 248 at hospitals.

He further said that five persons were given recovery certificates and sent back home on the day, bringing the number of recovered patients to 581.