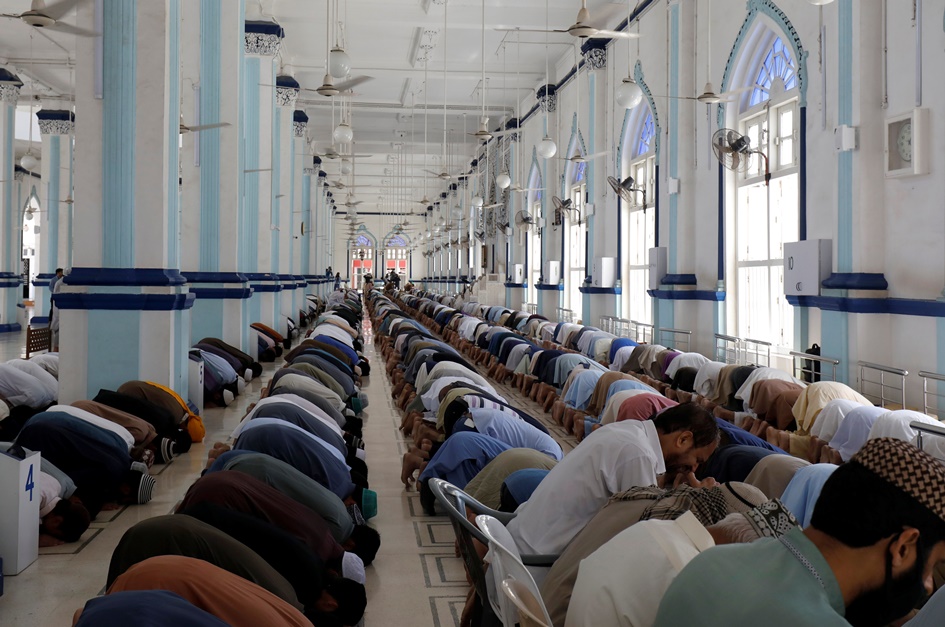 ---
Sindh High Court rejects plea challenging ban on congregational prayers in mosques
Court says the government is exercising its powers to protect human life
---
KARACHI: The Sindh High Court rejected on Friday a plea challenging the restriction on praying in mosques, declaring that it was not maintainable.

A two-member bench, comprising Justice Muhammad Ali Mazhar and Justice Yousuf Ali Sayeed, while announcing the verdict, observed that the government had taken the step to ensure public safety and the court could not intervene in its policy on the matter.

"President Dr Arif Alvi will hold a meeting with ulema to discuss the matter and most religious scholars had already consented to limiting religious activities at mosques due to the pandemic," the court stated.

The deputy attorney-general had earlier informed the court that the president's meeting with ulema was scheduled to take place on April 18, following which a policy would be devised on praying in mosques.

3,265 bodies brought to 30 graveyards of Karachi in 49 days, data reveals

Moreover, the additional advocate-general had maintained before the court that mosques were not closed and only the number of worshippers allowed to pray inside mosques at a given time had been limited.

"Azan [the call for prayers] is made regularly five times a day," he had said, adding that the lockdown orders were in public interest and aimed at safeguarding people against the coronavirus. Meanwhile, the lockdown, too, had been eased, he had maintained.

The plea had challenged the restriction on praying in mosques, stating that it was against the fundamental rights of citizens and the government could not bar them from praying at mosques.

Notices issued

The same bench also issued notices to the federal and provincial government, National Disaster Management Authority (NDMA) and other relevant authorities, seeking their replies on a plea pertaining to the absence of coronavirus safety arrangements at courts.

During the hearing, Advocate Amir Nawaz Warraich maintained before the court that virtually no measures were taken to prevent the spread of the coronavirus in court buildings. Additionally, lawyers have been in a financial crisis due to the lockdown, he said.

He moved the court to order the installation of walkthrough gates and sanitiser containers as well as the provision of protective kits and N95 masks, besides financial aid, to lawyers.

The court issued notices to the federal and provincial government, NDMA and other relevant authorities, directing them to submit their replies on the plea by April 24.