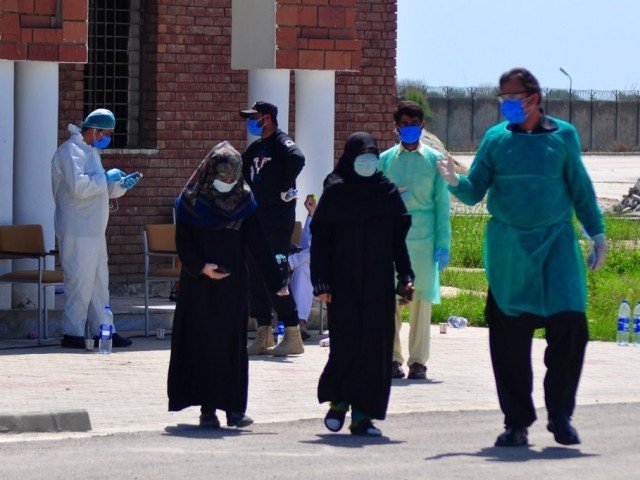 ---
Covid-19 clock ticking for Pakistan
Experts call for learning from policy mistakes, taking tough decisions
---
ISLAMABAD: With the country nearing the threshold for 7,000 novel coronavirus (Covid-19) cases, Pakistan still has a narrow window of opportunity to quickly learn from experiences as well as errors of other countries to evolve, innovative and comprehensive policy options for the pandemic with some tough decisions to save lives and the economy.

The pandemic, though, also provides an opportunity for the nation to become self-reliant in pharmaceuticals, biomedical engineering and public health management on war footings.

This was suggested by experts as they spoke during a web seminar (Webinar) on 'Covid-19: Global Challenge, National Response,' The webinar had been organised by the Institute of Policy Studies (IPS). The event was jointly chaired by former federal finance secretary and member of IPS Academic Council Dr Waqar Masood Khan, and IPS Executive President Khalid Rahman.

Senior policy analyst Syed Muhammad Ali said that the longer critical decisions are delayed, the more the country's resources will come under stress and it faces economic, political and social problems.

Regarding the strategic measures which the government can initiate, Ali suggested that these can include a national strategic stockpile of medical supplies or a database of it, national and international collaboration in biomedical research, three levels of compulsory 14-day quarantine at international, inter-provincial and local levels, online crisis management training courses for quarantine centre staff, initiation of a national crisis information management system, and the monopoly of NDMA on all related information.

Ration distribution should be made effective in areas which were hardest hit by an insurgency in the past so that the anti-state elements cannot exploit the crisis.

Similarly, charity work and fundraising has to be legal, transparent and recorded to avoid serious consequences for Pakistan with the Financial Action Task Force.

Rahman was of the view that mosques, as an institution, can play a positive and vital role in crisis management. At the moment, this institution is in a state of disquiet but can attain a central position in the coronavirus fight if handled intelligently.

He suggested making the beginning of Ramazan the terminal point ahead of which there could be consultations and efforts to get people on the same page regarding this issue.

Published in The Express Tribune, April 17th, 2020.