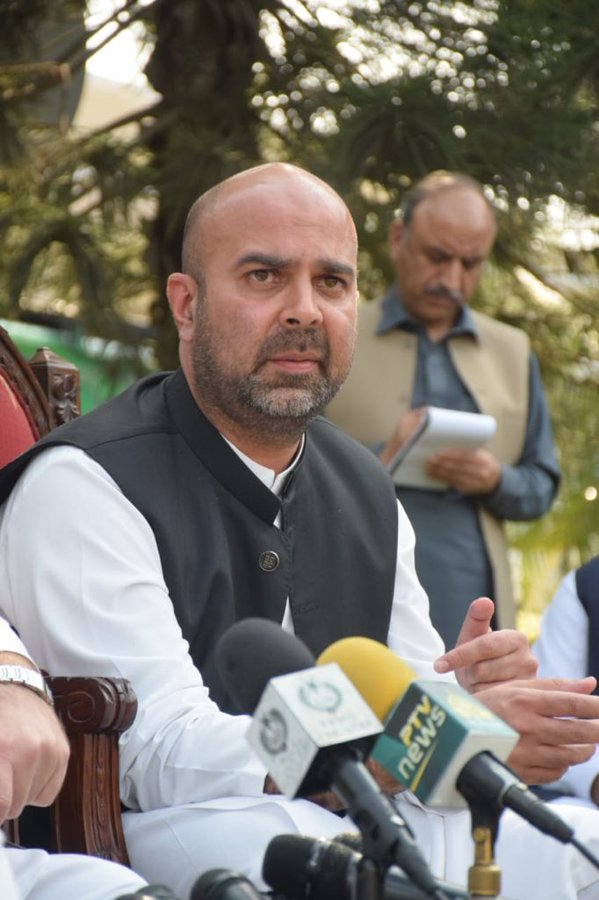 ---
K-P govt mulls reopening businesses this week
K-P mnister Taimur Saleem Jhagra says govt aware of traders' financial woes
---
PESHAWAR: As confusion continued over the relaxations announced by the provincial government, which had extended its partial lockdown in the province until April 30, Peshawar on Thursday said that it is devising strategies and procedures for reopening businesses in the province.

This was stated by K-P Health Minister Taimur Saleem Jhagra while briefing the media in the provincial capital. Adviser to K-P CM on Information and Public Relations Ajmal Wazir was also present on the occasion.

Jhagra said that the government is aware of the sufferings being faced by traders and the economic situation of the province which has developed in the wake of the lockdown imposed to fight against the novel coronavirus (Covid-19) pandemic.

"The government is establishing a strategy and a Standard Operating Procedures (SOPs) in consultation with traders to reopen economic activities in the province," added Jhagra, who also holds the portfolio of finance along with health in the provincial cabinet.

The provincial health minister said that he had met with traders at the Civil Secretariat where he assured them that the government is working on and will find a way for reopening businesses.

"Rest assured that we will find a way for your businesses to run," Jhagra said, adding, "It is a priority. But let us take a considered risk and not take decisions with unintended consequences. We will try our best to finalise a roadmap this week".

Elaborating on the coronavirus situation in the province, the minister said that 50 new cases had been reported, taking the total number of cases in the province to 912 with 42 fatalities.

He added that at least six districts in the province, including Lower Chitral, Upper Chitral, Upper Kohistan, Lower Kohistan, Kolai Palas, and Battagram have yet to report even a single confirmed case of Covid-19. At least 11 other districts have 10 or fewer patients so far, he explained.

The provincial minister further said that Peshawar and Mardan remain the hardest hit areas by far, adding that the provincial capital reported 38 new cases during the last 24 hours alone while only two confirmed cases were reported from Mardan in the last week.

Jhagra elaborated on the five key interventions made by the government to combat Covid-19 in the province, including a locum tenens system, established rapid response teams, procured essential medical equipment and set up quarantine facilities, enhanced testing capacity and facilitated Ehsaas beneficiaries.

Traders seek clarity on partial lockdown

Traders in K-P have demanded that the provincial government provide clarity on its policy regarding the lockdown, noting that it has created confusion amongst the business community.

K-P Markaz-e-Tajiran Chairperson Shaukat Ali Khan in a statement on Thursday said that decisions taken in the National Coordination Committee (NCC) meeting were broad and ambiguous which only created confusion amongst traders. 

Published in The Express Tribune, April 17th, 2020.