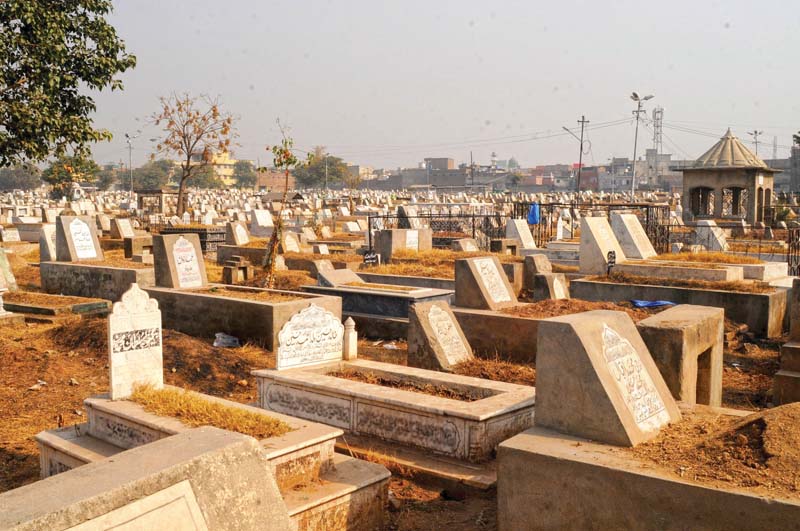 ---
3,265 bodies brought to 30 graveyards of Karachi in 49 days, data reveals
No conclusive evidence found that the fatalities could be linked to Covid-19 as some local media reports claim
---
KARACHI: A total of 3,265 dead bodies were brought to 30 graveyards of Karachi between February 20 and April 9 (49 days), official statistics from the city's top administrative body revealed on Thursday.

The development comes after reports were published in few segments of the media regarding spike in deaths in Karachi's different hospitals which sent alarms bells as many feared that the number of Covid-19 fatalities could be much higher.

However, there was no official confirmation from the authorities whereas there was no clear connection in the reports that the deaths had occurred due to the highly contagious disease.

Sindh announces complete lockdown from 12 noon to 3pm on Friday

In district Central, 181 dead bodies were brought in the C-1 Area cemetery, four in Haji Morid Goth cemetery, 76 in Yasinabad graveyard, 273 in Sakhi Hassan graveyard, 30 in Al-Noor cemetery, 681 in Mohammed Shah cemetery, 59 in Ghasdar Baba graveyard and 430 in Siddiqabad cemetery were brought in for burial during the 49-day period, according to Karachi Metropolitan Corporation's (KMC) data.

Similarly, in district West, 155 dead bodies were brought in Salimabad cemetery, 140 in Al-Fatah cemetery, 19 in Ghaziabad graveyard, 54 in Jannatul Baqi cemetery, 31 in Gulshan-e-Zia cemetery, five in Yaqubabad graveyard, 44 in Gulshan-e-Bahar cemetery, 91 in Ibrahim Ali Bhai cemetery, 25 in Thorani Goth cemetery and 79 dead bodies were brought in Machh Goth cemetery for burial.

In district East, 128 bodies were brought in the Manogoth cemetery and 14 in PECHS cemetery.

In district Malir, 93 dead bodies were brought in Saudabad cemetery, 160 in Model Colony graveyard, five in Colony Gate cemetery, 15 in Hyder Shah cemetery, two in Masoom Shah graveyard, 49 in Molamadad Rabi Goth graveyard and 62 in Ismail Goth cemetery.

Resilient rescue workers continue to fight coronavirus in Sindh

In Korangi district, 193 dead bodies were brought in Chakra Goth cemetery, 15 in Korangi cemetery and 152 in Azimpura graveyard.

According to data obtained from government hospitals in Karachi, 10,791 patients were brought to the emergency during the first three months of 2020. 121 of those were dead on arrival while the fatality rate was 1.12%.

The statistics showed that no authenticated test report revealed that the cause of death of these patients linked to coronavirus. Moreover, no hospital had conducted tests to ascertain that the real cause of death was indeed Covid-19.

The non-testing further casts doubt on the claims that the deaths were due to the virus.