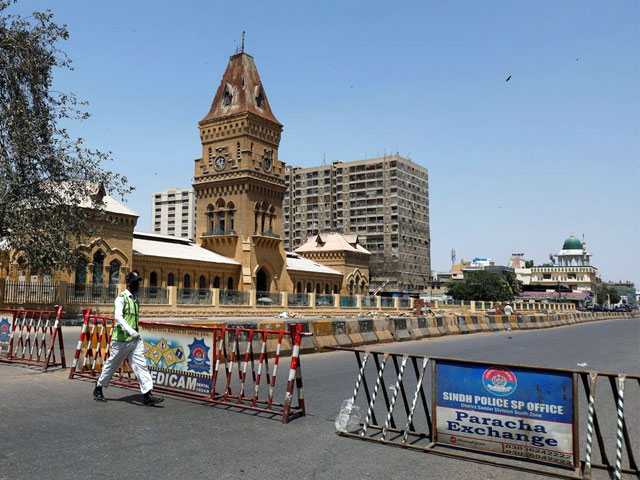 ---
PPP minister dispels 'false impression' of relaxed lockdown in Sindh
Murtaza Wahab says barbers, tailors, dry cleaners, plumbers, mechanics, carpenters still not exempted
---
KARACHI: The shops of barbers, dry cleaners, tailors, sanitary ware, plumbers, mechanics, and carpenters were not exempted from the lockdown imposed by the provincial government, clarified Sindh government spokesperson Barrister Murtaza Wahab via a video message on Thursday.

"No order has been given for these shops to operate, neither there would there be any benefit in opening such businesses in the current situation," he said. "These businesses were neither permitted by the Centre nor the provincial government to reopen."

Prime Minister Imran Khan's announcement on Tuesday had created an impression that the lockdown had been relaxed, but this was not the case, Wahab insisted. He added that the press conference by the Sindh Chief Minister on Wednesday had made it clear that the lockdown would be stricter than before and the government would ensure its implementation.

On the PM's insistence to allow construction and export-oriented industries to operate, the Sindh government had permitted these businesses to function on a limited scale while following the standard operating procedures (SOPs) issued by the provincial home department.

"The exempted businesses must follow the SOPs to operate," he warned. "The government may inspect them at any time and take legal action against them if there is any negligence at their end."

He further asserted that the businesses that were allowed to operate, such as milk vendors, grocery stores, pharmacies, tandoors, vegetables, and meat shops, had to follow the principles of social distancing. Moreover, the workers at these shops must wear masks and exercise other precautionary measures.

Coronavirus was spreading like wildfire and the soaring number of the locally transmitted cases was alarming, he stated, once again stressing the need to make the lockdown stricter to combat the pandemic.

He reiterated that the provincial government was not willingly shutting the businesses down, knowing that it would impact people, and was distributing rations among the needy along with NGOs and others to lessen this impact.

He appealed to the citizens to stay indoors and avoid leaving their homes unless necessary. "It is only with unity that we can fight this pandemic," Wahab said, asking the citizens to support the government in these challenging times. 

Published in The Express Tribune, April 17th, 2020.