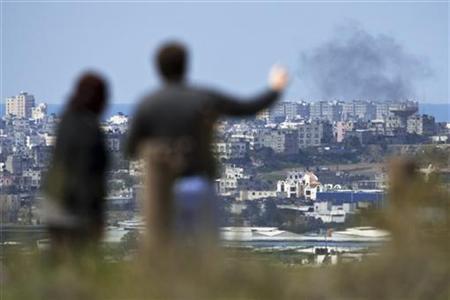 ---
Corona and the world's biggest prison
There is a govt in the very middle of civilised world making sure that if Covid-19 gets into Gaza, it stays there
---
Is there a test to test how much humanity is left in humanity, as it locks itself down in its own compounds, forgetting that they have left a completely vulnerable part of themselves locked in the world's biggest prison with zero supplies?

As governments around the world gear up to ensure that Covid-19 does not spread in their prisons, there is a government in the very middle of the civilised world that is making sure that if Covid-19 gets into Gaza, it stays there.

Perhaps Israel is finding joy in inflicting its apartheid policies even more so, on a nation it has completely imprisoned since 2007. At the start of April, Israeli crop-duster planes flew along the perimeter fence between Gaza and Israel, spraying chemicals assumed to be herbicides. The last time they did this in January, 280 hectares of cultivated land was damaged. What does that mean for an already hunger-stricken population, where, according to the UN, 62% of households do not have enough food to eat?

Israel controls all land, sea and air passage, in and out of Gaza. From the sea, Israeli ships keep constant surveillance on the Gazan coast, as the people of Gaza are not allowed to trade with the outside world. On land, there are only two civilian entry points into Gaza, any supplies or aid meant for the Gazans can only enter with Israeli rationing.

With Covid-19, nobody is allowed to leave Gaza anymore. Of course, Israeli lives are too precious for a Gazan to have passed through. With the fear of the pandemic looming, Gaza has self-quarantined by closing schools, markets, cafes, shops, and even some primary healthcare facilities because they have no supplies. This worsens the condition of the people who entirely depended upon daily wages, without which they have no idea where their next meal will be coming from.

The Gaza health ministry spokesman said on April 9 that, "testing at our central laboratory has stopped, after coronavirus test kits completely ran out". For Israel this is not a matter of two million people crammed inside the Gaza prison en masse endangered by Covid-19. Rather, for it it is time to bargain for the remains of its two soldiers captured by Hamas in 2014, if the Gazans need any medical supplies at all.

One can imagine, how two million people packed in a mere 145 square miles strip survive — out of which another 60 square miles has been made into a vacant buffer zone along its Israeli border — and a coast on the other side, where Israeli gunboats conduct daily chases of Gazan fishermen to prevent them from entering zones rich in fish. On April 9, two fishermen were shot for committing the same sin.

With 13 Covid-19 cases already reported in Gaza and the sheer inability of the people of Gaza to maintain social distancing in a packed up premise, Israel has only helped by entering into the northwestern part of the strip, in Beit Lahia, with tanks and D-9 bulldozers on April 7, razing farm lands adjacent to the Israel-Gaza border fence. Another Israeli force invaded the southeastern part of Khan Younis, opening heavy fire on homes and farms.

The Palestinian Center for Human Rights has highlighted Gaza's "acute shortage of essential drugs, medical disposables, ventilators, and Covid-19 testing kits". Add this to the fact with over 50% of the population in poverty, high unemployment, food insecurity, chronic malnutrition that has left one in 10 Gazan children stunted, and where half of both adults and children need mental health support.

So, one would ask all free-thinkers and skeptics, all believers and non-believers, all champions of human rights, all who run to war upon self-assumed aggressors: are the people of Gaza not being oppressed, and are they not facing a vile aggressor? Are they not being jailed, abused and hurt by Israel repeatedly? Is the crime against the people of Gaza not a "crime against humanity"?

Why is it that humanity always has billions of dollars available to go to wars, and billions more to manufacture the tools to do so? As a whole, we, the humanity never forget to keep doing all this, yet we forget Gaza!

We forget how we have left 113,990 refugees-in-their-own-country, living in the Jabalya refugee camp, comprising of 1.39 square kilometres of land only, and 85,628 refugees-in-their-own-country cramped in a mere 0.51 square kilometres in the al Shati refugee camp, because Israel's repeated bombing over the years has destroyed their original homes and neighbourhoods — and here in the leisure of our free countries, we talk of social distancing and staying home and staying safe. For Jabalya and al Shati, even a single case of Covid-19 can be potentially equal to a death sentence for the whole camp and the whole of Gaza and 13 have already been reported. Yet we forget.

From slightly afar, humanity would seem like a creature that is eternally indulged in self-torture, self-abuse and self-destruction like the ancient Egyptian Ouroboros, that is cursed to eternally eat its own self. Is killing and hurting an inalienable trait of humanity and will we still keep on enslaving humanity and forcing it into cages in the 21st century? In letting Gaza happen, we are left questioning the human species. Indeed, we are humans with all the physical traits of the species, but the essence of what it means to be human remains absent in us.

Published in The Express Tribune, April 17th, 2020.

Like Opinion & Editorial on Facebook, follow @ETOpEd on Twitter to receive all updates on all our daily pieces.