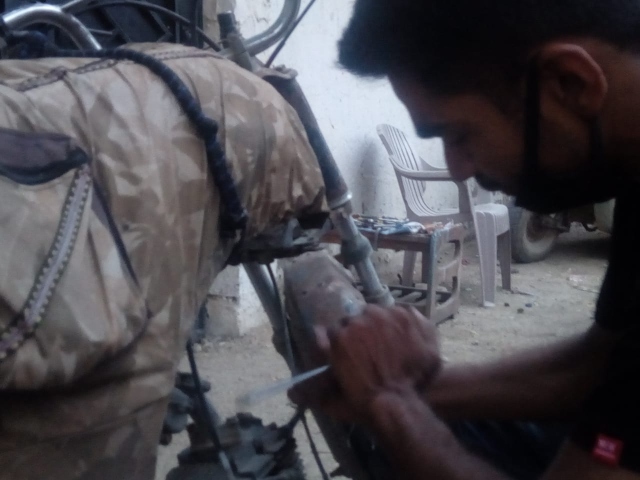 ---
How one mechanic is keeping his hands dirty during the lockdown
Enterprising Bablu Ustad is now providing motorcycle repair services at citizens' homes
---
KARACHI: First, it was the pandemic. Then the lockdown. And then came the financial crunch.

Many in Karachi, with little means of sustenance, were beaten down by these back-to-back challenges. However, Syed Laiq Ali, known as 'Bablu Ustad', who is a motorcycle mechanic, refused to bow down before these tribulations.

Not finding it in himself to rely on charity for sustenance, he innovated and began providing repair services at people's homes. Ali's clients contact him on phone and he spends his day going from house to house, repairing their broken down vehicles.

Pakistan's internet use surges amid coronavirus lockdown

And during these 12 hours of work daily, during which he manages to repair three to five motorcycles, he makes sure to practice social distancing, wears a mask at all times and frequently uses a sanitiser to clean his hands.

Ali realises that not adopting these precautionary measures, he would not just put his life at stake but also of his family members. It is for this reason that he has been appreciative of government initiatives taken to curb the spread of the virus.




Hailing from the low-income locality of Liaquatabad, he had run out of cash just three days into the lockdown.

"My shop remained closed for three weeks and I was at home for two days," he said, but like most daily wagers he didn't have enough savings and couldn't afford to sit idle for too long. With little options at hand, he brought all essential tools home from his shop and sent text messages to all he knew, informing them that he was offering motorcycle repair services at homes.

"My business has been booming since then [and] I manage to earn Rs500 to Rs1,000 daily," he shared.

And as someone with an astute business sense, he very well understands why it has been so.

Trump to push for reopening US as millions more seek unemployment aid

"As most motorcycle repair shops are closed, it is hard for people to find a mechanic," he explained, implying that those still working saw an upsurge in business as a result.

He still faces limitations for more reasons than one, though.

"Many opt for just getting the engine tuned, changing engine oil and getting wheel bearings and chains fixed as these doesn't cost a lot and many have been careful with spending since the enforcement of the lockdown," he said. "Additionally, tasks such as repairing the engine can only be carried out at workshops."

When he's not visiting clients' homes, Ali sits under the shade of a tree near his home, providing services to whoever may come by in the search of a mechanic.

The only remaining issue that Ali faces right now is having no option but charging 50 per cent more for his services as with markets closed, procuring tools and spare parts was not as easy and costs more.




But as he pointed out, these challenges are meant to be overcome and not to pose a problem in the way of a person earning a livelihood if he or she is skilled. "A skilled person can never be deprived of his livelihood, though he may have to change the way he works," said Ali.

Though appreciative of measures taken by the government to curb the spread of the virus, he also points out the growing worry among most of the city's mechanics as the lockdown continues getting extended.

"Now, we pray that markets open soon, so that all of us can resume working," he said. "We are ready to work in line with the guidelines that the government has issued."