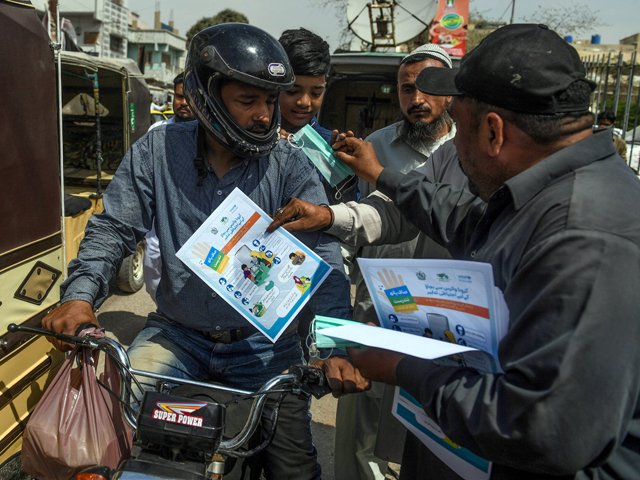 ---
Resilient rescue workers continue to fight coronavirus in Sindh
183 patients assisted by Sindh Rescue and Medical Services tested positive for Covid-19
---
KARACHI: As many stay locked in their houses while coronavirus figures continue to scale up in Sindh, rescue workers and paramedics continue to fight the pandemic on the frontlines and serve humanity.

Motivated by this spirit, those working for the Sindh Rescue and Medical Services (SRMS) have so far shifted at least 1,165 suspected coronavirus patients, including 183 who tested positive for Covid-19, to various hospitals in Karachi from February till April 14, 2020.

A breakdown of this number reveals that since March 15, SRMS workers transported 312 patients from their homes, 52 from Indus Hospital, 46 from the Dow University of Health Sciences, 30 from Jinnah Postgraduate Medical Centre, 21 from Aga Khan University Hospital, 20 from the National Institute of Cardiovascular Diseases, 15 from Dr Ruth Pfau Civil Hospital, Karachi, 392 from other private hospitals and 26 from the roadside.

SRMS records show that the highest number of patients, adding up to 189, was shifted from Gulshan-e-Iqbal, while 100 were picked up from Korangi.

According to SRMSgeneral manager Lutaf Ali Mangrio, over the past three weeks, 70 per cent of the patients provided assistance by SMRS rescue teams were suspected of having contracted the coronavirus.

Pakistan's internet use surges amid coronavirus lockdown

"We have been receiving calls to transport suspected cases since mid-March," he told The Express Tribune, adding that while transporting Covid-19 positive and suspected patients, rescue teams have been observing the guidelines issued by the World Health Organisation. "We have been doing so since the first week of February," he said.

The rescue teams of the SRMS work in coordination with district health officials, who guide and direct them on where to shift suspected and confirmed Covid-19 patients.

"All these patients are provided masks and sanitisers," said Mangrio, assuring that all ambulances used for transporting Covid-19 patients were disinfected afterwards. "The vehicles are not sent elsewhere until properly disinfected," he assured.

While acknowledging that a drop of 15 to 20 per cent was observed in emergency calls over the last month, Mangrio said that SRMS ambulances were always on standby to deal with any emergency.

Women leaders the common link in countries with best responses to coronavirus

The ambulances are fully equipped and the staff well-trained, reaching the location of the patient within 15 minutes on average.

Having a fleet of 60 ambulances, the SRMS has set up five field stations in Karachi to meet the need of the metropolis. "We also don't charge for our services and have been receiving funding by the Sindh government as of October 18," shared Mangrio.