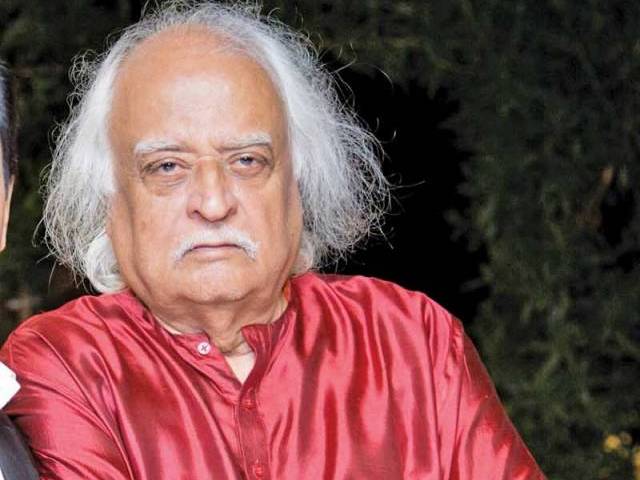 ---
Bilal Maqsood recently held a live session with his father Anwar Maqsood, renowned literary figure. During the session, Anwar discussed the state of Pakistani television today.

On why he doesn't write for TV any longer, Anwar said, "I was once asked a similar question. I said that no one is writing. Ashfaq Sahab isn't writing, Bano Qudsia isn't writing, Munoon bhai isn't writing, Intizar Hussain isn't writing. The person responded by saying that all of them are dead now. I told her that they have taken drama with them. Now there is no drama," he said.

He then took a few, subtle jabs at the current state of Pakistani television serials noting that these days you only see advertisements and names on TV, going on to ridicule the titles of modern dramas. "Now after such programs how can I write dramas," he said.

While he admitted that the masses are fond of such dramas he also went on to mention how the young lot don't necessarily like them, at which point Bilal cut him off and changed the subject.

When asked if there will ever be another Moin Akhtar, Anwar sarcastically replied, "Saad Rafique. Infact he is better than Moin Akhtar, the way he acts."

Anwar then took the opportunity to reminisce about Moin Akhtar. He talked about how he would, in the end, do as he pleased regardless of the script. Anwar also jokingly described Akhtar as "laalchi (greedy)" pointing at his habit of taking lines he thought would get the best audience reaction, admitting that it would ultimately work and benefit the show.

The playwright also recalled the struggle his family had to go through after they moved to Karachi. "Achay logon kay hee halaat buray hotay hein (Circumstances always deteriorate for the good)," he said.

Following their move to Pakistan, Anwar's father passed away at the young age of 41, leaving 10 kids behind. The family was left in dire financial constraints as a result.

He recalled one instance where he had to drill a hole in his wall so that his grandmother could catch the daily news bulletin from the neighbours radio, as the family couldn't afford their own.

He further talked about how he and his siblings began working in their respective fields from an early age - one sister found work at Radio Pakistan, one started teaching while another started making dolls.

"We knew that these testing times will eventually pass if we continue to work hard. Our parents taught us to not lie and cheat and just be honest in our dealings. After that, it didn't matter to them what we did, be it writing, painting, sewing or radio. And this is exactly what ended up happening," Anwar said.

Like his elder siblings, Anwar had also begun working at an early age. Interestingly enough, his first income stream was neither from painting nor writing. Instead, the Loose Talk host earned his first buck by selling kittens.

"Our house cat had given birth to a few kittens. I cut out some pieces from my sister's pink gharara. Made ribbons out of them and tied to the kittens and then sold them as 'Persian kittens ' for Rs 5 each in a neighbouring quarter. At that time Rs 10 were worth a lot," he reminisced.

Aside from selling kittens, Anwar also made cuff-links and ties made from old clothes salvaged from the flea market at Lighthouse. His clientele included some of the most renowned figures from entertainment industry at the time including film star Waheed Murad, father of Nazia Hasan, composer Sohail Rana, and actor Santosh Kumar among many others.

"Out of these, half still owe me money for the cuff-links and ties," Anwar joked.

Anwar also revealed how a chance encounter with renowned artist Shakir Ali lead him to take up painting more seriously. "I had made a drawing of my family on the walls of our quarter in PIB colony. Shakir Ali Sahab, who was a close friend of my brother-in-law saw it during a visit. He told me to add colour. I said I didn't had any. So he brought a set of paints for me," Anwar recalled.

A few years later Anwar's first exhibition took place at the French Embassy. He talked about how Pakistani diplomat and Hilal-e-Imiaz Award winner Jamshed Marker bought all of his 32 paintings.

Have something to add to the story? Share in the comments below.
COMMENTS
Comments are moderated and generally will be posted if they are on-topic and not abusive.
For more information, please see our Comments FAQ