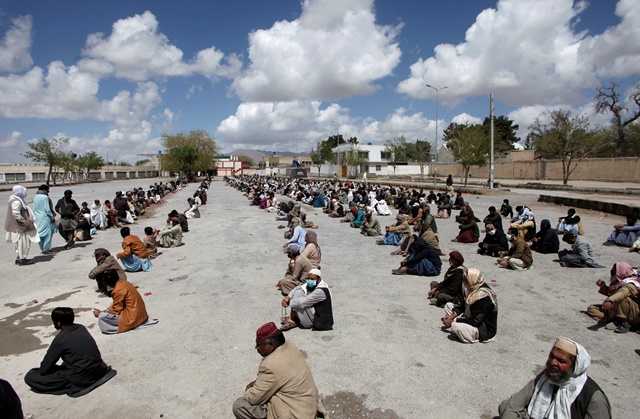 ---
Stipend distribution process enters second phase
Rs37.608 billion have already been distributed among 3.134 million families
---
ISLAMABAD: The federal government has so far distributed Rs37.608 billion among 3.134 million deserving families under its Ehsaas Emergency Cash Programme launched to provide support to the daily wagers hit hardest by the lockdown imposed in order to stop the spread of the novel coronavirus.

The government plans to distribute Rs12,000 cash stipend to each of 12 million deserving families who get themselves enrolled by sending SMS to 8171. To date, 83.61 million SMS have been received whose analysis is under way. The deadline for registration is April 19, 2020 midnight.

According to a press release, the programme entered its second phase on Wednesday as it started distributing the stipend among the second category of beneficiaries.

They were declared eligible based on their profiling checks by the National Database Registration Authority (NADRA) – the national socio-economic database.

Special Assistant to the Prime Minister on Poverty Alleviation Dr Sania Nishtar – who also heads Ehsaas Programme – visited the cash distribution campsite at IMCG Girls College in Islamabad and interacted with the beneficiaries who had come to collect their payments.

The beneficiaries had a customized message on their phones addressed to them with their names to visit the nearest payment centre and to collect the emergency cash handout of Rs12,000.

Briefing media about Ehsaas category-2 beneficiaries, Dr Nishtar said each one of these beneficiaries is either the wife of a labourer whose livelihood is badly affected by the coronavirus crisis or is a domestic help laid off by the employers.

"These people were on the brink of running out food rations. So, these Rs12,000 come to them at a very critical time." She said such a fast and transparent programme of financial aid had never been introduced in Pakistan's history before.

Dr Nishtar said the number of distribution centers and counters was being increased to prevent overcrowding. No one will be allowed to illegally deduct the aid amount, she said.

"We take special measures for preventing spread of the virus during cash disbursement and ensure social distancing and other measures. Special instructions have been issued to staff at the Ehsaas Emergency Cash Centers to facilitate the special persons," she said.

She also spoke to the retailers and informed them about the cabinet's decision to waive advance withholding tax on commission collected under section 233 of the Income Tax Ordinance, 2001 from branchless banking agents.

"The Ehsaas Emergency Cash payment notifications will go to new Ehsaas Emergency Cash recipients registered through 8171 in a staggered manner over the next seven days. In the initial batch, women will get payments and in next batches, men will start getting payments," said the statement.