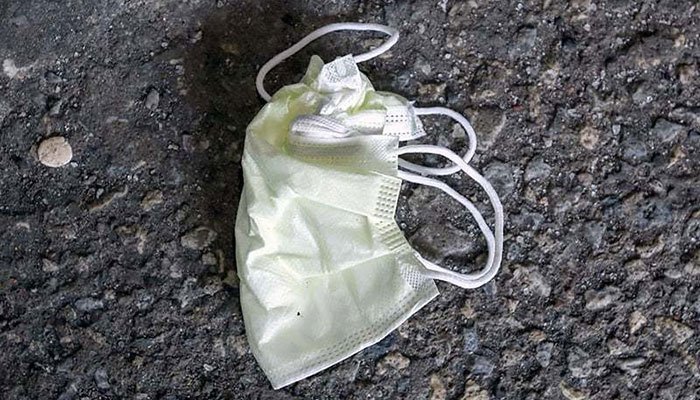 ---
No SOPs for disposal of Covid-19 waste in Sindh
Public hospitals not taking care while disposing isolation ward trash
---
KARACHI: With a surge in the number of COVID-19 patients in Karachi, medical waste from hospitals contaminated with infectious materials and bodily fluids of the patients poses a risk of the further spreading of the ravaging virus. Despite this, hospital staffers have complained that the waste is not being handled properly and no special instructions have been issued by hospitals or health authorities.

Per sources, on average, a COVID-19 patient's bed in a public hospital generates about two to 2.2 kilogrammes (kg) of medical waste per day, and instead of being more cautious in handling the waste, it is being collected in a non-scientific way, a move that could potentially contribute to the spread of the virus.

"Instead of segregating the medical waste generated from the beds of coronavirus isolation wards, the waste is being handled in a regular way and added to the overall medical waste from the hospitals," an official from the Jinnah Postgraduate Medical Centre (JPMC), who requested anonymity, told The Express Tribune.

The official added that 13 patients are currently undergoing coronavirus treatment at the Jinnah Hospital.

"We are not given any special instructions regarding the handling of the waste. Cleaners are collecting the trash from the [isolation] wards and dumping them in big containers together with the regular waste," he added.

The same practice is being carried out in all public hospitals, and no precautionary steps have been taken so far to handle the medical waste of COVID-19 patients. Moreover, the Sindh health department has also not issued any guidelines in terms of proper medical waste disposal at this crucial time.

The controversial issue of medical waste disposal

According to the guidelines of the Centre for Disease Control and Prevention in the United States, medical waste generated from COVID-19 isolation wards is no different than waste coming from facilities without COVID-19 patients. Therefore, the management of laundry, food service utensils, and medical waste should be performed per routine procedures.

In Pakistan, however, the proper disposal of medical waste has been a controversial issue since a long time. Last year, hue and cry arose in Karachi after pictures and videos of tonnes of medical waste washed up on Sea View beach circulated on social media.

Sources revealed that while in some hospitals, medical waste is 'recycled' by an organised group through sanitary workers, other hospitals have no standard procedures to treat the waste. How and where the waste is dumped is not even known, and nothing has changed amid the ongoing pandemic.

Differing opinions

Against the complaints of hospital staffers, senior representatives of public hospitals in Karachi assured that even though the waste is being handled in a regular manner, it is disposed of properly.

JPMC executive director Dr Seemin Jamali said that the hospital has an incinerator and a steriliser for the scientific disposal of patients' medical waste, where they can safely dispose of medical waste at temperatures above 100 degrees.

The medical superintendent of Dr Ruth Pfau Civil Hospital Karachi, Dr Khadim Hussain Qureshi, said that at present, there are 18 COVID-19 patients admitted at the hospital.

"[At the time of collection from the isolation wards], all medical waste from coronavirus patients is completely sealed in bags and disposed of in an incinerator and the process is monitored by the hospital's infection control committee," Dr Qureshi explained.

Highly contagious waste

Meanwhile, the president of the Infection Control Society Pakistan (ICSP), Dr Rafiq Khanani, said that there is a high possibility of the deadly virus spreading from contaminated medical waste, therefore, it is crucial to dispose of it scientifically.

"Bodily fluids and other medical waste from infected patients as well as disposable medical equipment used on their bodies can transmit the infection to other people, particularly cleaners, medical and paramedical staff who are in direct contact with the patients," Dr Khanani said. "Therefore, needles, syringes, drips, cotton swabs, tissue papers and medical tape, among other equipment, should be properly disposed of and not dumped in a regular way."

He added that the clothes and bedsheets used by infected patients must be washed separately, while single-use personal protective equipment (PPE) should be disposed of in a plastic bag and into the general waste. Reusable PPE, such as heavy-duty gloves and boots (individual use) should be cleaned with detergent and water.

"Proper disposal of all liquid medical waste is very important as the virus can survive at different levels for nine to 10 days. Therefore, it is important that all medical devices which are for reuse must be completely sterilised," Dr Khanani stressed.

Published in The Express Tribune, April 16th, 2020.