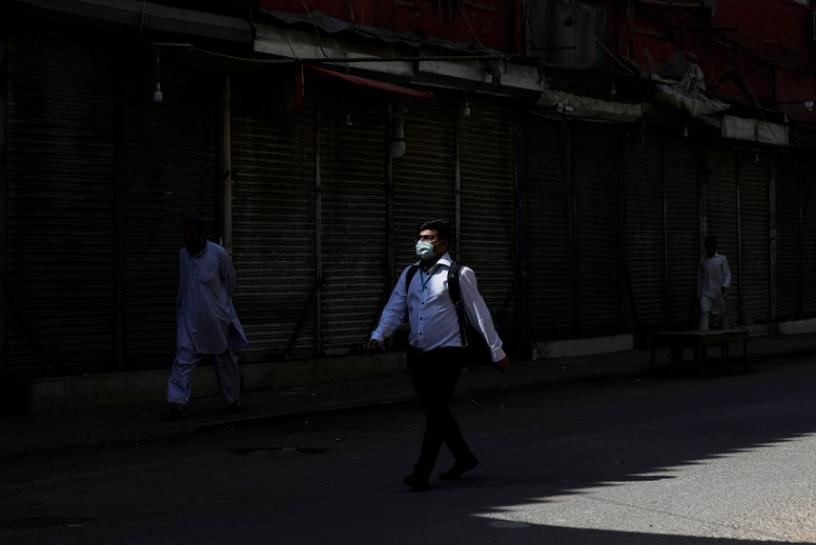 ---
Lockdown exemptions cause confusion in Punjab
Authorities take notice of violation of restrictions
---
LAHORE: Amid confusion, Punjab government early on Wednesday issued a notification to immediately open low-risk sectors while ensuring implementation of standard operating procedures (SOPs) regarding coronavirus prevention, despite extending the lockdown in the province till April 25.

These decisions were taken at a meeting presided over by Chief Secretary Major (retd) Azam Suleman Khan on Tuesday, but the notification in this regard was issued after midnight, and according to reports it did not reach field officials for execution till the afternoon, which ended up causing massive confusion after many businesses allowed to resume operations were ordered to close down by police.

Confusion regarding shops of barbers and beauty parlors also persisted.

The chief secretary said that the lockdown would continue till April 25 but keeping in view financial problems of daily wagers the decision had been taken to open several low-risk sectors including chemical industries, IT companies, shops of plumbers, electricians, carpenters, tailors, veterinary services, and offices of real estate and property dealers.

He said that books and stationery shops, glass manufacturing industry, paper and packaging industry, and botanical nurseries have been exempted from restrictions. Similarly, mines and mineral, concerns related to road sector and construction sites, brick kilns, stone quarries and bitumen plants have been allowed to resume work. Engineering and architectural services and construction work in road sector has also been permitted, he added.

Permission was given to dry cleaners to resume work with one helper. The telecommunication sector, pharmacies, grocery shops, take way services, petrol pumps were already allowed to operate in accordance with the SOPs.

The ban on public transport was not lifted and labourers and employees of exempted businesses would have to use private means of transportation.

The home department also extended the ban on pillion riding on motorcycles in addition to the orders issued under the Punjab Infectious Disease Ordinance 2020.

The chief secretary nominated Lahore Commissioner Saif Anjum as focal person for matters related to foreigners kept in quarantine.

Provincial Law Minster Raja Basharat and Chief Secretary Suleman also jointly chaired a meeting to review administrative matters and implementation of coronavirus prevention SOPs in view of extension of the lockdown. The meeting was attended by Additional Chief Secretary Home Momin Agha, IG Shoaib Dastgir and other officers concerned, whereas divisional commissioners, regional officers and deputy commissioners participated through video conferencing.

The meeting took notice of opening of shops and industries in violation of lockdown and decided that only those businesses would be allowed to open which had been allowed in the order.

The chief secretary ordered the commissioners, deputy commissioner and RPOs to contact local chambers of commerce after issuing warnings to the industries opened illegally and seal them in case of non-cooperation.

As per the government orders, shops of plumbers, electricians and tailors can be opened standalone and chains associated with them cannot be opened. Similarly, only concerns related to construction of grey structure of buildings can work.

The meeting decided that the industries allowed to work would be bound to implement the SOPs and any violation would not be tolerated. Factory workers would have to keep their duty cards with them.

The chief secretary asked all administrative officers to ensure implementation of the directives with the help of the chambers of commerce and traders. He said that all industries and shops to be opened would be responsible for providing masks and sanitisers for labourers at the workplace and disinfecting the premises regularly.

The participants were informed that Urdu translation of orders regarding lockdown have been provided to police officials for better enforcement. The meeting also decided that army and police personnel would conduct joint flag march.

Basharat Raja asked the officers to keep regular contact with Ulema and traders in the prevailing situation.

Published in The Express Tribune, April 16th, 2020.