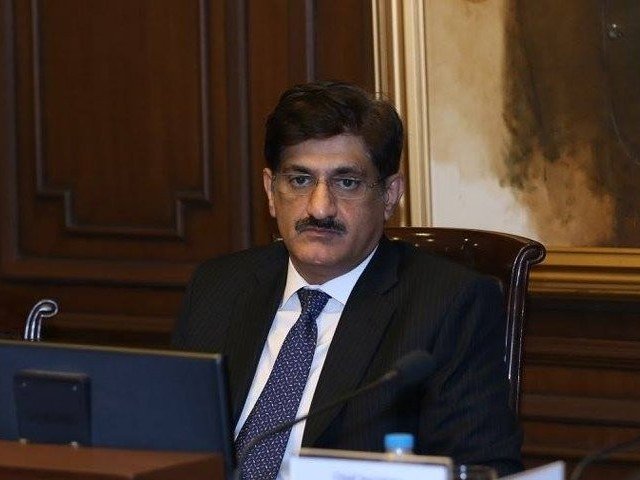 ---
Sindh CM welcomes lockdown extension
Murad says situation would have been different if decision was taken earlier, lays out lockdown guidelines
---
KARACHI: Appreciating the Centre's decision to extend the pandemic lockdown by 14 days, Sindh Chief Minister Syed Murad Ali Shah, presiding over a meeting on Wednesday, also pointed out that the situation would have been different had the decision been taken 15 days earlier, as he had suggested.

He said he had had separate meetings with Planning and Development Minister Asad Umar and Prime Minister Imran Khan, during which the consensus to extend the lockdown was reached.

Following the decision, the Sindh government had issued standard operating procedures (SOPs) for different sectors and industries to operate during the lockdown.

According to the SOPs, pillion riding has been banned. However, women are exempted from this restriction. Meanwhile, inter-city and intra-city transport, too, remain suspended.

Coronavirus cases fatality rate 'very low in Pakistan'

Speaking with respect to restricting prayers at mosques, the CM said that he had requested the PM to issue the guidelines for congregational prayers as well but the PM had said that he would first consult the ulemas of all sects on the matter.

Reacting to announcements made by some ulemas on Tuesdays to keep mosques open, he said that the government had not entirely banned offering prayers at mosques but SOPs, in consultation with religious scholars, had been worked out and it was decided that congregations would be limited to four to five people.

"This needs to continue," he remarked.

Keeping in view that Ramazan round the corner, the CM said, a committee was formed to consult ulemas on congregation prayers, tarawih and other matters in relation to the holy month.

He further shared that the PM had suggested allowing the construction sector to work during the lockdown, stating that it provided employment to a large number of people.

Prominent ulema call for lifting of ban on congregational prayers in mosques

"At this, I proposed permitting only grey construction activities such as the manufacturing of cement, steel and other materials," he said, adding that these businesses would be allowed to operate given that they abided by the SOPs.

He said that the district administration's permission would have to be sought for onsite construction.

Shah also stated that separate SOPs had been issued for factories, particularly those manufacturing goods for export.

In order to continue operations, factory owners would have provide a list of their employees, who would be transported to factories in buses, on which names on relevant factories would be emblazoned, he explained. "The number of passengers in each bus would be one-third of its capacity."

Restaurants too have been permitted to take orders for home delivery, under the SOPs issued by the government, given that they abide by all guidelines. If they fail to follow the guidelines, the eateries would be sealed, Shah warned.

Dhaba-like eateries have also been allowed to remain open but people have been barred from dining there. "They can purchase the food and eat elsewhere," the CM said.

Meanwhile, the automobile industry has been restricted from operating and domestic flight operations, too, will remain suspended.

He further added that the Sindh government had decided against allowing plumbers, electricians, tailors and barbers to operate in the province.

Speaking with regards to sealing union councils (UCs) in Karachi, the CM said that 11 UCs identified as coronavirus hotspots were sealed. "But a hue and cry was made against the move, which was unnecessary," he said. The CM added that he thought it right to seal the UCs but later it was decided to only seal neighbourhoods where the incidence of the coronavirus was high.