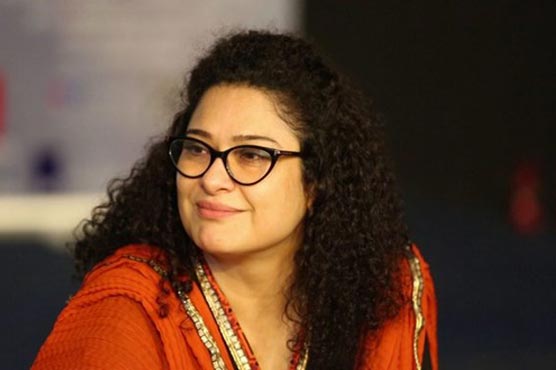 ---
Sania Saeed on how to stay positive amid lockdown
The actor revealed she chose her friends and battles wisely to overcome the darkest days of her life
---
Renowned television actor Sania Saeed recently appeared in a Facebook like session with Taimur Rehman. The two indulged in an interesting conversation pertaining to the current global crisis, including the psychological impact it is having on the people.

Before diving into the dark and possibly irreversible damage the ongoing lockdown has done, Saeed talked about her routine, family, why she doesn't sing and how she tries to stay positive.

The actor began by discussing how our lives have changed completely and they might not even go back to the way they were after this lockdown ends. She said, "Only recently, I had to break out of my quarantine momentarily to run a few errands and when I got back home I had to disinfect everything I took with me along cleaning myself and it was not normal. I don't think we will ever be able to go back to our careless ways."

She added that she is a 'hugger' and loves to great people affectionately but couldn't anymore and that was quite difficult for her.




Moving on, the two then discussed why the popular television personality does not sing regardless of having learned how to. Rehman asked, "I remember Wajih Nizami once telling me that you guided him so well with his singing that he could not understand why you don't do it yourself."

To this Saeed intervened saying, "I think I am very besuri, not to mention, I have a serious complex that I cannot sing well."

She then revealed what childhood trauma may have led her to feel that way, "Lets just say singing and music are like math. If you don't get a good teacher you may never want to do that subject. Something similar happened to me when I was learning how to sing."

On this note, the host in a quirky response said, "But what do you have to say about the people who think they know how to sing but they don't - like Taher Shah."

A wise Saeed still smiled and replied, "Unko gaanay diya jaaey! (Let them sing!). Malaka-e-Mouseequi Roshanara Beghum once said, 'Jo jitna gaata hai, acha gaata hai.'"



She then went onto school the keyboard warriors who criticise people blindly without acknowledging their courage to express themselves in whatever form they deemed comfortable. Saeed said, "It's not like you have to listen to them. If you don't like it, change the channel, swipe up, watch something else. Diversity exists and it should, it eventually finds its niche. And I would agree this was a problem if better artists suffered because of these people everyone criticises but no. Nobody is threatening anybody."

With her responses, the host noticed that Saeed had a really positive outlook towards people and life, so he asked her what the secret to her positivity amid such dark times was.

He said, "Recently a great many people have been messaging me saying they are depressed. This boy said, 'Sir I think the world is ending and I am having suicidal thoughts'. What message do you have to give for such people?"

To this Saeed responded by saying, "I can't even bear thinking about this because I myself know several people who found comfort outside of the toxicity of their homes. And if they didn't go outside then the abuser would remain outside for most of the day. But now they are bound to stay under the same roof for God knows how long."

The Manto actor then added that she herself would feel suffocated by a single a negative person in her environment even if she was in a more powerful position.




Thus, she said that there were many people who are distributing numbers on social media where such inhabitants could call to seek refuge. "Abuse has triggered, the numbers are startling. People are even beating up animals and it is beyond me," she said.

As for her own positivity, Saeed revealed that she went through a dark time in her life but the one good thing she did for herself which saved her were her friends. She said, "They took me out of my thoughts and counselled me consistently!"

Another notable attitude that she adapted was from her father, Mansoor Saeed, owing to which she said, "He taught us to choose our battles wisely. Not to mention, he was a man of solutions. As kids I would come to him with problems and he would just silently listen to them and when I was done ranting he'd just say, 'ab kya karna hai, ye socho.'"

Saeed made it clear that in these dark times, we can either rely on those who love us to make us calm again. Or we can choose our battles wisely  by distinguishing between the problems we can do something about and focus on them, instead of just crying over those that are out of our hands.

Have something to add to the story? Share it in the comments below.