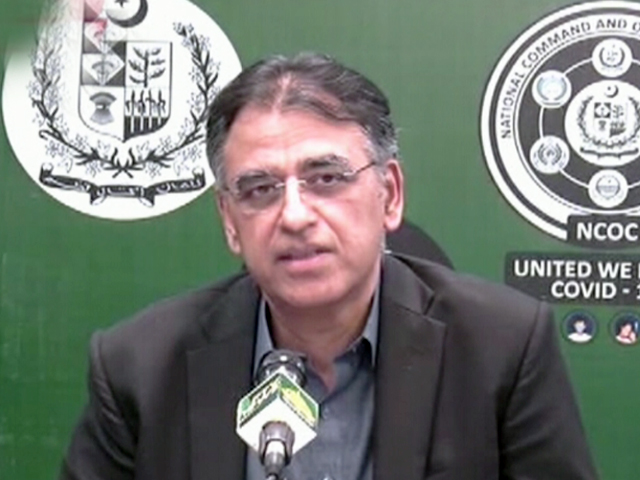 ---
LIVE: 'Think globally, act locally', says Asad Umar as COVID-19 tally crosses 6,300
The virus has claimed 117 lives while at least 1,446 patients have recovered across the country
---
KARACHI / ISLAMABAD / QUETTA / PESHAWAR / LAHORE / GILGIT / MUZAFFARABAD: The novel coronavirus emerged in the central China city of Wuhan towards the end of last year and proliferated to almost the whole world within a couple of months. It's not the virulence or fatality, but the infectivity of the new virus – also known as SARS-CoV-2 – that has set off a global frenzy.

The COVID-19 respiratory illness caused by this mysterious contagion has so far infected more than 2 million people in 202 countries and territories of the world – more than 128,000 of them have died and counting.

Pakistan, despite its close proximity with China, remained coronavirus-free until February 26 when a young man from Karachi tested positive after returning from Iran – one of the worst-hit countries. After a brief hiatus following the first case, COVID-19 cases spiked as more pilgrims returning from Iran tested positive for the virus.

The nationwide tally of COVID-19 patients has reached 6,305 with 3,016 cases in Punjab, 1,668 in Sindh, 912 in Khyber-Pakhtunkhwa, 281 in Balochistan, 237 in Gilgit-Baltistan, 140 in Islamabad, and 46 in Azad Jammu and Kashmir.

The virus has claimed 117 lives while at least 1,446 coronavirus patients have recovered.

The number of cases has continued to soar despite the country being under lockdown for the third consecutive week.

The situation remains fluid and we're updating stats as soon as new figures are officially released.

Follow The Express Tribune's live coverage of the pandemic here.




11:30pm: China to support Pakistan's debt relief initiative at G20

Chinese State Councillor and Foreign Minister Wang Yi said that his country will support Prime Minister Imran Khan's global initiative at the G-20 as well as other relevant fora as Pakistan continued its diplomatic outreach to powerful countries which can play a role in much-needed debt relief while battling the novel coronavirus.

According to an official statement, Foreign Minister Shah Mahmood Qureshi on Wednesday held a telephonic conversation with Wang Yi to seek China's support for the premier's recently launched "global initiative for debt relief".

The impact on the developing countries would be most severe in the wake of Covid-19 outbreak. Keeping this in view, Prime Minister Imran Khan a few days ago had appealed to the world community to work for providing debt relief to the developing countries.

Chinese Foreign Minister thanked Qureshi for reaching out to China and appreciated Pakistan's thoughtful and timely gesture.

Read our full story here




11:00pm: K-P reports four deaths, 50 new COVID-19 cases in last 24 hours

The Khyber-Pakhtunkhwa (K-P) health department has reported four casualties due to coronavirus and 50 new cases of the deadly disease across the province in the last 24 hours.

The virus has claimed 42 lives while 912 cases have been reported in the province so far, according to the daily report. 191 COVID-19 patients have recovered from the virus up till now, it added.


10:30pm: Punjab CM shares photos of isolation hospitals in Vehari and Attock
100 bedded field Hospital in Vehari and 80 bedded field hospital in Attock

These hospitals are being used to isolate #COVID19 positive patients.#PunjabCoronavirusUpdate pic.twitter.com/qTthus942I

— Usman Buzdar (@UsmanAKBuzdar) April 15, 2020


9:00pm: Chinese media hails PM Imran's call for debt relief

Prime Minister Imran Khan's appeal for a debt relief initiative for highly indebted developing nations served as a rallying call for the world to unite in pursuit of mitigating negative impact of the Covid-19 crisis, China Global Television Network (CGTN) reported on Wednesday.

In a video message posted on Twitter over the weekend Imran appealed to the international community to launch a debt relief initiative in order to help the developing countries prevent negative impact on their people as a subsequent humanitarian consequence of the pandemic.

The Chinese media noted that there was a precarious situation in the South Asian region, not just in Pakistan, but also in India and Bangladesh as well and in other developing countries elsewhere in the world.

Read full story here




7:45pm: Four more COVID-19 cases detected in Balochistan, cases rise to 281

Balochistan government's spokesperson Liaquat Shahwani has said four more people are tested positive in the province, taking the tally to 281.

This brings total number of local transmission cases to 133, he said in a tweet.


#بلوچستان میں کرونا وائرس سے متاثرہ افراد کی تعداد 281 ہوگئی۔
مذید 4 مقامی افراد میں کرونا وائرس کی تصدیق ہوگئی ہے۔
39 رپورٹس موصول ہوئے جن میں سے 4 مثبت اور 35 منفی نتائج سامنے آئے

مقامی سطح پر #کورونا سے متاثرہ افراد کی تعداد 133ہوگئی#CoronavirusPandemic #CoronaVirusUpdates

— Liaquat Shahwani (@LiaquatShahwani) April 15, 2020


7:30pm: Three new cases raise G-B's COVID-19 tally to 237

Gilgit-Baltistan Law Minister Aurangzeb Advocate has confirmed three more cases of coronavirus, bringing the region's tally to 237.

178 patients have recovered so far, he added.


7:00pm: Faisal Edhi, APTMA donate Rs60 million in PM's Corona Relief Fund


Edhi Foundation and All Pakistan Textile Mills Association (APTMA) donated Rs60 million to Prime Minister Imran Khan's coronavirus relief fund in a meeting with the premier in Islamabad on Wednesday.

Faisal Edhi, chairman of Edhi Foundation, presented a cheque of Rs10m while the APTMA delegation handed over a cheque of Rs50 million to the premier during the meeting.


Faisal Edhi, APTMA delegation donate Rs60 million in PM's Corona Relief Fund
Follow our live coverage here: https://t.co/edlOY8IpSg pic.twitter.com/q7HxomNXV2

— The Express Tribune (@etribune) April 15, 2020


6:30pm: COVID-19 claims one more life in K-P

One more patient of coronavirus has succumbed to the deadly virus in Khyber-Pakhtunkhwa, bringing the death toll to 39.

The deceased, who breathed his last at a Peshawar hospital, belonged to Mohmand district's Helimzai tehsil.




6:15pm: Five foreign Tableeghi Jamaat members test positive for COVID-19 in K-P

Five members of Tableeghi Jamaat belonging to different countries have been diagnosed with coronavirus in Khyber-Pakhtunkhwa's Swabi district.

Swabi Deputy Commissioner Shahid Mehmood said two each were from Iran and Djibouti while one belonged to Yemen.




5:35pm: Unanimity must reflect in decision-making process amid COVID-19 crisis, says Asad Umar

Minister for Planning, Development and Special Initiatives Asad Umar has said unanimity must reflect in the decision-making process regarding the current coronavirus crisis in the country.

He said this while addressing a news conference along with PM's aide on health Dr Zafar Mirza and SAPM on national security Moeed Yusuf following a meeting of National Command and Operation Centre (NCOC) in Islamabad on Wednesday.

The minister said the coronavirus situation might be different in Karachi as compared to Nawabshah, adding that the situation on ground can be different in different parts of the country.

"Once we're done with coronavirus [crisis], we would have plenty of time to point out mistakes of each other," he said.

Umar said the government had to make decision for the entire population and not just a few thousands. "If you ask me to make a decision for Germany, I would come to a different conclusion. Our ground reality is very much different," he explained.

The federal minister said the situation was much better in Pakistan than it was is several developed countries. "You have to think globally and act locally," he added.

He further said that Rs35 billion have been distributed among 2.861 million people under the Ehsas Emergency Programme.

[/fbvideo]

Read our full story here




5:30pm: 38 new cases of coronavirus take Balochistan's tally to 278

Balochistan Chief Minister Jam Kamal Khan has confirmed 38 new cases of coronavirus in the province – 28 in Quetta and 10 in Naseerabad. This brings the total number of COVID-19 cases to 278 in the province.

While requesting people to take precautionary measures against the contagious disease, the chief minister wrote on his Twitter handle: "People please wear masks, keep social distancing and unnecessary movements."


38 more cases in Balochistan have come... in which 28 are from Quetta city....and rest from Naseerabad(jafrabad)

People please wear masks, keep social distancing and unnecessary movements.

— Jam Kamal Khan (@jam_kamal) April 15, 2020


5:00pm: PPE to be procured locally 

Chairman National Disaster Management Authority (NDMA) Lieutenant General Muhammad Afzal on Wednesday said all personal protection equipment (PPE) – vital in the fight against COVID-19 – would now preferably be procured from the local market.

The decision was taken to support local businesses and manufacturing industries to curtail the economic crisis.

Read story here




4:30pm: Sindh health minister visits Karachi airport

Sindh Health Minister Dr Azra Fazal Pechuho visited Karachi airport and said the provincial government is "fully prepared to face the challenge" of screening Pakistanis stranded abroad.

Pechuho visited the Karachi airport to oversee the arrangements and said that the health staff will remain at the airport.




4:00pm: Awan criticises CM Murad 

Special Assistant to the Prime Minister on Information and Broadcasting Dr Firdous Ashiq Awan criticised Sindh Chief Minister Murad Ali Shah and said a "true leader assures people".

She further said that Sindh's chief minister should first look at facts before conducting press conferences.

"According to the statistics, there are more deaths in Sindh, hence, there is a shortcoming in policy implementation."


#Live: SAPM on Information @Dr_FirdousPTI and PTI leader @HaleemAdil addressing a news conference in #Islamabad. https://t.co/b0EHevepqk

— Radio Pakistan (@RadioPakistan) April 15, 2020
3:15pm: Construction of infectious disease hospital in Islamabad underway
VIDEO: A special #quarantine and infection treatment facility is under construction in Islamabad. The FWO Hospital has 205 beds and it will provide treatment to patients of the novel #coronavirus and other outbreaks.

Video Courtesy: NCOC#CoronavirusinPakistan #etribune pic.twitter.com/0ZbzvZuuiU

— The Express Tribune (@etribune) April 15, 2020
2:40pm: CM Sindh announces strict measures for lockdown

Sindh Chief Minister Murad Ali Shah said 45 patients in the province are in critical condition.

Announcing strict measures for the two-week lockdown, the minister said there will be a ban on pillion riding.

"Only a man with a female can travel on a bike, any other pillion riding will be banned," he said.

CM Murad said the lockdown will continue to be strictly implemented after 5pm.

"We have had a consensus with the federal government about a more stringent lockdown. However, some essential services and businesses have been exempted. Any business operating under the exemption must have SOPs in place. We asked the federal government to present its SOPs so that we could reply accordingly," he added.

He said the Sindh government argued against allowing plumbers, electricians, tailors and barbers to operate in the province.

Moreover, the government agreed that air operations will remain suspended for a few weeks and a consensus was reached pretraining to the opening of certain businesses, including export-related establishments.

It was agreed that public transport including intercity and intracity buses will remain halted. Factories will make their own arrangements for transport for their workers.

The chief minister also stated that factory owners must form a list of workers and present it to the authorities. Business and industries exempt from lockdown must ensure social distancing.

Employees over the age of 55 will not be allowed to travel for work. The chief secretary will hold a meeting with factory owners and allow them to operate if they are satisfied with the arrangements, he said.

Read story here


2:00pm: NDMA to procure PPEs from local market

National Disaster Management Authority (NDMA) Chairman Lt. General Muhammad Afzal announced that all personal protective equipment (PPEs) will be procured from the local market.

He said all PPEs, except for N-95 masks, are now locally manufactured and available in Pakistani markets.

Products that are unavailable in the local markets, in terms of the required standard and quality, will be imported.


1:55pm: 200 passengers travelling from Qatar quarantined

200 passengers travelling from Qatar were transferred to a quarantine centre in Peshawar.

They will remain in the quarantine centre for three days and will be taken care of by security personnel.


1:50pm: 71 new cases emerge in Punjab

After health authorities in Punjab reported 71 new cases, the province's tally stands at 3,016.

701 pilgrims, 1,091 people associated with Raiwind Tableeghi Ijtima, 91 prisoners and 1,133 others tested positive for the virus.

Punjab health department reported that 59 inmates in Lahore, 14 in Sialkot, nine in Dera Ghazi Khan, seven in Gujranwala and two in Bhakkar have tested positive for the virus.

The spokesperson said 457 pilgrims in Multan, 221 pilgrims in DG Khan, and 23 pilgrims in Faisalabad have tested positive.




1:35pm: 237 Afghan missionaries sent back to Afghanistan

Minister of State for States and Frontier Regions (Safron) Shehryar Khan Afridi said 237 Afghan missionaries have been sent back to Afghanistan.

The remaining 167 missionaries will return home after their test results return, he added.

The minister said pilgrims and religious leaders stranded abroad would be repatriated soon.




1:25pm: Balochistan CM says record number funds completed 

Balochistan Chief Minister Jam Kamal said it is the first time in the history of Balochistan that record number of funds have been authorised, utilised and completed this year.

Over 500 old schemes of the past four governments have been completed, he said.


1:00pm: Pemra bars live audience, display of gifts during Ramazan transmissions

Pakistan Electronic Media Regulatory Authority (PEMRA) has barred the presence of live audience during Ramadan transmissions amid the coronavirus outbreak.

A notification issued by Pemra also stated that there should be no display of gifts, bikes, cars or other items.



In the wake of Coronavirus (Covid-19) pandemic, PEMRA issues directives for its licensees on Ramadan Transmission. pic.twitter.com/HkbLrxov9I

— Report PEMRA (@reportpemra) April 15, 2020
12:00pm: CM Murad in a meeting to discuss SOPs

Senator Murtaza Wahab said Sindh Chief Minister Murad Ali Shah is presiding over a meeting regarding enforcement of standard operating procedures in Sindh.

The civil administration, doctors, representatives of the World Health Organisation (WHO) and United Nations International Children's Emergency Fund (UNICEF) are also present.



CM Sindh is presiding over a meeting regarding enforcement of SOPs in #Sindh. LEAs, Civil Adminstration, Doctors, representatives of WHO & UNICEF are present so that various aspects of enforcement are deliberated & acted upon.

— SenatorMurtaza Wahab (@murtazawahab1) April 15, 2020


11:30am: 150 new cases emerge in Sindh

Adviser to Sindh chief minister Murtaza Wahab reported 150 new cases in the province, raising the total number of cases to 1,668.

He said four more patients succumbed to the virus. The total number of deaths in Sindh stands at 41.

In the last 24 hours, 133 patients have recovered from the virus in Sindh, he added.



The following information is relevant to assess the situation of #COVIDー19 in Sindh as of 15th April at 8 AM:

Total Tests 16026
Positive Cases 1668 (today 150)
Recovered Cases 560
Deaths 41

In the last 24 hours, 133 people have recovered from corona in Sindh

— SenatorMurtaza Wahab (@murtazawahab1) April 15, 2020
11:00am: UAE releases nearly 400 Pakistani prisoners

The United Arab Emirates (UAE) has released nearly 400 Pakistani prisoners serving jail time for minor offences amid the COVID-19 outbreak.

According to a notification from the UAE Embassy, the prisoners will be repatriated through two special flights to Faisalabad International Aiport and Bacha Khan International Airport.


10:10am: 7,550 British nationals repatriated through 23 special flights

British Foreign Minister Dominic Raab said more than 7,550 British nationals have been repatriated through 23 special flights of the Pakistan International Airlines (PIA) during the last 10 days.

He said he spoke to Foreign Minister Shah Mahmood Qureshi and requested the sending of chartered flights to bring back remaining British nationals in Pakistan.

I spoke to @SMQureshiPTI y'day to discuss how we get more people home from Pakistan. 7,550 people have returned in last 10 days on @Official_PIA flights. Given options now closing, we will charter flights. We'll share details in coming days via our travel advice and @CTurnerFCO

— Dominic Raab (@DominicRaab) April 15, 2020
10:00am: Punjab eases lockdown restrictions 

The Punjab government has eased lockdown restrictions in the province.

All markets, shopping malls, restaurants and offices will remain closed and public transport will remain suspended.

Social and religious gatherings, ceremonies, congregations and festivals will also remain suspended along with opening of marriage halls, educational institutions or tuition centres.

Two persons per family will be allowed to leave the house to buy essential items.



Order of partial lockdown, by Govt of Punjab, under "The Punjab Infectious Diseases (Control and Prevention) Ordinance 2020" and its Exceptions: pic.twitter.com/r1T1i7SHYH

— Government of Punjab (@GOPunjabPK) April 15, 2020
9:00am: Nationwide tally at 5,988 

The National Command and Operations Centre reported 13 new cases in the country. The nationwide tally stands at 5,988.

Nine new cases emerged in Islamabad, three in Azad Jammu and Kashmir and one in Gilgit-Baltistan.

Seven others succumbed to the deadly virus and the centre reported 66 new recoveries.

A total of 3,280 tests were conducted in the last 24 hours.


8:30am: K-P health minister reports three new casualties 

Khyber-Pakhtunkhwa Health Minister Taimur Khan Jhagra has confirmed 65 new cases, raising the provincial tally to 865.

He reported three new casualties, bringing the province's death toll to 39. At least 178 patients have recovered.



Pakhtunkhwa #CoronaVirusUpdate, April 14, 2020.

- 865 total cases (797 within KP, 65 new)
- 38 deaths (37 within KP, 3 new)
- 178 confirmed recoveries

Again, any minor discrepancies are due to synchronisation of data between different scorecards. pic.twitter.com/eHTz1qSoZ7

— Taimur Khan Jhagra (@Jhagra) April 15, 2020


12:20am: Pompeo says assisting the vulnerable at this time is essential 

US Secretary of State Mike Pompeo said assisting those who are the most vulnerable at this time, is essential. He lauded US teams in Pakistan for organising flights to repatriate stranded Americans from Islamabad.



Our @StateDept efforts to bring #AmericansHome continues. As our team in #Pakistan showcased, assisting the most vulnerable at this time of need is essential. https://t.co/XgF2wZULYv

— Secretary Pompeo (@SecPompeo) April 14, 2020