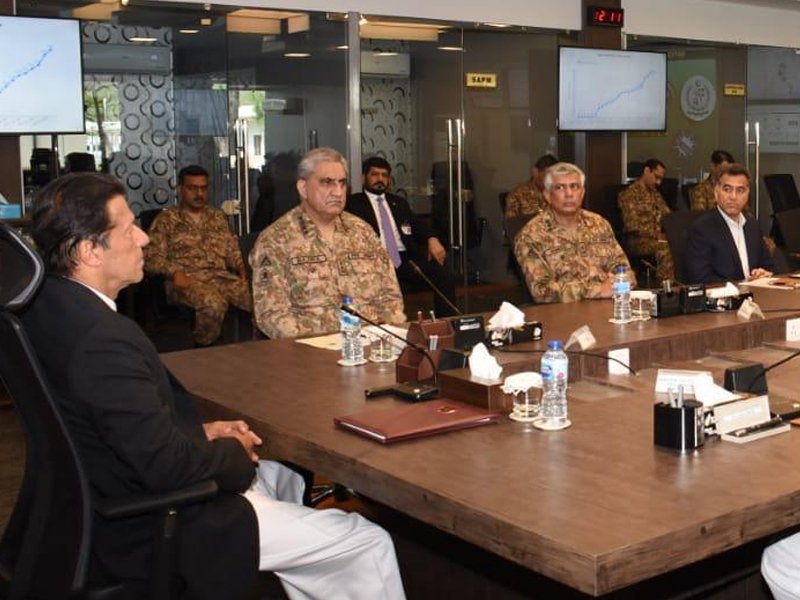 ---
NCOC recommends consulting Ulema for Ramazan guidelines amid coronavirus lockdown
NCOC submits recommendations to National Coordination Committee
---
ISLAMABAD: The National Command and Operation Centre (NCOC) on Tuesday finalised the recommendations as the government extended the lockdown for another two weeks in the wake of coronavirus pandemic in the country.

The proposals were later presented to the National Coordination Committee (NCC) for approval which met under the chairmanship of Prime Minister Imran Khan.

The NCOC meeting chaired by Minister for Planning Asad Umar discussed plan of action as the number of confirmed coronavirus cases in the country crossed 5,800.

The NCOC prepared guidelines for opening certain industries in a stepwise manner stating that the owner of such businesses would be bound to follow the standard operating procedures (SOPs).

The meeting decided that guidelines for Ramadan regarding Taraweeh prayers, Iftar, Sehri and distribution of food items would be prepared in consultation with the Ulema.

The Ministry of Interior has been assigned the responsibility to hold consultations with the Ulema.

Meanwhile, special arrangements will be made for Ramazan bazar and Juma (Friday) bazar.

The meeting discussed that the Pakistan Engineering Council was manufacturing five types of ventilators for which eight designs had been sent for approval and the clinical trials of ventilators continued.

Regarding manufacturing capacity of kits, the meeting observed that the Ministry of Science and Technology, Drug Regulatory Authority of Pakistan (DRAP) and the National University of Sciences and Technology (NUST) should finalise the decision of locally producing coronavirus testing kits within 36 hours.

The NCOC further observed that seven trains had been converted into hospitals and isolation wards, while 48 railway hospitals including 12 major hospitals and 36 small dispensaries existed and 26 trains were available for transportation.

The officials further discussed that three months were required to repatriate stranded Pakistani citizens for which six airports in the country except Sialkot airport had been made operational.

Around 1,959 Pakistanis would be repatriated in the next three weeks and it will be ensured that 8,000 Pakistanis return home every week.

All passengers will be kept in the quarantine centres, while the SOPs for air travel will be reviewed again on April 16.

The Ministry of Interior issued the notification for the closure of borders for another two weeks, effective from the expiry date of the previous notification.

Wagah Border will remain closed from April 16 to 29, western border between Afghanistan and Iran until April 26 and Kartarpur Corridor till April 24.

Interior Minister Brigadier (retd) Ijaz Ahmed Shah, Minister for Industries and Production Muhammad Hammad Azhar, Minister for Energy Omar Ayub Khan, Minister for Economic Affairs Khusro Bakhtiar, Minister for National Food and Security Fakhar Imam, Special Assistant to Prime Minister on National Security Moeed Yusuf, State Health Minister Dr Zafar Mirza and Finance Adviser Abdul Razak Dawood were present at the briefing.

Chief Ministers of Sindh, Balochistan, Gilgit-Baltistan and chief secretaries of Punjab and Khyber Pakhtunkhwa participated in the meeting through video link.