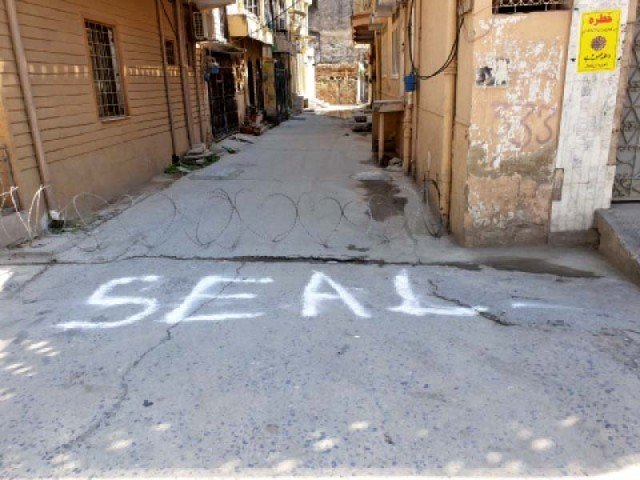 ---
Another lane sealed in Rawalpindi
Three people tested positive for the virus in the area
---
RAWALPINDI: After three neighbourhoods were sealed on Monday, another street in Rawalpindi on Tuesday after three Covid-19 cases emerged there.

Police said that the three patients emerged from one street in Badar Colony, on Khayaban-e-Sir Syed. They added that all of them had contracted the virus as a result of a local transmission with the number of cases in Rawalpindi swelling to at least 88.

They added that after their sample results came back as positive, special teams of the health department and police shifted them to the Rawalpindi Institute of Urology and Kidney Transplant (RIUKT) – which is acting as a dedicated facility for treating Covid-19 patients.

Thereafter, he said that on the advice of the health department, they had sealed off the entire street, with residents advised to stay inside their homes.

Previously at least 35 localities in Rawalpindi had been sealed after cases emerged there.

These localities include Dhoke Kashmirian, Dhoke Paracha, Magistrate Colony, Misrial Road, Dhoke Ratta, Gulzar-e-Quaid, Saidpur Road, Satellite Town and other areas.

Officers explained People in these localities are allowed to leave the house for a certain time to purchase items of daily use after which they return to their homes. Teams of the health department disinfect these areas from time to time.

Furthermore, no one is allowed into these areas and residents are not allowed to leave and go to other areas. 

Published in The Express Tribune, April 15th, 2020.