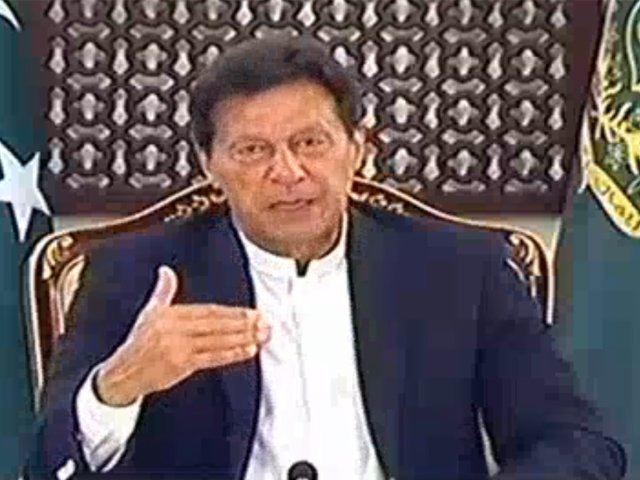 ---
LIVE: Govt extends lockdown for two weeks, plans to open industries in phases
Sindh govt also extends lockdown till April 30 with relaxation for construction, other sectors
---
KARACHI / ISLAMABAD / QUETTA / PESHAWAR / LAHORE / GILGIT / MUZAFFARABAD: The novel coronavirus emerged in the central China city of Wuhan towards the end of last year and proliferated to almost the whole world within a couple of months. ItÔÇÖs not the virulence or fatality, but the infectivity of the new virus ÔÇô also known as SARS-CoV-2 ÔÇô that has set off a global frenzy.

The COVID-19 respiratory illness caused by this mysterious contagion has so far infected more than┬á1.9 million people in 202 countries and territories of the world ÔÇô more than 120,000 of them have died and counting.

Pakistan, despite its close proximity with China, remained coronavirus-free until February 26 when a young man from Karachi tested positive after returning from Iran ÔÇô one of the worst-hit countries. After a brief hiatus following the first case, COVID-19 cases spiked as more pilgrims returning from Iran tested positive for the virus.

The nationwide tally of COVID-19 patients has reached 5,975 with 2,945 cases in Punjab, 1,518 in Sindh, 865 in Khyber-Pakhtunkhwa, 240 in Balochistan, 233 in Gilgit-Baltistan, 131 in Islamabad, and 43 in Azad Jammu and Kashmir.

The virus has claimed 108 lives while at least 1,378 coronavirus patients have recovered.

The number of cases has continued to soar despite the country being under lockdown for the third consecutive week.

The situation remains fluid and┬áweÔÇÖre updating stats as soon as new figures are officially released.

Follow┬áThe Express TribuneÔÇÖs live coverage of the pandemic┬áhere.




1:10am: Four more patients pass away in Punjab as COVID-19 cases swell to 2,945

Punjab Chief Minister Usman Buzdar has said that four more patients of coronavirus have died in the last 24 hours to bring the provincial death toll to 28.

89 more cases of COVID-19 were also reported, taking the Punjab tally to 2,945.

The chief minister, in a series of tweets late on Tuesday, said 701 patients are quarantined at isolation centres in Dera Ghazi Khan and Multan, 1,055 are members of the Tableeghi Jamaat, 89 are prison inmates and another 1,100 are in self-isolation at home across the province.


Punjab's #COVID19 stats as on 14th April:
Total confirmed cases: 2,945
Non-Quarantined cases: 1,100
DGK & Multan Quarantine:701
Jail prisoners: 89
Members of Tableeghi Jama'ats: 1,055
Deaths: 28
Critical Patients: 9
Recoveries: 508
Tests Conducted: 43,565#PunjabCoronavirusUpdate

— Usman Buzdar (@UsmanAKBuzdar) April 14, 2020


43,565 tests of suspected patients have been conducted so far, he added.


Faisalabad 35, Chiniot 8, TTS 2, Jhang 1, RYK 42, Sargodha 14, Mianwali 11, Khushab 4, Bahawalnagar 5, Bahawalpur 6, Lodhran 3, DG Khan 18 and Layyah, Okara & Pakpattan 1 each.#StayHomeStaySafeSaveLives

— Usman Buzdar (@UsmanAKBuzdar) April 14, 2020


1:00am: Sindh extends lockdown till April 30 with relaxation for construction, other sectors

Following the federal governmentÔÇÖs announcement, the authorities in Sindh have also announced extending the ongoing lockdown for two more weeks till April 30. They also issued SOPs for construction industry and a few other sectors to operate in a limited capacity during the shutdown.

According to a notification issued by the provincial home department late on Tuesday, export industries will be allowed to work after certification and undertaking of the trade development authority.

Large industries whose labour colonies are situated within the premises of factories will be allowed to work after inspection. These factories will have to follow all the SOPs, according to the order.

Moreover, books and stationery shops will be able to do business under the defined SOPs. Oil refineries, LNG and gas production units will also be able to function normally in a similar manner.

Paper and packaging industries, cement, and chemical and fertilizer companies will also be able to start production by following the SOPs.

Courier service, and online businesses are allowed to operate however home delivery of cooked foods will be prohibited.

Courier companies will only be allowed to deliver medicines and relief goods. Riders from 49 registered online business entities will be able to ship medicines and other supplies by following the SOPs.






12:10am: K-P reports 65 new cases, three deaths due to COVID-19 in last 24 hrs

The Khyber-Pakhtunkhwa (K-P) health department has confirmed three deaths due to novel coronavirus in the last 24 hours, taking the death toll to 38.

With 65 new COVID-19 cases, the provincial tally has also risen to 865.




12:00am: Clerics refuse to further comply with ban on congregational prayers

The government on Tuesday decided to consult with religious scholars to chalk out a strategy for taraweeh prayers during the holy month of Ramazan as it extended the countrywide lockdown for two weeks to stem the spread of the coronavirus pandemic while key clerics have refused to further comply with the ban on congregational prayers.

President Dr Arif Alvi will convene a virtual meeting of governors and religious scholars from all provinces on April 18 to listen to their proposals for prayers during the holy month and devise a policy.

President Alvi met Interior Minister Ijaz Shah and Religious Affairs Minister Noorul Haq Qadri at the Presidency and decided that recommendations and guidelines would be sought from the participants of the meeting on taraweeh prayers in view of the viral outbreak.

Read full story here.




11:30pm: Qureshi asks Raab to forward PM ImranÔÇÖs loan restructuring idea to G-20

Foreign Minister Shah Mahmood Qureshi has asked his British counterpart Dominic Raab to forward the suggestion of Prime Minister Imran Khan to provide relief to developing nations regarding loansÔÇÖ repayment to the G-20 nations in the wake of the novel coronavirus pandemic.

During a telephonic conversation on Tuesday, Qureshi told Raab that Premier Imran has given the suggestion for loan restructuring so that the developing countries could utilise their resources to deal with the global pandemic and save precious human lives.

ÔÇ£The developed countries are finding this coronavirus challenge difficult to overcome as it has engulfed the entire world,ÔÇØ Qureshi said. ÔÇ£Keeping these circumstances in mind, Imran has appealed to the developed countries to provide relief to the developing countries where loan repayment is concerned,ÔÇØ Qureshi added.

The foreign minister said he expected that Britain ÔÇô an important and active member of the G-20 ÔÇô would forward the suggestion.

Raab welcomed the suggestion regarding restructuring of the loans.

Read full story here.




10:22pm: PM urges German chancellor to play key role on debt relief for developing world

Days after his call for a ÔÇÿGlobal Initiative on Debt ReliefÔÇÖ for developing countries to cope with the novel coronavirus crisis, Prime Minister Imran Khan on Tuesday held a telephonic conversation with German Chancellor Angela Merkel, seeking her leadership role for implementation of the sought-after move.

The premier emphasised that COVID-19 pandemic has unfolded an unprecedented global health and economic crisis, ÔÇ£where developing countries will be hit harder due to lack of fiscal space and debt servicingÔÇØ.

PM Imran told the German chancellor, ÔÇ£People in the developing world face a starker choice: death by COVID-19 or by hunger.ÔÇØ

Read full story here




9:40pm: Army, Rangers distribute ration among KarachiÔÇÖs destitute

Personnel of Pakistan Rangers Sindh and Pakistan Army, with the help of philanthropists, are distributing food items in different areas of the provincial capital amid lockdown imposed to curb the spread of coronavirus.

Personnel of the security force distributed ration bags among residents of several neighbourhoods including UC-13 Korangi, Zia colony, UC-13 SFT, MalirÔÇÖs Khokrapar, Landhi and Azeem Gabool Goth.

According to Rangers officials, ration and food items have been distributed among the needy families, daily wagers and unemployed persons due to the current stoppage of economic activities. More than 2,000 bags of ration have been distributed so far, they added.

They also conducted an awareness session regarding the novel coronavirus, about contraction and prevention.



Read full story here




8:30pm: 70-year-old woman falls prey to COVID-19; K-P death toll rises to 37

Another patient of coronavirus has succumbed to the deadly virus in Khyber-Pakhtunkhwa (K-P), bringing the province's death toll to 37 on Tuesday.

The 7o-year-old female patient was taken to Lady Reading Hospital, Peshawar on Monday, April 13.




8:10pm: Nine new cases raise Balochistan's COVID-19 tally to 240

The Balochistan health department has confirmed nine new cases of coronavirus on Tuesday to bring the total number to 240 in the province.

So far, 137 patients have recovered form the deadly virus.




7:30pm: AJK PM approves isolation hospitals in all 10 districts

A high-level meeting presided over by Prime Minister Raja Farooq Haider Khan on Tuesday approved establishment of separate isolation hospitals in all ten districts of the state amid the COVID-19 crisis. These hospitals would be complete health units, which not only provide coronavirus testing facilities but also serve as facility for different contagious diseases including dengue in future.

Prime Minister Haider, in a video message, shared that his government has decided to construct a separate 50-bed health facility at a cost of Rs1.250 billion in all ten districts of the state. He added that these hospitals would separately be constructed and would continue their functioning in future as well.

The AJK premier said that construction of the prefabricated hospitals would be ensured as soon as possible.




6:50pm: K-P reports another casualty as death toll rises to 36

A 60-year-old patient of COVID-19 breathed his last at a hospital in Peshawar on Tuesday. This brings the Khyber-Pakhtunkhwa (K-P) death toll to 36.

The deceased was a resident of Chuna Bhatti area of the provincial capital.




6:15pm: Second COVID-19 patient passes away in Balochistan

The Balochistan government has confirmed that another patient of coronavirus has passed away, bringing the provincial death toll to two on Tuesday.




5:22pm: Lockdown to remain in place for next two weeks, says PM Imran

Prime Minister Imran Khan on Tuesday announced that the lockdown imposed to contain the spread of coronavirus in the country has been extended for two more weeks. "But it will be a partial lockdown," he said.

The premier, after chairing the meeting of National Coordination Committee (NCC) attended by the country's top civil and military leadesrhip in Islamabad on Tuesday, also announced opening the construction industry.

ÔÇ£98% consensus have been reached among all provinces and Centre over the reopening of some business sector in the country particularly the construction industry,ÔÇØ he added.

ÔÇ£Construction industry and other sectors will be opened from today in phases,ÔÇØ he announced.

PM Imran further said the government is issuing a presidential ordinance tomorrow (Wednesday) to provide unprecedented stimulus package to the construction industry.

ÔÇ£We are also going to issue an ordinance to take stringent actions against smuggling and hoarding of goods,ÔÇØ he said while terming the smuggling and hoarding as two major challenges being faced by the country.

We are taking steps to control the spread of coronavirus I am aware of the difficulties faced by people due to lockdown, said the premier, adding that, I appreciate the people for braving these difficulties and adopt the governments lockdown measures.

Speaking about Ehsaas Emergency initiative, PM Imran said: ÔÇ£From what I've been told, an amount of around 45 billion rupees has been distributed among 2.8 million families so farÔÇØ.

On overseas Pakistanis, he said: ÔÇ£We fear that if the stranded Pakistanis are brought back home we might not be able to deal with the situation if they have contracted coronavirus with the limited resources at our disposalÔÇØ.

The premier said the government would join hands with Ulema to come up with a national strategy for Ramazan to ensure that citizens can offer their religious obligations within the guidelines for COVID-19.

ÔÇ£On the one side we have corona[virus] and on the other hunger,ÔÇØ PM Imran explained that the decision to open the construction industry is taken to maintain a balance between lockdown and poverty.

He appealed to the people to strictly follow social distancing measures or else the government would be compelled to close the businesses.

75% of labourers in Pakistan, the premier said, are not registered with any government body due to which it is very difficult for the government to support them. ÔÇ£For this reason, we are opening construction industry to help the weaker segment of our society,ÔÇØ he explained.

Dr Zafar Mirza

Speaking on the occasion, Dr Zafar Mirza, PMÔÇÖs aide on health, said the number of coronavirus cases is high in Sindh in contrast to Punjab despite the fact that the former had taken aggressive measures to contain the virus.

ÔÇ£We are opening the businesses in line with the worldÔÇÖs best practices,ÔÇØ he maintained.

Swift decisions taken by the federal government have slowed down the spread of coronavirus in Pakistan, he said.

Dr Mirza said SOPs will be applied to all the industries that the government has decided to open and strict adherence is necessary to ensure that the spread of COVD-19 is prevented.

Asad Umar

Federal Minister for Planning and Development Asad Umar said the Centre and provinces are working together in this war against the deadly virus.

He said the federal government has facilitated Sindh in every way possible and a consensus has been developed in this connection. ÔÇ£For all those politicians who are not aware of the ground realities, they should know that the federal government and provinces are working together seamlessly,ÔÇØ Umar maintained.

Hammad Azhar

Federal Minister for Industries and Production Hammad Azhar outlined the various industries that will be opened across the country. These include:



Chemicals manufacturing plants


E-commerce exports


Software development


Paper packaging


Cement plants


Fertilizer


Mines


Glass manufacturing units


Veterinary service industry


Export related industries


Stationary shops



Moeed Yusuf

PMÔÇÖs special assistant on national security, Moeed Yusuf said six airports will be reopened by April 20 ÔÇ£so we can bring back 6,000 stranded Pakistanis back homeÔÇØ.

[/fbvideo]

Read our full story here.




2:10 pm: Sindh governor visits Thatta

Sindh Governor Imran Ismail arrived in Thatta to review the situation in the district.

He visited the quarantine centre and the Ehsaas Kafalat Programme centre in Makli to monitor arrangements.

Deputy Commissioner Thatta Tahir Usman informed the governor that in four tehsils of the district, 71,216 families were registered.

He said 32 centres have been established for cash distribution.


2:00 pm: PEC submits eight ventilator designs for approval 

The National Command and Operations Centre has recommended that guidelines for Radaman regarding Taraweeh prayers, iftar, sehri and distribution of food items should be discussed with Ulema.

The meeting also discussed that the Pakistan Engineering Council is developing five types of ventilators and eight designs have been submitted for approval.

The meeting also said that seven trains have been converted into hospitals and isolation wards. 48 railway hospitals are available, including 12 major hospitals and 36 small dispensaries.


1:25 pm: 66 new cases in Sindh

Sindh Chief Minister Murad Ali Shah has reported 66 new cases in the province. The total number of confirmed cases stands at 1,518 in Sindh.

He said four patients succumbed to the virus in the last 24 hours, raising the number of deaths in the province to 35 and 100 in the country.

In a video message, the chief minister said 1700 tests were conducted in slum areas of the province.


1:00 pm: Special measures taken during cash distribution
Ensuring safety of #EhsaasEmergencyCash beneficiaries from #COVID19, we have made special arrangements to sanitize hands of recipients while they get payments. pic.twitter.com/35ZKjB18gL

ÔÇö Sania Nishtar (@SaniaNishtar) April 14, 2020


12:45 pm: Sindh govt distributes ration bags to 223,597 families

Adviser to Sindh chief minister Murtaza Wahab said the provincial government has distributed ration bags to 223,597 families.

Welfare organisations and individuals have distributed bags to 302,613 families, he added.



#SindhGovt through its Deputy Commissioners so far has distributed ration bags to 223,597 families. In addition, welfare organisations & individuals have distributed ration bags to 302,613 families. All of these bags have been delivered to the residences of people & is documented

ÔÇö SenatorMurtaza Wahab (@murtazawahab1) April 14, 2020
12:20 pm: Simple ceremony at the Gurdwara Panja Sahib

A simple ceremony of the Baisakhi festival was held at the Gurdwara Panja Sahib in Punjab.

Special prayers were carried out by the Sikh community for the safety and prosperity of the country in the wake of the novel coronavirus.


11:55 am: AJK govt extends lockdown till April 21

Azad Jammu and Kashmir (AJK) government has extended the lockdown in the state till April 21.

This was announced by Minister for Population Welfare and Information Technology Dr Mustafa Bashir.

He said the State Coordination Committee would discuss further extension in the next meeting.


11:40 am: Punjab tally now at 2,826

170 fresh cases emerged in Punjab, raising the provincial tally to 2,826.

According to health authorities, 701 pilgrims, 977 associated with Raiwind Tableeghi Ijtima, 89 prisoners and 1059 others tested positive for the virus.

The health department reported that 59 inmates in Lahore, 14 in Sialkot, nine in Dera Ghazi Khan and seven in Gujranwala tested positive.

The spokesperson said 457 pilgrims in Multan, 221 pilgrims in DG Khan, and 23 pilgrims in Faisalabad tested positive.

The virus has so far claimed 24 lives in the province, whereas 508 have recovered.
11:35 am: Usman Buzdar expected to visit Rawalpindi today

Punjab Chief Minister Usman Buzdar is expected to visit Rawalpindi a day after three more areas in the city were sealed.

The chief minister is expected to visit quarantine centres established in Gujjar Khan and at the Shehbaz Sharif Sports Complex and the University of Engineering Taxila.


11:30 am: PIA scouts distribute masks, sanitisers 

Pakistan International Airlines' (PIA) scouts distributed face masks and hand sanitisers around Islamabad and Rawalpindi.

They spoke about the importance of maintaining social distance.


11:15 am: Coronavirus cases in Pakistan doubling every two weeks

Tania Aidrus, the head of the recently launched 'Digital Pakistan' initiative said cases in the country are doubling almost every two weeks.



Comparison of global #COVID2019 growth trend with indication of when restrictions were imposed.

Confirmed cases in Pakistan are doubling roughly every two weeks. pic.twitter.com/xfxqMfGfRu

ÔÇö Tania Aidrus (@taidrus) April 14, 2020
11:00 am: 100 Pakistanis reach Taftan

Over a 100 Pakistani nationals have reached Taftan from Iran. The pilgrims were quarantined after screening.


10:40 am: Doctors in Peshawar connect with Chinese health experts

Doctors at the Intensive Care Unit (ICU) of Peshawar's Lady Reading Hospital conversed with Chinese health experts via video link

The doctors asked them questions pertaining to the virus.

10:30 am: Four thermal scanners installed at Lahore airport 


Four more thermal scanners were installed at Allama Iqbal International Airport in Lahore, as per the directives of the Civil Aviation Authority (CAA).

One thermal scanner was installed at the domestic arrival gate, two state-of-the-art thermal scanners at the international arrival gate and one at international departures.



10:20 am: 253 more coronavirus patients have recovered

According to the government's official portal, at least 1,378 coronavirus patients have recovered.




10:15 am: K-P reports one new death

Khyber-Pakhtunkhwa Health Minister Taimur Khan Jhagra said the provincial tally reached 800, including 56 new cases that emerged in the past 24 hours.

He reported one new death, raising the total of deaths in K-P to 35. At least 153 coronavirus patients have recovered from the virus.



Pakhtunkhwa #CoronaVirusUpdate end of day, April 13.

- 800 cases (732 within KP, 56 new)
- 35 deaths (34 within KP, 1 new)
- 153 recoveries

Data synchronisation and timing will mean that there are minor anomalies in the data that are corrected on a daily basis. pic.twitter.com/qUhcoKaoHp

ÔÇö Taimur Khan Jhagra (@Jhagra) April 14, 2020
9:55 am: Fresh cases Gilgit-Baltistan 

Nine new cases emerged in Gilgit-Baltistan, raising its tally to 233.

According to the latest figures provided by the governmentÔÇÖs official portal, the nationwide tally is 5,546.


9:45 am: IHC turns down petition against 'Tiger Force'

The Islamabad High Court turned down a petition challenging the establishment of the 'Tiger Force' for conducting relief operations across the country.

Read more here.


9:30 am: Special flights bringing back stranded Pakistanis begins today

Foreign Minister Shah Mahmood Qureshi said the next phase of special flights bringing back stranded Pakistanis begins today.

They will be brought back through nine special flights.

Read more here.




1:10 am: Mirza thanks AKU dean for programme strengthening ICUs

State Health Minister Dr Zafar Mirza thanked the dean of Aga Khan University for his efforts in developing a programme to strengthen intensive care units (ICUs) in the country.

Mirza said the programme includes telemedicine support to staff working in ICUs.


12:35 am: US proud of Pakistan's efforts to repatriate citizens 

Top US diplomat Alice Wells said the United States is proud of its teams in Pakistan embassies for organising flights to repatriate hundreds of Americans who are at risk from the virus.



Proud of our teams in #Pakistan at @usembislamabad & @usconsulatekhi in Karachi for organizing flights to bring home hundreds of Americans who are most at risk for #coronavirus complications. #AmericansHome. AGWhttps://t.co/WWbRUUmxcb

ÔÇö State_SCA (@State_SCA) April 13, 2020