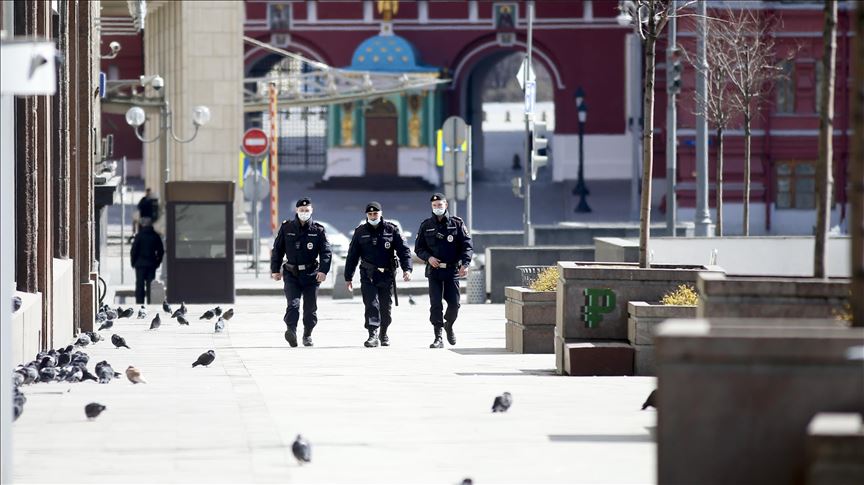 ---
Coronavirus: Russia confirms 2,558 new cases, 18 deaths
Total cases and deaths jump to 18,328 and 148 respectively
---
MOSCOW: A further 2,558 cases of coronavirus were confirmed in Russia in the last 24 hours, raising the national tally to 18,328, authorities said Monday.

The country also recorded 18 new virus-related deaths over that period, taking the total number to 148, according to latest figures on the official COVID-19 online portal.

Meanwhile, 179 patients were discharged from hospitals, bringing the number of recoveries to 1,470.

Cautious hope for pandemic peak as Spain readies to reopen some factories

Some 1.3 million tests have been conducted in the nation with a population of about 145 million.

The numbers are rising despite measures taken by Kremlin to curb the spread of the virus.

Last week, President Vladimir Putin extended the non-work period in the country till April 30.

Other measures to tackle the disease include a lockdown in Moscow and St. Petersburg, among other regions.

While entry of foreign nationals is banned, international air traffic remains suspended.

Digital passes

Moscow mayor Sergei Sobyanin has announced additional measures until April 19, suspending all non-essential business and activity.

Only government bodies, medical organizations, food and medical industry enterprises and manufacturers of personal protective equipment continue to operate.

Special digital passes have also been introduced for trips on personal and public transport to work, medical facilities or grocery shopping, etc.

The pass is mandatory for travel from Wednesday, and can be obtained online or through a call or SMS.

Macron set to warn France virus lockdown must go on

Judges, military personnel and law enforcement officials, and citizens under age 14 are exempt from the new condition.

According to Johns Hopkins University, the coronavirus has infected over 1.85 million worldwide and killed over 114,300, while nearly 435,000 have recovered.

The virus emerged in the Chinese city of Wuhan in December and has since spread to at least 185 countries and regions restricting international travel.