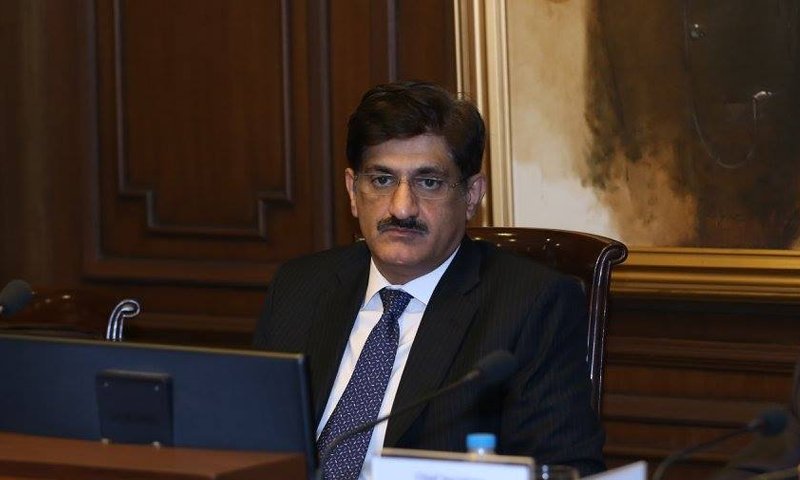 ---
We can bring the economy back to life, not people: CM Murad
You will realise the gravity of the situation if one of your loved ones is infected, says CM Sindh
---
Sindh Chief Minister Murad Ali Shah on Monday said that he will request Prime Minister Imran Khan to extend the lockdown to limit the spread of the coronavirus pandemic.

The prime minister will chair a meeting of the National Coordination Committee (NCC) today, and chief ministers from all provinces will present their recommendations via video link.

The chief minister reiterated while speaking to the media, that the only way to defeat the virus is through the combined efforts of the provincial and federal governments.

Murad, however, expressed disappointment in the federal government's earlier remarks of, "provinces can do whatever they want".

"The entire opposition has told the prime minister that they want to do what he decides," the CM said. "We were on one page when the APS incident occurred. Are we still waiting for such an incident to occur again? We want the prime minister to lead and not tell the provinces to do whatever they want."

PM Imran urges world powers to help Pakistan in fight against COVID-19

The chief minister added that "we all have made mistakes but not the mistake of inaction".

"Sindh was the first province to impose a lockdown and the provincial government was criticised for that."

He further said that there is "no rocket science in understating the complication of a lockdown but, the delay in providing aid to the province from the federal government is beyond my understating".

Referring to much-needed medical equipment, he said vendors in London are ready to dispatch the required equipment, but the federal government has not allotted the required cargo aircraft to airlift the supplies.

"We are conducting targeted testing, that is why we were able to zero in on many things. The World Health Organization (WHO) told us that only the Sindh government is following testing guidelines."

The chief minister further said that almost Rs3.2 billion has been added to the corona emergency fund and Rs150 million has been collected via private donations, while Rs30 million has been spent on the expo centre hospital with the help of the Army.

Citizens miffed at 'ill-planned' sealing orders amid spread of COVID-19 in Karachi

CM Murad said that he had appreciated the federal government's decision on April 1 to extend lockdown by two weeks, but on April 3 some industries were reopened. He added there is no point of the lockdown if this continues. "We have to go towards a planned lockdown as it is ineffective as of now due to the mixed signals from the federal government."

"You will realise the gravity of the situation if one of your loved ones is infected," CM Murad said.