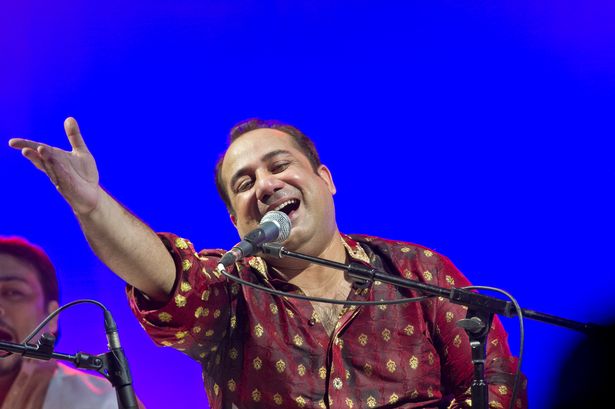 ---
Indian film body warns musicians against online collaborations with Pakistani artistes
Earlier, a cross border collaboration on Instagram went viral for all the right reasons
---
As coronavirus spreads, people around the world have been bracing themselves against in it in different ways, one of which involves international artists coming together virtually to keep spirits up. The recent cross-border collaboration between local singers Ali Sethi and Farida Khanum and Indian songstress Rekha Bhardwaj was proof that in the times of corona, everyone stood united.

Sethi had shared a snippet from the Live session with the two legends on his Instagram page. Khanum and Bhardwaj enthralled everyone with impromptu renditions of some of their most famous tracks, including Aaj Jaanay Ki Zidd Na Karo, Chandni Raatein and Phir Le Aaya Dil from the 2012 Ranbir Kapoor and Priyanka Chopra-starrer Barfi!

https://www.instagram.com/p/B-KQYm2B1Iw/

But now, an Indian film body has once again warned the Indian musicians artist against any further collaborations with their Pakistani counterparts.

"Artistes were seen collaborating with Pakistani singer, Rahat Fateh Ali Khan. We are pained to inform all members that FWICE has issued a total non-cooperation circular advising all members not to work in any manner whatsoever with all Pakistani artistes, singers and technicians," the Federation of Western India Cine Employees (FWICE) said in a statement received by Hindustan Times.

https://www.instagram.com/p/B-4huVgFBxQ/?utm_source=ig_embed

It continued, "Some members are blatantly violating the non-cooperation circular by working in various mode and media of entertainment like a recent instance in which our musicians have worked online with singer Rahat Fateh Ali Khan of Pakistan, which is being seen online. We have been informed that more such entertainment products and songs are being planned and made."

The statement also served as a reminder that FWICE had forbidden Indian actors, musicians and even technicians from the Indian entertainment industry to work in any form with people from Pakistan before too.




"We have to strictly inform all the members of our affiliates to kindly note that the Non- Cooperation Circular is valid and subsisting and anyone found cooperating or working in any manner with any Pakistani artistes, singers and technicians, in any mode or media of entertainment, will be subject to strict disciplinary action initiated by FWICE. Everyone, please note," the statement added.

"One should also realise that while the entire world is fighting against the coronavirus, Pakistan is still busy killing our soldiers on the borders. Kindly note no violation of this circular will be allowed and we are sure all members will follow our advice in their interest."

When reached out for a comment, Rahat's manager rubbished Indian media's claims. He shared, "Rahat Fateh Ali Khan participated in a web seminar but there is no planed regarding collaboration of music with Indian musicians," Amir Hussain told The Express Tribune. 

Have something to add to the story? Share it in the comments below.