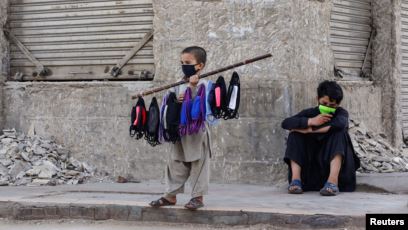 ---
At risk of Covid-19: Minors traverse Rawalpindi selling masks
Sale of face-covers becomes source of income for the impoverished in the city
---
RAWALPINDI: "We have masks starting from Rs15 and going all the way up to Rs80," remark the boys as they group at a street corner in Rawalpindi. As demand for masks surged and the prescribed masks vanished off the shelves in the garrison city in the wake of the novel coronavirus (Covid-19), the void was quickly filled by opportunists. Many young children have become eager salesmen for the in-demand, fabric alternatives and now can be seen selling the masks in most parts of the city.

Before the pandemic, these masks made out of fabric were mostly used by motorists as a guard against the heavily polluted air in the twin cities of Islamabad and Rawalpindi, which was amongst the worst in the country. With the preferred surgical and N-95 verities quickly selling out, most people resorted to using the commonly available varieties of face masks made out of cloth.

Muhammad Asif, a tailor who has shifted to making the masks during the lockdown, told The Express Tribune that they make a few different varieties of the masks. Basic masks, made from light fabric, costs as low as Rs3 to manufacture and they are sold to the dealers for Rs5. These are sold for around Rs15 on the streets.

Asif added that he makes masks which can be sold for as much as Rs80 on the streets.

For a group of young mask vendors huddled on the corner of Murree Road, this is a productive activity during the lockdown.

"We do study in school, but since they are closed [due to the lockdown], we have started selling masks to support our families," said Zaib, one of the four young boys selling masks whom The Express Tribune spoke to.

We make as much as Rs700 a day, he said, adding that sometimes they get lucky when a customer purchases their entire stock

"Sometimes, a philanthropist comes by and buys all the masks from us at the retail price," he said, adding that these people usually take the masks to a nearby hospital or public place where they distribute it amongst the people there for free."

Asked what he does once his stock has been bought out by a philanthropist, Zaib smiled and said that they go straight back to the dealer with the money and buy additional stock and return to their spot.

On the question of whether there are any particular preferences of customers, he said that the women usually preferred coloured masks or masks with a little embellishment, and usually end up buying a couple of masks in a single go.

The idea of children working street corners to sell masks in such times brings up the question of the risk that they may get exposed to the virus. The children, however, said that they were quite aware of the threat and that they had adopted some precautionary measures.

We keep bottles of hand sanitizer in our pockets and wear gloves when dealing with customers, they said.  "It is important to protect ourselves as well while selling protective items to the people," noted Ismail, a member of the small gang of mask-selling boys.

The sale of face masks has also helped offer an alternative mode of employment for at least one man for whom the lockdown would have otherwise spelt doom.

Bacha Khan, who used to work as a daily-wage labourer, had been sitting at home for a few days after the lockdown was implemented. Worried over how he would continue providing for his family, including two sons, he was offered to start selling face masks, as nearly everyone needs one right now.

After connecting with a dealer, Bacha started manning a street corner along with his two sons and started selling the masks.

"I got the offer to sell masks with an attractive commission package and I accepted it," Bacha said, adding, that he had effectively managed to double his daily income.

"Now I, and my two sons, earn around Rs2,000 daily," he said with a grin, noting that this business had put paid to his financial problems, for now at least.

The business has also proved to be a turnaround for makeshift dealers of the masks.

Haji Abdul Ghani, who has been acting as the bridge between those sewing masks and those who have been selling it said that before the government ordered to shut down markets as part of the lockdown measures against Covid-19, he ran a crockery shop.

However, he has been able to liaise with tailors and an army of sellers who have helped him turn the lockdown profitable.

"I have started making around Rs4,000 daily from this business," Ghani said, adding that this even though he sells his stock of masks to street vendors at a nominal profit.

Published in The Express Tribune, April 13th, 2020.