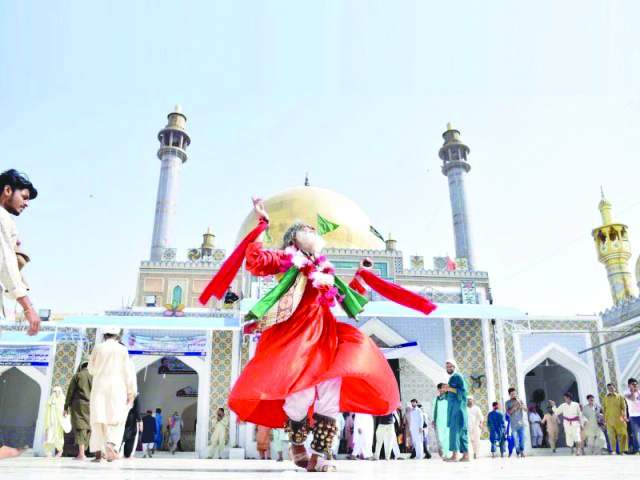 ---
HYDERABAD: Unlike every year when over a million people from across the country flock to a small town along the Kirthar Mountain Range to celebrate the urs of famed Sufi saint Lal Shahbaz Qalandar, the 768th urs in Sehwan were not celebrated customarily.

Due to the pandemic, only four officials of the Sindh Auqaf department, led by Auqaf chief administrator Munawar Mahesar and manager Zubair Ahmed Baloch, laid chadars at the saint's shrine.

"The devotees were not allowed to enter the shrine, though a few had gathered outside the shrine," Baloch told the local media.

Over a hundred devotees, clad in red, gathered outside the shrine in the morning and tried to perform dhamaal, a mystic dance. However, the police dispersed the crowd soon. The staff of the Auqaf department, nonetheless, performed the dhamaal inside the shrine after Maghrib prayers.

Jamshoro deputy commissioner Fariddudin Mustafa had announced earlier that the urs would not be celebrated, as part of the measures being taken to curb the COVID-19 outbreak.

He had said that the district administration would ensure that devotees did not visit the shrine or even gather in Sehwan.

Sehwan has reported only two coronavirus cases so far. However, neither of the infected persons belonged to the town; they were visiting it with a Tableeghi Jamaat delegation.



Published in The Express Tribune, April 13th, 2020.