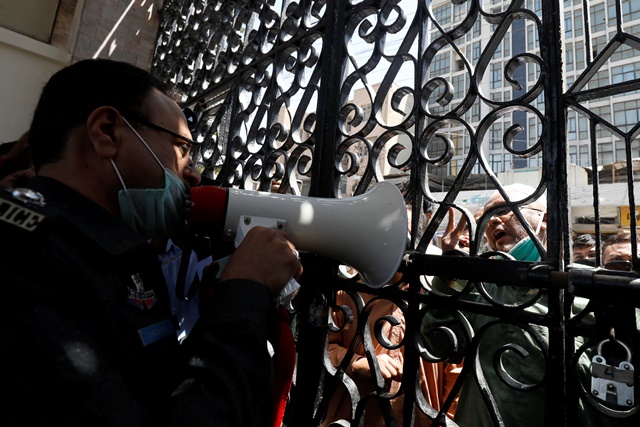 ---
KARACHI: The entire region in the limits of what were formerly union council (UC)-5 and UC-8 were sealed in Karachi on Sunday, as the Sindh government looked to step up lockdown measures, instead of the more plausible sealing on just the streets from where high numbers of coronavirus cases were reported. The UCs are now titled UC-21 and UC-24.

Area residents have attributed this folly to the Sindh government and civil administration's faulty planning, which, notably, is also a move contrary to the directives stated in the notification issued for the purpose.

Consequently, residents in the said areas are facing extreme difficulties due to restrictions on movement over a wide region and have been confined to their homes.

They have also been barred from commuting on Sehba Akhtar Link Road, one of the main thoroughfares in the area. Water tankers and barricades have been placed to block the three main entrances, including those on Sehba Akhtar Link Road, 13-D Railway Crossing and near 13-D1 signal, leading to the UCs.

According to UC-21 chairperson Muhammad Adnan Khan, the area comprises Baloch Goth, Bagh-e-Mehran, Noman Complex, 13-D, 13D-1, some parts of 13D-2 and 13D-3 and Rehmatullah Colony. Meanwhile, UC-24 constitutes Waseem Bagh, Jamali Colony, Madina Colony, Block 1, Block 2 and the rest of 13D-3, he explained.

Decision on Hajj by mid of Ramazan

He said that they were informed on Saturday night that only those streets where the incidence of the coronavirus was high would be sealed, but it turned out on Sunday that the entire area was sealed, much to the shock of residents.

Khan claimed that just three families were affected by the coronavirus in the area, of which many had recovered and even tested negative in follow-up sessions.

"Three members of an affected family in UC-21 have recovered and their second test reports have come out negative," said Khan, adding that the recovered patients had been shifted to a different place. They would be tested again in a few days and it is expected that the results would be negative, he added.

He further said that five of seven members in another family, residents of 13D-1, had recovered and been shifted to a separate place while the rest were likely to recover soon. However, one patient from the third family, who was an elderly man, had died a day before, while the other two suspected patients had tested negative, said Khan.

"Local government representatives know every resident and every street in these areas while the civil administration is not well informed in this regard," he claimed, adding that eliminating the coronavirus from Pakistan was only possible if local government representatives were consulted before making relevant decisions.

Other areas that were completely sealed included Dalmia and some neighbourhoods in the surroundings of Safoora Goth and Pehalwan Goth.

Two civilians injured in Indian firing along LoC: ISPR

Meanwhile, utility stores, medical stores, milk shops and other businesses were allowed to function for a limited period of time on the 21st day of the lockdown, in the rest of the city. Citizens roaming the streets for no valid reason were asked by law enforcement personnel to stay at home and mostly, just the doctors and paramedical staff were allowed unrestricted movement across the metropolis.