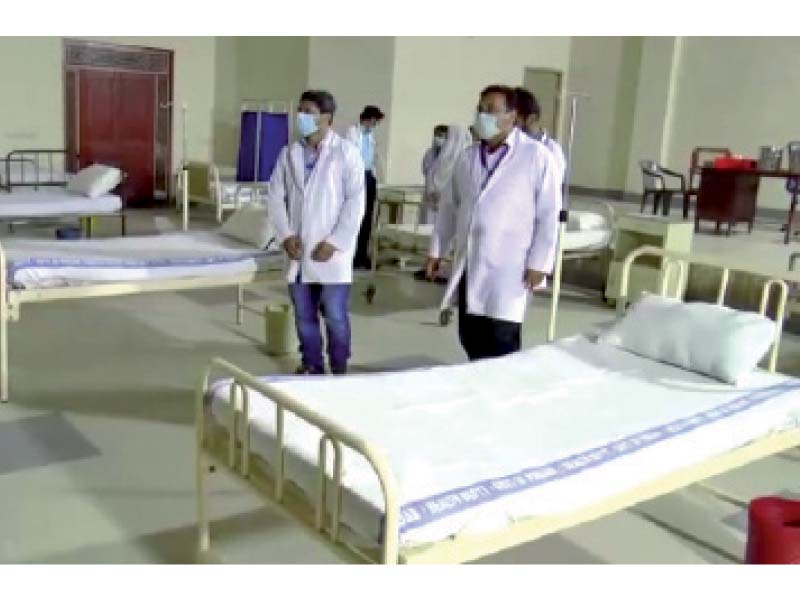 ---
LAHORE: The provincial government is yet to take action against the district administration of Multan for, allegedly, mismanaging the quarantine centre and causing a near spill-over of coronavirus patients from Multan quarantine centre.

PRO to DC Asghar Khan said the district administration of Multan was about to let around 1,160 pilgrims, who had spent 14 days in quarantine centre Multan, go back home on April 3 by sending them from Multan centre to their respective divisions on special buses, from where they would have been allowed to go home. However, at around 11:00 am the same day, just as they were getting these individuals ready for the journey, they were asked to stop by the health department and were instructed to get all these individuals tested again for coronavirus. These instructions left all the patients infuriated.

He said these around 1,160 individuals refused to stay any longer in quarantine centre and demanded to be sent home. Later, since the matter had swelled into a law and order situation for quite some time, in quarantine centre, so after consultation with the government, it was decided that these around 1,160 individuals would be allowed to travel back to their respective districts from where they would be taken to the district quarantine centre, until the arrival of their test results.

Worried by 'world's highest' test rate, Sindh CM blasts laxness in lockdown

The source said the Multan district health officer had advised the district administration that since such practice was done in DG Khan, of sending pilgrims after a 14-day quarantine without any prior checkup so the same may be repeated here.

He said the matter had swung out of control due to the health department. Blaming the health department for their negligence right from initial days, he said that district administration had asked for testing kits, the day these 1,249 pilgrims arrived at this centre. He said that kits were provided after a delay of a week.

He said the test results came after four days of testing. He said as per the result 89 tested positive for COVID-19, who were shifted to another isolation ward in the massive quarantine centre.

The health department, on the other hand, has alleged that it was sheer negligence on the part of the district administration to have announced the return of pilgrims prior to their re-testing.

A senior health official said earlier in March after some pilgrims allowed to back home from quarantine centre at DG Khan tested positive for COVID-19 it was decided that no patient would be allowed to back home without testing.

He said the same was conveyed to district administrations of the province by Chief Secretary Punjab during several meetings.

"How could the Multan DC or commissioner have not known about this policy?" he questioned. He said that as per the results 366 of the 1,160 tested positive for coronavirus putting lives of pilgrims travelling with the active carrier of the virus in danger. "All the remaining 1,160 were allowed to go back home and since all the 1,160 were tested before leaving for their districts, there was no guarantee whether they have been infected by travelling with a coronavirus infected patient or not.

He said resultantly they have been isolated in their homes, which was again a threat to their own families.

Due to the sheer mismanagement at the quarantine centre, there was a rapid spread of coronavirus cases at the centre. The district administration interestingly claimed that there was only one instance, where many of the 1,160 presumed healthy pilgrims played a Kabadi match two days prior to their departure, to celebrate their return.

He said other than that the facility to this has been well managed. He said the district administration was not alone in the handling of the centre, police were an equal stakeholder in this matter.

Primary and Secondary Health Care Department Secretary Captain (retd) Usman did not reply to much of the questions asked in this regard, however, said that the policy to test individuals in quarantine centre before they were allowed to go had been established prior to this episode.

Multan District Health Authority CEO Dr Munawar Abbass said there was no negligence on the part of Multan Administration at any step. He also denied the information given by PRO to DC Asghar Khan of having allowed the 1,160 pilgrims go home. He said these 1,160 pilgrims were to be shifted to their districts' quarantine centres.

Women to carry heavier burden of virus aftermath

He said the reason for the district government to allow was as per existing policy to his knowledge and was in the best interest of the patients. He said had these individuals stayed in the same isolation centre, there would have a great risk of cross-contamination.

He said at their respective district the likelihood of massive cross-contamination would be much less given the fewer number of suspects in quarantine centre.

Multan centre received 1,247 pilgrims, according to the health department, of which initially 91 were tested positive. Which shows that only 7.2% had coronavirus whereas on April 5 when the remaining 1,162 tested negative, were re-tested, 366 turned out to be coronavirus positive, ie 31.4% growth of coronavirus cases, which according to health department was an exponential growth, caused by mismanagement at the quarantine centre

Published in The Express Tribune, April 12th, 2020.