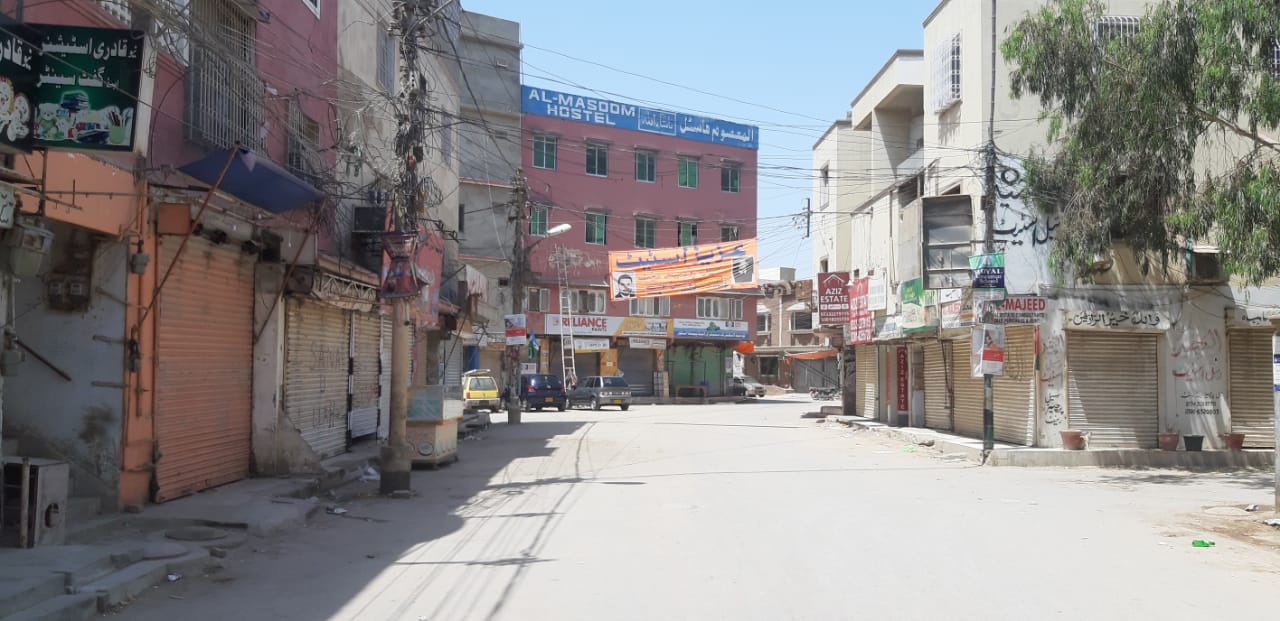 ---
KARACHI: The Sindh government vacillated about its next move in dealing with the coronavirus outbreak on Saturday as it worried about being overwhelmed by the pandemic in the provincial capital. First announcing that 11 union councils (UCs) in Karachi were to be sealed, preventing residents from venturing outside, the authorities later withdrew their decision.

The UCs in question, some of the most infected areas in the city, are all part of Karachi division's East district. They include UC-6 Gillani Railways, UC-7 Dalmia, UC-8 Jamali Colony, UC-9 Gulshan-II, UC-10 Pehlwan Goth, UC-12 Gulzar-e-Hijri, UC-13 Safoora, UC-14 Faisal Cantonment, UC-2 Manzoor Colony, UC-9 Jacob Line and UC-10 Jamshed Quarters.

A notification issued by East deputy commissioner Ahmed Ali Siddiqui, a copy of which is available with The Express Tribune, stated that the aforementioned localities were being sealed through the powers conferred under the Sindh Epidemic Disease Act, 2014.

According to the notification, the measures were being taken in the larger public interest, to prevent a widespread outbreak of the novel coronavirus. Siddiqui also requested law enforcement agencies to cordon off the areas to ensure public safety immediately.

'Domestic transmission of coronavirus could unleash catastrophe in Pakistan'

Later, though, Sindh Information Minister Nasir Hussain Shah said that the decision to seal the complete UCs had been revoked. Instead, he stated, the district administration had been instructed to only seal the affected streets. "Sealing a complete UC will create problems," he explained.

As news of the earlier decision emerged, though, panic spread across the sealed UCs, which are home to nearly 700,000 people. "There is visible fear in my area," stated Abdul Hakeem, a resident of Safoora Goth. "There is no rush. All shops have been closed." He said the decision was so quick as his family was unable to buy rations and other necessary grocery items, though he went on to express appreciate for the steps taken by the government.

Though unsure whether his neighbourhood too was being sealed, Gulzar Ahmed Pirzada, who lives in Gulistan-e-Jauhar's Rabia City, reiterated that people were fearful. "The real lockdown is about to start," he asserted, adding that very few people could be seen on the streets on Saturday evening, as the law enforcers began cordoning the areas off.

For public safety

According to Sindh health department officials, the initial decision to seal these areas was taken because at least 150 coronavirus cases had emerged from them. "One person from London infected 34 others in a UC in the East district," disclosed an official, adding that people were interacting frequently, violating lockdown orders.

"The decision has been taken for the safety of the general public. Residents should remain inside their homes," said Karachi Commissioner Iftikhar Ahmed Shallwani. "Citizens living in other parts of the city, however, should not be allowed to enter the areas that have been sealed."

India to extend nationwide lockdown to tackle coronavirus

Shallwani told The Express Tribune that these areas would be sealed for an indefinite period of time.

Meanwhile, Sindh government spokesperson Murtaza Wahab told The Express Tribune that residents of these areas would have to remain inside their homes for at least 14 days, though the lockdown could be extended beyond that.

Stating that it was not possible for health officials to test every person living in the areas, he added that they would nevertheless be screened.

"We have sealed these areas on the recommendation of the health department," maintained Wahab said, adding that two localities in Malir, namely Gulistan Society and Chirag Colony, had previously been sealed on Friday.

In response to a question pertaining to rumours about more closures, he said that the provincial government had not decided to seal areas in the city's South district.