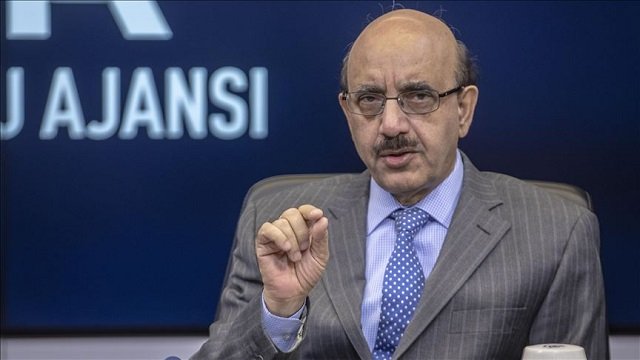 ---
AJK govt's timely measures kept coronavirus at bay: President Masood
AJK president lauds Ministry of Information Technology for establishing COVID-19 Information Control Room
---
MUZAFFARABAD: Azad Jammu and Kashmir President Sardar Masood Khan has said that the AJK government's timely measures helped in containing the spread of novel coronavirus.

He made the remarks on Friday during his a visit to COVID-19 Information Control Room established in Muzaffarabad where he was briefed on measures being taken to prevent the spread of global pandemic in Azad Kashmir.

President Masood appreciated the people of AJK, saying they displayed courage, patience and discipline and cooperated with the government in implementing lockdown directives. "The more the people will demonstrate sense of responsibility, the sooner we will succeed in overcoming the pandemic."

The lowest number of coronavirus cases in AJK with only one death reported till now is encouraging for the people and the officials of the region, he added. "Majority of the people infected with the disease are out of danger now."

Appreciating the excellent performance of coronavirus information control room, he lauded Minister for Information Technology Mustafa Bashir Abbasi and other officials, saying collection of real time data and establishment of web portal will enable the authorities to effectively control the spread of virus.

AJK president urges people to cooperate in fighting coronavirus spread

He also commended joint efforts of health department, the World Health Organisation and the administration to contain the spread of pandemic through web portal.

The AJK president hailed the spirit of information technology students of different public sector universities, for extending voluntary services to the IT department.

Earlier in the briefing, he was told that a total number of COVID-19 cases is 34 which includes one in Muzaffarabad, three in Poonch, seven in Sadhnoti, two in Kotli, nine in Mirpur, and 12 in Bhimber.

Besides, a total of 642 people have been tested for coronavirus, where as 159 people are quarantined with one recovery.