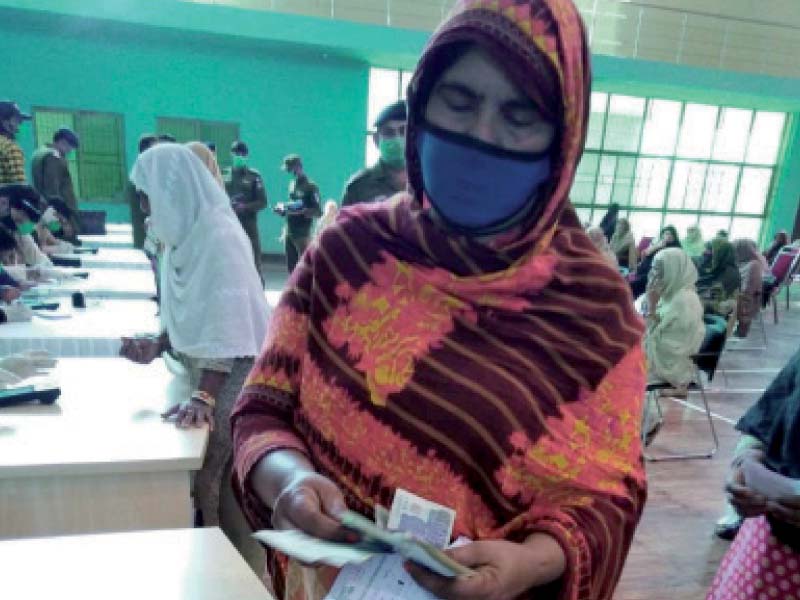 ---
LAHORE: The government has started disbursement of financial aid of Rs12,000 per family under the Ehsaas Emergency Cash Programme (EECP). A sum of Rs144 billion will be distributed through cash distribution centres and other methods among the deserving families facing hardships amid lockdown imposed to contain coronavirus spread.

Special Assistant to Prime Minister on Poverty Alleviation and Social Protection, Dr Sania Nishtar, on Thursday, highlighted that as many as 17,000 cash disbursement centres are being established across the country to facilitate quick distribution of cash among deserving families under the federal government-funded financial assistance programme.

She further said that various payment counters have been established at each cash disbursement centre to avoid crowding, while biometric verification is being done to ensure transparency in the programme.

Sindh likely to extend lockdown by a week amid fears of coronavirus spread in slums

The government has also acquired law enforcing agencies' services, including police, Rangers and Pakistan Army, to ensure security during the entire cash disbursement process.

Punjab Inspector General of Police Shoaib Dastgir has directed the police force to make foolproof security arrangements in and around cash disbursement centres across the province.

He also instructed all the regional and district police officers to increase police patrolling around these centres as a large sum of cash was being distributed among deserving families.

A district administration official highlighted that around 30 cash disbursement centres were being established in the provincial capital from where deserving families would receive cash aid.

Initially, Prime Minister Imran Khan announced that the government will provide financial assistance to 12 million families but now over 40 million people have applied for aid under the biggest ever financial aid programme of the country.

A large number of people are still struggling to submit their applications under the programme as they applied through SMS on Tuesday and Wednesday.

The government has already tightened the scrutiny process of application for identifying deserving families, otherwise it would have to review fund allocation for the programme, said an official.

As the country has entered the third week of the lockdown, official data showed 4,462 confirmed coronavirus cases, including 3,827 active cases.

Pakistan pledges $3m in SAARC COVID-19 Emergency Fund

So far 572 people have recovered from the disease and 63 have lost the battle against the viral disease.

The data shows that Punjab has the highest number of coronavirus patients at 2,214, with 1,128 in Sindh, 560 in Khyber-Pakhtunkhwa (K-P), 212 in Balochistan, 213 in Gilgit-Baltistan (GB) and 102 in Islamabad.

The highest number of deaths has been reported in K-P and Sindh with 20 each, while 17 people have lost their lives in Punjab, three in G-B, two in Balochistan and one in Islamabad. 

Published in The Express Tribune, April 10th, 2020.