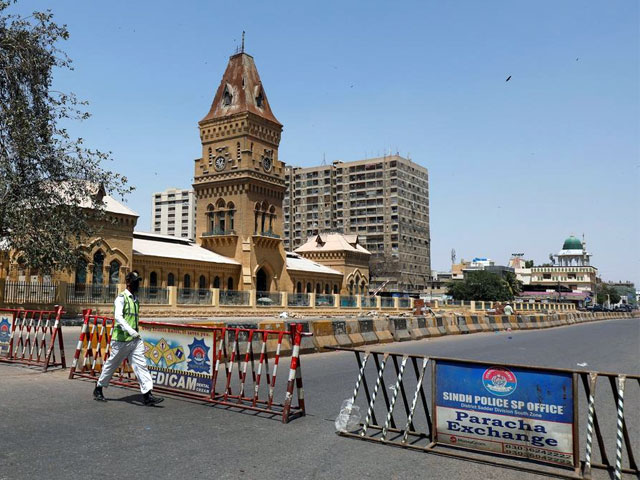 ---
KARACHI: Medical professionals have warned that if the lockdown is lifted on April 14 the country would likely be unable to control the spread of COVID-19 and this will lead to serious health emergencies.

In light of these concerns, the owners and chief executive officers (CEOs) of private hospitals, as well as leading doctors asked Sindh Chief Minister Syed Murad Ali Shah to extend the lockdown, during a meeting at CM House on Tuesday.

The doctors and healthcare professionals, while lauding the Sindh governments for its timely action at the start of the outbreak, stressed that if the lockdown efforts were eased, the virus would "spread like wildfire." They said that a considerable part of Karachi's population happened to be slum dwellers, who lived in densely populated settlements and were likely to take public transport, which would increase the chances of the spread of the virus.

They assured the CM that they would provide their full support to the government on the matter, maintaining that all equipment, manpower, technical and expert support would be provided to the provincial government if the need arose.

Hearing their suggestions, the CM formed a committee comprising Sindh Health Minister Dr Azra Fazal Pechuho, Ziauddin Group of Hospitals Chairman Dr Asim Hussain, South City Hospital CEO Dr Saadia Virkand and others to devise a plan to tackle this issue. The committee will assess the requirements and make arrangements for the best the way forward.

Virus tally

Meanwhile, during a separate meeting, which the CM joined via a video link, Shah shared that the total number of cases in Sindh had risen to 986 as of Tuesday afternoon. Of those, 508 were from Karachi, 159 from Hyderabad and 274 from Sukkur. He added that 54 more cases had emerged in Sindh on the day by noon.

The CM also shared that 18 people had lost their lives to COVID-19, of which one was Dr Abdul Qadir Soomro. Shah expressed sorrow at the sad demise of Dr Soomro and offered deepest condolences to the deceased's family, adding that his sacrifice saved the lives of many. "I salute doctors for their selfless service for this cause," he added.

Government strategy

In the same meeting, the CM maintained that the current plan of action of the Sindh government was to curb the virus' transmission. Therefore, provincial government's strategy was to locate the source of transmission and contain it, thereby preventing an outbreak, meanwhile also preparing for the worst and creating public awareness, he said.

He added that the government had already established 12 isolation centres throughout the province and a district rapid response committees and testing facilities were also being developed at different hospitals. 

Published in The Express Tribune, April 8th, 2020.